Kristina Forest's romantic survival guide to running away with your crush
Kristina Forest shares 5 tips for cozying up and staying safe on a wild adventure
This post was written by Kristina Forest, author of Zyla & Kai.
In my new YA novel, Zyla & Kai, Zyla, a love cynic, and Kai, a hopeless romantic, meet one summer, fall in love, and then break up and run away together while on a senior trip visit to the Poconos Mountains. Or at least everyone assumes the two of them have run away.
Here are 5 tips on how you can stay cozy and safe in the mountains if you decide to run away with your crush.
1) Bring a flashlight. Regardless of how long you plan to spend in the wilderness, you should pack a flashlight just in case. You'll need it at night if you get lost. Unless you're a regular wildlife survivalist, the chances of you getting lost are fairly high. And God forbid you get caught in a torrential downpour where you can't see a thing. That flashlight will come in handy.
2) Speaking of torrential downpours, if you plan to run away to the wilderness with your crush, you both should wear sensible shoes. Nothing open-toed. Sturdy. Dependable. If that torrential downpour does happen, you'll be upset if you're caught out in the wilderness wearing a pair of sandals. Especially if you've just left an adjoining water park and decided to run away after taking the ski lift up the mountain.
View this post on Instagram
3) Try your best not to argue. Running away is already stressful in and of itself, so you should try to be on the same page and plan who will be in charge of what. Is one of you better at reading a map? Is the other better at setting up a camp or keeping track of time? The last thing you need to do is start arguing in the woods and wake some unsuspecting forest creature. You're in their territory and you have to be considerate.
4) Bring snacks – your favorite and your crush's. And water! Staying hydrated is of the utmost importance.
5) Think very hard about whether or not you actually want to go on a wild adventure in the wilderness. In hindsight, you might find this wasn't the best idea. If after deeper consideration, you still decide this is something you want to do, maybe leave a note behind with your best friend. That way your loved ones won't spend so much time wondering where you are. They'll be upset, of course! But at least they'll know where to find you.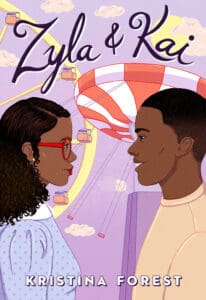 Get your copy of Zyla & Kai by Kristina Forest here.