Kia Abdullah discusses her poignant new thriller, Those People Next Door
"I'm interested in why good people do bad things."
When things escalate after encountering her new neighbour ripping out the anti-racist banner her son put in their front garden, Salma senses their recent move to a suburban town might not be the refuge she'd hoped for in Those People Next Door, the timely new thriller from Kia Abdullah.
To celebrate the paperback release of this page turning new read, we had the chance to chat with Kia about everything from writing crime to writers block. We've also got five copies to give away, so look out for entry instructions at the end of the interview!
---
What would you say is the most enjoyable part of the writing process?
In terms of sheer enjoyment, I would say those rare occasions where I'm in the "flow state". In those moments, writing doesn't feel like a grind. The words come easily and I find myself losing time. Sometimes, emerging from the flow state is almost like waking up. I love those moments, rare as they are.
Beyond that, publication is one of the most rewarding parts of the writing process. The first time I held the hardback of my novel Take It Back was one of the proudest moments of my career.
Feedback from readers is lovely too. I still remember the Muslim reader who shared Take It Back on her Instagram and said, "Please read this book and when you 'review' it, know you are reviewing our lives." I was so profoundly touched by that.
How has your own upbringing inspired your writing?
I grew up in a family of eight children so there was always some form of drama growing up. This was excellent training ground for a writer though. Being able to observe, process and distil conflict is so useful for a novelist. After all, most fiction is about conflict of some kind.
Beyond that, the cultural aspects of my upbringing were hugely influential. My parents immigrated to the UK from Bangladesh and faced a lot of hardship settling in – from racism and poverty to not being able to speak the language.
One event in particular helped spark the idea for Those People Next Door. When I was eight years old, I got caught up in the excitement of the World Cup. I drew a picture of the England flag – a red cross on a white background – and stuck it in our living room window. To me, it was an innocent symbol of support. When my dad came home, however, he tore down the flag and said, "Don't ever do that again. We'll get a brick through our window."
I was too young to understand that he saw violence in that flag, long used as an emblem by far-right groups in Britain. In recent years, we've seen divisions regrow in the country. Symbols, colours and words mark out volatile battle lines. Cultural clashes play out in headlines – but what happens when they're closer to home? What happens when they're right next door? That's what I explore in the novel.
East London plays an important role in your novels. Why is it compelling as a setting?
I think that East London is the most interesting part of the city. In the 19th century, the area was dubbed "darkest London" and inspired some of our greatest novelists, from Charles Dickens who describes the "crowded and filthy street[s]" of Mile End and the "slime and darkness" of Whitechapel to Oscar Wilde who refers to the "dreadful places near Blue Gate Fields" and "the foulest dens in London."
The area has improved somewhat but it still very much has a dark side. Here, you will find dilapidated council estates in the shadow of the gleaming towers of Canary Wharf. It's a place of vice, grime and flux – and that's perfect for crime fiction.
View this post on Instagram
Why is it important to talk about class in your novels?
Class is the reality of living in Britain. We are one of the most socially stratified countries in the world, but we don't like to talk about it. While we don't have an equivalent of "The American Dream", we certainly believe that we're a meritocracy. We believe that if you work hard enough, if you keep calm and carry on, if you don't rock the boat, then you will get ahead in life – but that's not true. Most people from working-class backgrounds who broke into elite fields did so because of an unreplicable alchemy. Sadly, they're often the first people to say, "If I can do it, so can you. You just need to graft more." For me, it's important to question this.
What advice would you give to a budding POC writer trying to become a fully fledged author?
I used to tell people to start building their audience early – and I still believe that this is valuable – but I've learnt that unless your audience is substantial (around six figures), it won't make a huge dent in terms of book sales. If you do start a newsletter, podcast, blog or social channel, think of it as a 'top of funnel' endeavour. It may not lead directly to book sales but it might put you on someone's radar who picks you for a feature or panel which leads to other opportunities that eventually funnel into sales.
Separate to that, I would tell budding writers that there is no shame in being a "weekend warrior". Hang on to your day job if that's what pays the bills and write over weekends and evenings. This doesn't mean that you're not a "real" writer. More likely, it means that you don't have independent wealth to keep you afloat. So few of the authors I know – even those who are hugely successful – still rely on teaching, events and speaking to pay their bills. You're not alone. Keep going.
What drew you to crime as a genre?
I'm interested in why good people do bad things. In my previous novel, Next of Kin, Londoner Leila Syed leaves her nephew in her car for three hours on the hottest day of the year. She's in a hurry to resolve an office emergency and the question I ask is: did she initially leave him on purpose or did she genuinely forget that he was there?
In Those People Next Door, Salma, a teacher, moves with her family to a safe, suburban development in the outer reaches of London. Soon after arriving, she witnesses her next-door neighbour uprooting her anti-racist banner, and becomes locked in a hostile battle with him. The question is: will Salma lose who she is? In the course of this conflict, will she become intolerant too? These sorts of questions lend themselves to crime, which is why I'm drawn to the genre.
Would you ever be inclined to write a novel of a different genre or is crime your go-to?
For now, I'm comfortable writing crime fiction. If I ever did move on, I would likely focus on non-fiction. I've always enjoyed writing columns, opinion pieces, blogs and so on because the reward is so much more immediate: days or weeks rather than years!
What do you do to resolve writer's block?
I resolve writer's block by writing badly. I take the pressure off myself to create good work. Instead, I focus on getting the mechanics of a scene down without worrying about language or cadence or any of the other stuff that comes with good writing. It is literally 'A goes here. A does this. A says this. B reacts like this.' Once I have the bulk of a scene, I can go back and refine it.
The other thing that always helps is simply going for a walk. I wrote Those People Next Door in the deep pandemic and of course we were all sick of walking by the end, but it was a lifeline for me. Taking walks with my husband, talking through thorny plot points, or just getting some fresh air and resetting my brain was essential.
Want to start reading Those People Next Door by Kia Abdullah asap? Simply follow the instructions in the tweet below to enter for your chance to win a copy: 
https://twitter.com/unitedbybks/status/1687167569587818496?s=20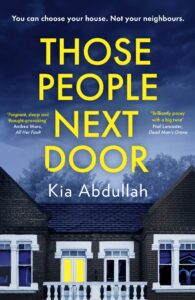 The paperback of Kia's novel, Those People Next Door, is published today by HQ. Get your copy here.
Terms and Conditions
1. No purchase necessary. A purchase will not increase your chances of winning.
2. This giveaway is open to residents of the United Kingdom only.
3. This giveaway opens Thursday, 3rd August at 12:00 and closes on Thursday, 17th August at 21:00
4. Five (5) winners will be selected at random from all applicable entries. The prize consists of one (1) copy of Those People Next Door by Kia Abdullah. Prize has no cash value and no alternative prize is available.
5. Winners will be contacted via Twitter direct message by @unitedbypop after the giveaway closes. Winners must provide United By Pop and Harper Collins with their full name and mailing address to receive their prize. If winner fails to do so within 24 hours of being contacted, winner forfeits their prize and a new winner will be selected.
6. United By Pop is not responsible for prizes that are lost or damaged in the post. Prizes may take up to 90 days to arrive.
7. This giveaway is in no way sponsored by or affiliated with Instagram and/or Facebook.