Getting ready for The Ballad of Songbirds and Snakes
And remember to save up for the beautiful deluxe edition of books.
By now you probably know that the prequel to The Hunger Games, The Ballad of Songbirds and Snakes, is getting the movie treatment. The movie is going to be released on November 17, and we are beyond excited for this big event. To get you into the mood, we are recommending 5 things you should do before the movie comes out.
Watch the trailer:
This one is pretty basic but if you haven't yet, go check out the trailer. There are actually at least two trailers out but we are linking the very first one here for now. We cannot get over the scene when Rachel Zegler's Lucy Gray Baird bowed! There are certain scenes that remind us of the original movies and we cannot wait to draw more parallels when the new movie comes out.
Rewatch the movies: 
Speaking of the original movies, of course you need to rewatch them. That is the quickest way to remind yourself of the movies, although you should also consider doing the following…
Reread the books:
When we say go reread the books, we mean all of them, not just The Ballad of Songbirds and Snakes. Look, the first book was published back in 2008, which is 15 years ago (yes, we had to double check the math as well because we couldn't believe it either). Does any of you actually remember everything that happens in the books? We think it will be very important to reread the books to get all the references in the movies.
Saving up for the new deluxe version: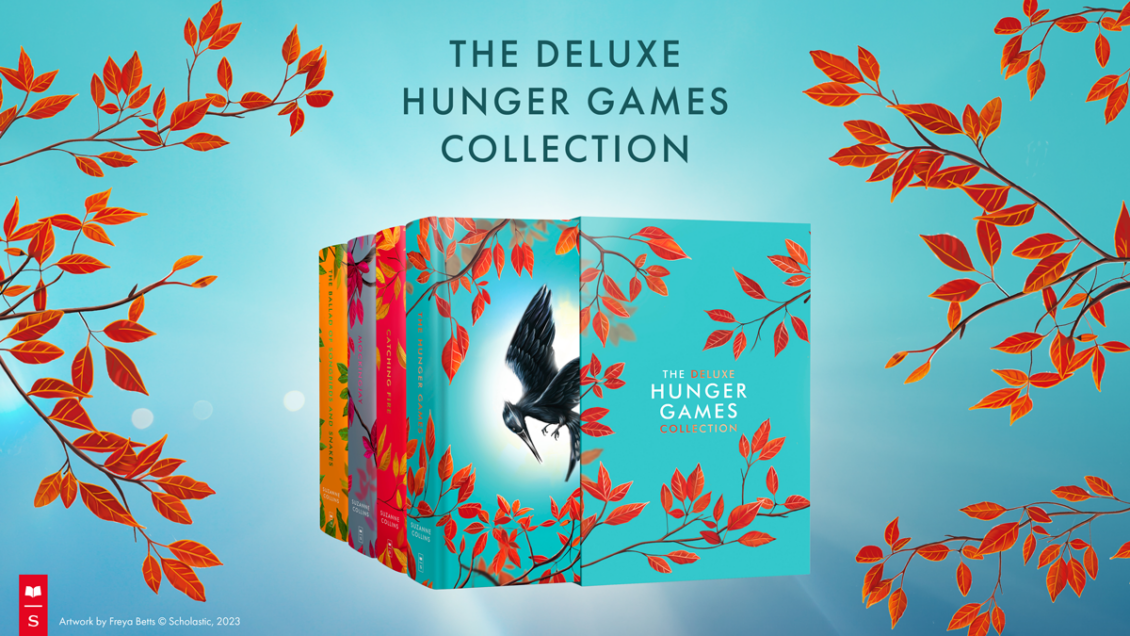 Oh yes! If you do not already know, Scholastic UK is publishing a deluxe edition of the 4 books this October, and when they say deluxe, they mean that. This hardcover box set features covers designed by Freya Betts, who has done many cool work for Disney and Marvel as well. And while we said you need to save up, actually this collection isn't too bad in terms of price.
Play some trivia quizzes: 
Finally, the best way to check that you are really ready for the movie is to test your knowledge. Our favourite site for trivia quizzes is Sporcle and it has many quizzes, such as word search, Guess Whose Line, etc. about The Hunger Games.
Bonus: Enter our giveaway
We are giving one of you the chance to win the paperback boxset. To enter, simply follow the instructions in the tweet below:
We are here to chat how you can prepare for the Ballad of Songbirds & Snakes movie! @scholasticuk @TheHungerGames

One of which is to enter our GIVEAWAY for a paperback boxset of The Hunger Games. To enter, simply:
⚔️ Follow us
⚔️ RT this

T&Cs: UK onlyhttps://t.co/qCQ1BiunjM

— United By Books (@unitedbybks) October 9, 2023
Terms and Conditions
1. No purchase necessary. A purchase will not increase your chances of winning.
2. This giveaway is only open to residents of the United Kingdom.
3. This giveaway opens at October 9, 2023 12:00 and closes on October 16, 2023 at 21:00
4. One winners will be selected at random from all applicable entries. The prize consists of one (1) paperback boxset of The Hunger Games. Prize has no cash value and no alternative prize is available.
5. Winners will be contacted via Twitter direct message by @unitedbypop after the giveaway closes. Winners must provide United By Pop and Scholastic UK with their full name and mailing address to receive their prize. If winner fails to do so within 24 hours of being contacted, winner forfeits their prize and a new winner will be selected.
6. United By Pop is not responsible for prizes that are lost or damaged in the post. Prizes may take up to 90 days to arrive.
7. This giveaway is in no way sponsored by or affiliated with Instagram and/or Facebook.