Justin A. Reynolds on grief, cereal and his debut novel, Opposite of Always
"Stay true to yourself. Trust your voice."
From a NASA intern to a night security guard to a pest control operator, justin a. reynolds has done it all. Most recently, Justin was a registered nurse, before trading his stethoscope for a pencil and gracing the world with his exquisite debut novel, Opposite of Always.
We got the chance to chat to Justin about writing his debut novel, time travel and upcoming projects.
---
Opposite of Always is your debut novel, how does it feel to be a published author and have your debut book out in the world?
I have lots of feelings! It definitely feels surreal; it's hard to believe that this thing from my heart and brain is out there in the real world. And to be honest, it was a little scary at first but now I'm just happy and excited.
Opposite of Always brilliantly combines contemporary with a touch of sci-fi, was this something you'd always aimed to do?
I love stories that hold up a mirror to our contemporary world, and I've always felt that speculative fiction is an awesome vehicle for that type of analysis. Changing one thing about the world (in this case, time travel) we now live in as a means to examine the way we choose to live and the way we choose to love.
What made you decide to explore time travel in a contemporary setting, on a smaller scale, as opposed to time hopping Doctor Who style?
I like the idea of analyzing how a single action (or decision) can affect a town, a neighborhood, a family. It allows me the space (and time) to really examine how each character evolves from that inciting point.
If you could go back in time to before you started your writing journey, what piece of advice would you give to yourself?
Stay true to yourself. Trust your voice.
Opposite of Always features a cast of wonderful characters, did you have a favourite to write or one you founder harder?
I don't know if I have a true favourite character. I would say that the character who I loved exploring but who I also found challenging was Franny. Franny's had a tough life and he's finally at the point where he's got some momentum behind him, only to find his world once again turned upside down. I know a lot of Franny's and you want to root for them; you just want them to catch the break they deserve.
So, I didn't expect this to be out so quickly but I'm so excited to announce that Jack, Kate, Jillian, & Franny get to continue their magical journey via the big screen!! I can't even believe this is a thing but I'm so thankful for all of you!! Thank you for your belief & love!! https://t.co/S8c0motuDK

— justin a. reynolds has a book! 1.12 lbs! 8.2 in! (@andthisjustin) March 20, 2019
Loss plays a huge part in the novel and is something you've attributed to being an inspiration for the book, do you think having such a personal connection to your story impacted the way you wrote it and if so, how?
The personal loss that I experienced absolutely played a pivotal role in this story. Two important people in my life abruptly passed away and naturally, that was a very hard time for me (and a whole lot of other people). This story originated as a way to deal with the questions that plagued my brain. One of those questions was: what would I be willing to risk for a chance to be reunited with my dead loved ones?
Opposite of Always explores multiple relationships from family to friendship to romance, all of which are continuously shifting and changing during Jacks journey. Was there a specific relationship, or type of relationship, you enjoyed writing the most or any you found particularly hard?
I definitely enjoyed the friendship dynamic between Jack and Jillian and Franny. They were a lot of fun to write because they have such a profound love for each other, that even in the face of great obstacles, or hurt feelings, they still want to do right by each other. For me, there are few things more beautiful than love and loyalty.
Are you working on anything new and if so, can you give us a hint as to what we can expect?
I'm working on my second YA book and I'm super excited about it. I can't reveal too much just yet, but I will say it explores what happens to a community, to a family, in the face of great loss. Hmmm, that sounds familiar, doesn't it—hahaha.
As a dedicated cereal enthusiast, I loved the cereal appreciation throughout the novel. So I have to ask, if you were stuck in a time loop, what cereal would you never get bored of?
Good question! I love Froot Loops, naturally. And to be honest I love cereal in general. But I think my current obsession is Cinnamon Toast Crunch. I mean, cinnamon AND crunch? How can you lose?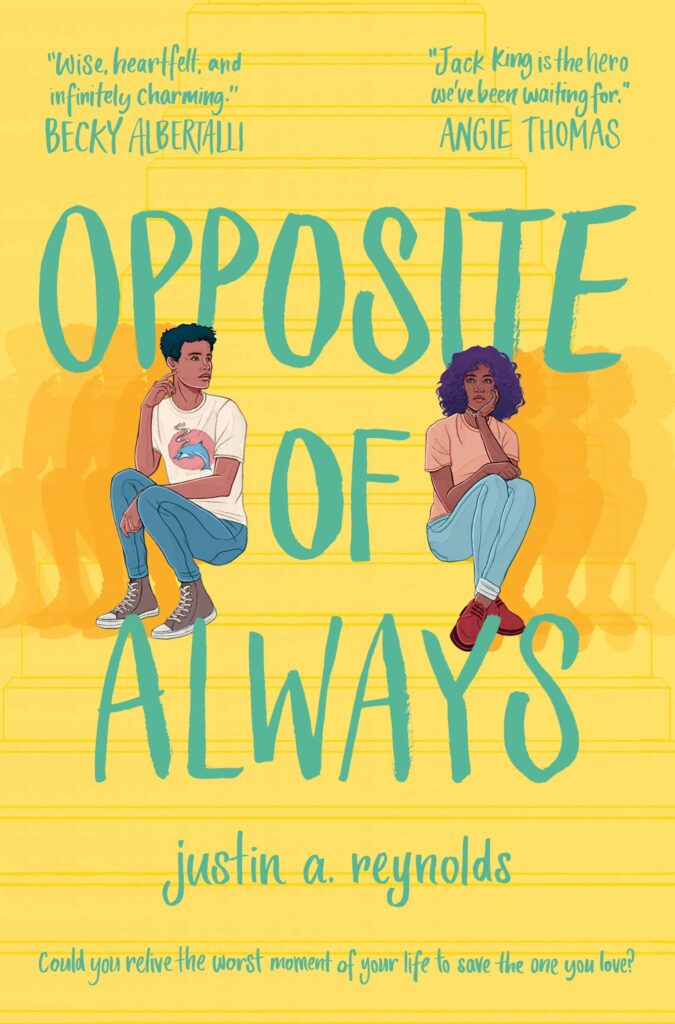 Opposite of Always by justin a. reynolds is out now and available to purchase in the UK and US.