Dilani Kahawala on fantasy and food in her debut YA fantasy, Blood Moon Prophecy
"In bringing the food of Marea to life, I was heavily influenced by my own cultural heritage."
When I was 5 years old, I remember watching my grandmother cook impossibly good smelling, crispy hoppers over a rustic stove with real firewood. The wood smoke would curl up into my nose and I remember the fire sputtering away as she poured the batter into pans and swirled them as if doing an intricate dance. She would make special small hoppers for me with a bit of sugar, and it would all be unbelievably delicious when it finally made it into my mouth. Those memories of my grandmother's kitchen in a little village in Sri Lanka were magical, and I set out to infuse my YA fantasy novel Blood Moon Prophecy with some of that same magic through the food and the meals that the characters experience.
In Blood Moon Prophecy, 16 year old Tilly Nyx has to unravel a mystery thousands of years in the making to figure out the secrets of her own past. Armed with an ancient map that her mother made her swear to protect with her life, Tilly's journey takes her from New York City to the world of Marea. It is a world of oceans and sailing ships, of feuds between ancient magical families. She joins a fleet in search of the secret her map holds, which has been guarded by her family for four thousand years. As Tilly learns how to cast sprites and make potions, she and her three friends must follow the trail of murky, disturbing clues left by her ancestors before time runs out. But the closer they get to their destination, the more Tilly discovers that nothing is what it seems…not even herself.
Since Marea is connected to our world, some characters can go back and forth (in secret). This means that the characters would realistically be eating some combination of earthly delights mixed with their own special delicacies!
In bringing the food of Marea to life, I was heavily influenced by my own cultural heritage. The reader will get to experience a few Sri Lankan specialties such as 'short eats' and crispy hoppers. There's also Ma Gita, the ship's head chef, clad in a glamorous saree, infusing a little bit of spice into literally everything, including crème brûlée.
View this post on Instagram
While my childhood was spent in Sri Lanka, my teenage years were spent in Melbourne, Australia–a food mecca where you get the best of Asian cuisines and amazing Italian and Greek food, all held together with crazy good coffee! I have a particular hankering for South East Asian food, so you'll see laksa, pho, kopi cham and others sneak into the menu. So much of the food in Blood Moon Prophecy takes me back to cool little cafes in Melbourne, that are true hidden gems. The happiness of sharing a cozy meal with your friends, at a special spot that's under the radar is something I hope the reader feels as they read the story.
My American comfort favorites get a highlight as well. While writing a scene where Tilly and her friends are eating burgers at the Cloister Oyster, I could almost taste my favorite Shake Shack burger, that I would have on Fridays with my workmates when I worked in Brooklyn. There's a good dash of fried chicken too. But I'm saving pizza for the next book in the Legend of the Nyx series!
Then there are some Marea specialties too, like Mr Igo's Pogi, which is Tilly's first food experience as she arrives in this new world. Here's a little excerpt of Tilly tasting her first Pogi:
'Tilly bit into the impossibly crispy, flaky crepe stuffed with duck, or was it pork? Maybe it was both. It didn't matter. Tilly couldn't shove it into her mouth fast enough. It was like a fried croissant stuffed with something that was so good it seemed illegal to just sell out in the open.'
Throughout Tilly's journey, through the good times and in the depths of despair and peril, I wanted to feature food as another character. Just as important as her three friends, food brings her deeper and more fully into a new and unknown place, but at the same time connects her and the reader to the very familiar comforts of our world. Rooted in culture and tradition, food can bring people together despite their backgrounds and beliefs, and this is very much true in Blood Moon Prophecy.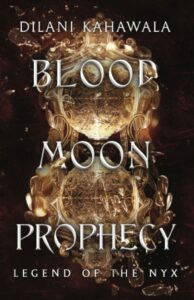 Get your copy of Blood Moon Prophecy by Dilani Kahawala here.