Dana L. Davis on writing, acting, and mom-ing… in a pandemic
"As an actor I'm helping bring a story to life. But as a novelist, the stories I'm bringing to life are my own."
This post was written by Dana L. Davis, author of Roman and Jewel
"Ooooh! He likes you girl!" I said to my friend. My mouth full of braces gleaming under the bright recessed lighting as we stood in a line at McDonalds.
I should probably mention that I said these words in 1999. Oh, and it was a McDonalds commercial. One that I was starring in.
Getting the call that I'd booked my very first acting job, after two years of endless auditions, was truly the most exciting thing to ever happen to me. Even years later, after having starred on NBC, TNT, ABC, Disney and others, that moment still stands out as so extraordinarily special. Acting was always my dream. Why? Because I love to tell stories!
Sometimes people ask me why I left acting to do something so dramatically different as writing novels for teens. To which I always reply, "I haven't left acting! And also…aren't they kinda…like…the same thing?"
Sure, I may not be in front of the camera while I'm drafting out a novel. But to me, storytelling is art. As an actor I'm helping bring a story to life. But as a novelist, the stories I'm bringing to life are my own.
View this post on Instagram
So, what's a day like for an actor, author and mom? Typically? Pretty busy. I start my day out with a mad dash for the kitchen to simultaneously brew a pot of coffee and make breakfast for my 9-year-old. After I walk my daughter to school, (a whole 27 steps upstairs and down the hall to the right thanks to distance learning!) I rush to my closet to record the day's voice over auditions. Some of my favorite acting memories have been created while working in animation. I still remember the look on my kiddo's face when she said: "Wait? You're Kelly on Star vs. the Forces of Evil?! My mom is Kelly?!!"
After my voice-over audition records, I tend to my on-camera auditions. Before covid, this involved lots of hair and makeup followed by driving all around Los Angeles, Beverly Hills, Studio City, Burbank and more to different casting offices. But now the hair and makeup is followed by setting up my own home studio. No commute necessary. With lighting and cameras situated on varying tripods (and 48 takes later), I'm ready to send the files off to my agent. But what's that voice I hear? The tiny one calling out for food? Yup. My kiddo is like the green monster plant from Little Shop of Horrors. Remember the one who always said "Feed me Seymour!" That's totally my daughter.
Now I'm all dressed up with no where to go except the kitchen, to a new kinda work. The kind you do over a hot stove. After cooking and yep, cleaning, (cuz' who else is gonna do it?) I'm left with some moments to myself. This is typically when I dust off the laptop and make the commute back upstairs to my next day job.
Drafting out a novel requires something I don't often get—quiet! Although, I do remember a world where my daughter would be gone for 8 glorious hours a day (insert crying emojis), but since that's a thing of the past, I rely on my noise cancelling headphones and a closed bedroom door. It's not quite as amazing as dropping the minion off and burning rubber away from the school building while laughing manically, but it'll have to do for now.
View this post on Instagram
I try to end the work on my novels around 6pm. But let's keep it real, since my writing day is often interrupted by the angry, adorable, green plant alien named Cameron, begging for food and often needing my undivided attention and assistance, my work day ends closer to 9pm. And if I'm being honest, that's when the kid goes to sleep. And with her asleep and me now residing in a gloriously silent house (insert partying emoji), I just keep the laptop open. Hey, I might even study my lines for tomorrow's auditions.
Sometimes these busy days of writing, auditioning and parenting get interrupted with having to leave the house and travel to an actual job I've booked. If I'm working on a show, there are multiple covid tests, costume fittings and more. Or I'm driving to the studio to record for Cartoon Network or Disney. And somebody has to keep the shelves stocked for the adorable green monster plant who always wants food…so I'm a regular at Whole Foods and Trader Joes. They see me coming. They just wave and say, "Hi Dana. Welcome back."
Is it a ton of work to balance it all? Sure. Would I change anything about it? Definitely not! Creating art is what fuels me. Being a mom is what grounds me. And having beautiful stories to share with the world is what makes me smile.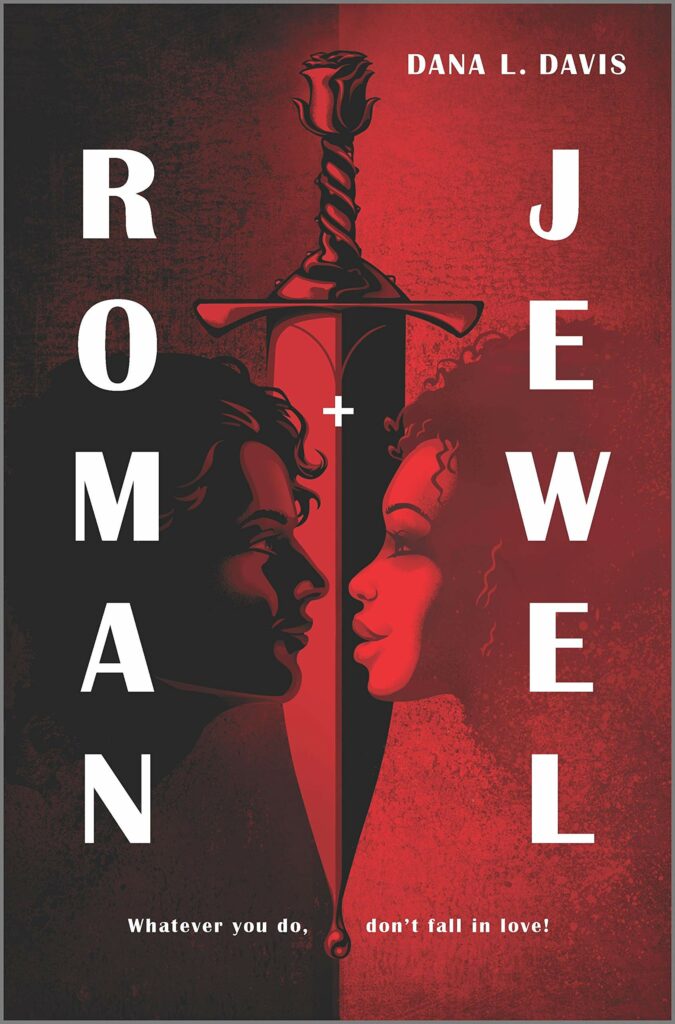 Get your copy of Roman & Jewel by Dana L. Davis here