Axie Oh on her awe-inspiring new YA fantasy novel, The Girl Who Fell Beneath the Sea
"I wanted Girl to feel very much like a Korean fantasy, and I believe I accomplished that!"
Captivating, heartfelt and vividly imagined, Axie Oh's new YA fantasy, The Girl Who Fell Beneath the Sea, is a stunningly written story of family, love, sacrifice and the power of taking control of your own destiny. To celebrate its release, we had the pleasure of chatting with Axie all about this gorgeous new book, which is set to be a new all time favourite for readers everywhere (trust us, you're going to adore it!)
---
Hi Axie! I'm beyond delighted to have the chance to chat to you today in celebration of the release of your new YA fantasy (and a new favourite of mine) The Girl Who Fell Beneath the Sea. For readers learning about it for the first time, how would you best describe it to them?
Thank you!! I'm so happy to hear TGWFBTS is a new favourite of yours! I would describe it is a romantic YA fantasy re-imagining of a Korean folktale, about a girl who jumps into the sea to save her community and is swept away to the Spirit Realm where she must bring an end to a centuries-old curse.
The Girl Who Fell Beneath the Sea's plot is wonderfully imaginative and multi-layered. Can you tell us a little about your inspirations behind the story?
My biggest inspirations were the many whimsical YA fantasies I grew up reading, like Gail Carson Levine's Ella Enchanted and Diana Wynne Jones's Howl's Moving Castle, as well as Japanese filmmaker Hayao Miyazaki's magical and heart-warming films, especially Spirited Away. I wanted to write a standalone fantasy in a similar tradition that would feel like a cinematic film. Pretty much I wanted to imbibe my story with a similar feeling of wonder and adventure as those novels and films, but where the culture and themes were rooted in my own Korean heritage.
View this post on Instagram
The Girl Who Fell Beneath the Sea features some of the most beautifully crafted world building and vivid imagery I've had the pleasure of reading in a long time, to the point where I came away feeling as though spirit realm was just as real as our own. Can you tell us a little about how you created the spirit realm?
Of course! I built it in layers, the first of which was entirely based off aesthetic. Beautiful, whimsical descriptions are my writerly indulgence. From there, I built the world to serve the plot. For example, because I needed structure to the Spirit Realm, I created the eight Houses, each of which serves a different purpose in the realm. What was really fun for me was adding in specific details that were Korean, like the skirt and short jacket my heroine wears inspired by hanbok, as well as the architecture of the buildings, all of which are so beautifully represented on my covers (both the UK and the US). I wanted Girl to feel very much like a Korean fantasy, and I believe I accomplished that!
In the book, Mina's soul is represented as a magpie. What form do you think your soul would take?
The easy answer would be a garden snake, as I was born in the year of the snake and my mother had a dream about a small garden snake the year I was born. But I really identify with the flying squirrel, maybe because of my love of the film Little Nemo: Adventures in Slumberland, in which the hero, Nemo, had a pet flying squirrel named Icarus.
The focus on the strength of familial love throughout the book, was gorgeously powerful and moving. I couldn't help but feel as though this was an aspect of Mina's story that was incredibly important to you?
Yes! Family means the world to me. The book is dedicated to my mother who is my biggest supporter, and Mina's love and determination to save her older brother is inspired by my own devotion to my older brother who had a childhood illness when we were younger. I didn't know when I set out to write this story that it would have such a strong theme of familial love, but it makes sense that it turned out that way since my family has always mattered the most to me.
View this post on Instagram
You've written both contemporary, sci-fi and fantasy. Do you have a favourite genre to explore or one you find more challenging?
I truly love all three genres equally, though I do have a soft spot for fantasy retellings. All my novels have also been a specific sub-genre as well; for example, my debut was a sci-fi dystopia, my contemporary was a romcom, and my fantasy is a retelling—all of which have their own subgenre conventions. Honestly, each genre I attempt is challenging, but that's what I like about it! I want to always continue to challenge myself as a writer.
Your last YA release, XOXO, was somewhat of a love letter to K-Pop and something you're a major fan of. Is there a K-Pop song/s you think would make the perfect soundtrack to The Girl Who Fell Beneath the Sea or any of its scenes?
"Time Lapse" from TAEYEON's album, My Voice, captures the spirit of The Girl Who Fell Beneath the Sea. I love the building crescendo of the music that's imbued with longing and hope, though the lyrics are quite sad. There's a scene at the end of the novel to which this song would make the perfect soundtrack to.
Finally, are you currently working on anything new and, if so, is there anything you can tell us about it?
Right now, I'm currently working on a YA fantasy that's more epic in scope. I'm imagining it as "what would happen if a Ghibli heroine met a Final Fantasy hero." It's a darker, more mature story, and I'm having a ton of fun with it!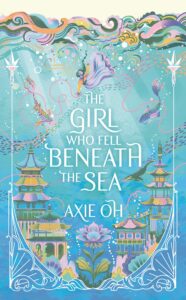 Get your copy of The Girl Who Fell Beneath the Sea by Axie Oh here.