Anika Hussain's top favourite books with the fake-dating trope
This post was written by Anika Hussain, author of This is How You Fall in Love, the latest fake-dating book that you need to get on your TBR list. 
There's no other way to say it: I love love! And when it comes to reading romance, my ultimate trope is the good old fake-dating trope! I've always found it beautiful to see two characters fall for each other over time while intending not to, and then discover their love story was right in front of them the whole time. The little moments that make up a fake-dating romance make my stomach flutter, like holding their hands in the canteen as part of the ruse or baring their souls when you least expect it. Despite their best intentions, the undeniable chemistry between them grows. It's like watching magic.
And if you are itching for some more magic in your life, then look no further…

Seven Percent of Ro Devereux by Ellen O'Clover
18-year-old Rose Devereux is a tech genius that attracts the interest of a Silicon Valley firm through a revolutionary dating app. The only problem? The app needs to accurately predict Ro's future, and when it predicts that she is destined to be in a relationship with her estranged friend, Alistair Miller, Ro can't quite fathom what's gone wrong with her code. Not that she can tell the funders that. Thrust into a fake dating scenario, Ro and Alistair must finally face the music and address all that's happened between them and determine whether an app truly can predict your future.

Loveboat, Taipei by Abigail Hing Wen
Ever Wong is a Taiwanese-American girl sent to study in Taipei by her parents this summer, but she doesn't expect to meet Yale-bound prodigy Rick Woo, who her parents constantly compare her to. Also, she didn't expect that she would fake date Rick Woo with the intention of pleasing her parents while also entertaining Xavier Yeh's attention.

Frankly in Love by David Yoon
Frank Li's parents have only one rule when it comes to dating: date Korean. Which would be fine if he wasn't falling for Brit Means who is anything but. Fortunately for Frank, his friend Joy Song, is in a similar predicament and together they make a pact: pretend to date each other to keep their parents off their backs while dating the people they actually like on the downlow. The perfect plan until it isn't…

10 Things I Hate About Pinky by Sandhya Menon
Pinky Kumar, according to her parents, isn't the best at making "good choices", especially when it comes to boys. Mostly because they're not to the standard her corporate lawyer parents expect.
Samir Jha, on the other hand, Pinky's sort-of-friend-sort-of-enemy, makes excellent choices. He is methodical and organised and he's got his life together… if you discount the internship he had banked on for the summer falling through that is.
In exchange for an internship with her mother next fall, Pinky fake-dates Samir until the end of summer to prove to her parents that she can make "good choices".
A mutual exchange that will end with a summer neither will forget.

She Drives Me Crazy by Kelly Quindlen
After losing to her ex-girlfriend in their first game, Scottie Zajac's day only gets worse as they get into a fender bender with the worst person possible: nemesis Irene Abraham. And when their mums suggest they carpool together until Irene's car is repaired? Nightmare! But when the opportunity arises for Scottie to get back at her ex by bribing Irene to play along as her girlfriend, the carpools don't sound so bad anymore…

Meet Cute Diary by Emery Lee
Self-proclaimed love expert Noah Ramirez runs the Meet Cute Diary, a blog featuring trans happily ever afters. There's only one issue—all the stories are fabricated. When a troll exposes the blog as a fake, Noah has no choice but to lie about being in a relationship with Drew so he can save the Diary once and for all. But can this fake-romance live up to Noah's stories?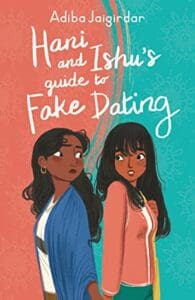 When popular girl Humaira "Hani" Khan comes out as bisexual to her friends, she is told she can't be bi if she's only ever dated guys. In a panic, Hani blurts out that she is in a relationship with a girl… and that it's Ishita "Ishu" Dey—the girl all her friends hate. Scrambling to prove her bisexuality, Hani convinces Ishu to pretend to be her girlfriend in exchange to stand a chance of being elected head girl.
A mutual pact with unforeseen consequences, feelings, and lessons along the way…

Bangladeshi teenager Karina Ahmed has always followed the rules. But when her parents go away for a month, and the school's resident bad boy, Ace Clyde, tells his parents that Karina is his girlfriend in an attempt to impress them, Karina is thrust into a situation she could have never seen coming. And in an unexpected twist, one she finds herself agreeing to.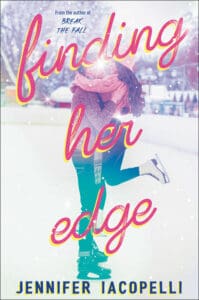 Finding her Edge by Jennifer Lacopelli
Hailing from gold-medallist parents, and with her sister headed to the Olympics, it's safe to say that Adriana Russo is figure skating royalty. But being royalty doesn't always mean fortune and the rink Adriana has skated on for so long is struggling to keep afloat. So, when her skating partner, Brayden, suggests letting the world believe the chemistry between them isn't contained to the ice, fans and sponsors take the bait. Easy enough until the charade starts to feel more real than either of them ever intended for…

Flip the Script by Lyla Lee
When Jin Hana is cast to star in a K-Drama alongside Bryan Yoon, a popular boyband idol, it looks like her moment of stardom has finally come. But stardom comes at a steep price: fake date your co-star for media clout. And it doesn't help when Jin's friend from school, Park Minjee, who Jin has feelings for that could get her blacklisted from the industry entirely, is also hired onto the show.


This is How You Fall in Love by Anika Hussain, is out 2nd February, published by Hot Key Books.