13 must read YA book releases for September 2022
Bring on the September reads!
Teen gods, K-Drama stars, aspiring writers, deadly assassins, witches in training… these September 2022 YA releases have it all and more and we can't wait to start reading.
---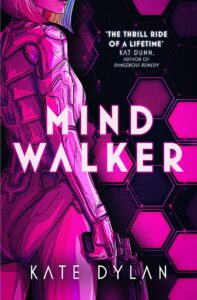 Mindwalker by Kate Dylan (1st September)
Eighteen-year-old Sil Sarrah is determined to die a legend. In the ten years she's been rescuing imperilled field agents for the Syntex Corporation—by commandeering their minds from afar and leading them to safety—Sil hasn't lost a single life. And she's not about to start now.
She's got twelve months left on the clock before the supercomputer grafted to her brain kills her, and she's hell-bent on using that time to cement her legacy. Sil's going to be the only Mindwalker to ever pitch a perfect game—even despite the debilitating glitches she's experiencing. But when a critical mission goes south, Sil is forced to flee the very company she once called home.
Desperate to prove she's no traitor, Sil infiltrates the Analog Army, an activist faction working to bring Syntex down. Her plan is to win back her employer's trust by destroying the group from within. Instead, she and the Army's reckless leader, Ryder, uncover a horrifying truth that threatens to undo all the good Sil's ever done.
With her tech rapidly degrading and her new ally keeping dangerous secrets of his own, Sil must find a way to stop Syntex in order to save her friends, her reputation—and maybe even herself.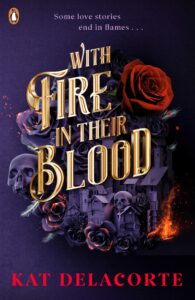 With Fire in Their Blood by Kat Delacorte (1st September)
When sixteen-year-old Lilly Deluca arrives in Castello, she isn't impressed. A secluded town in the Italian mountains is not where she saw her last years of high school playing out.
Divided for generations by a brutal clan-family war, the two halves of Castello are kept from destroying each other by the mysterious General, a leader determined to maintain order and 'purity'. . . whatever the cost.
Lilly falls in with the rebellious Liza, brooding Nico and sensitive Christian, and sparks begin to fly. But in a city where love can lead to ruin, Lilly isn't sure she can trust anyone – not even herself.
And then she accidentally breaks Castello's most important rule: when the General's men come to test your blood, you'd better not be anything more than human . . .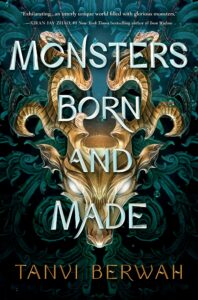 Monsters Born and Made by Tanvi Berwah (6th September)
Sixteen-year-old Koral and her older brother Emrik risk their lives each day to capture the monstrous maristags that live in the black seas around their island. They have to, or else their family will starve.
In an oceanic world swarming with vicious beasts, the Landers―the ruling elite, have indentured Koral's family to provide the maristags for the Glory Race, a deadly chariot tournament reserved for the upper class. The winning contender receives gold and glory. The others―if they're lucky―survive.
When the last maristag of the year escapes and Koral has no new maristag to sell, her family's financial situation takes a turn for the worse and they can't afford medicine for her chronically ill little sister. Koral's only choice is to do what no one in the world has ever dared: cheat her way into the Glory Race.
But every step of the way is unpredictable as Koral races against contenders―including her ex-boyfriend―who have trained for this their whole lives and who have no intention of letting a low-caste girl steal their glory. When a rebellion rises and rogues attack Koral to try and force her to drop out, she must choose―her life or her sister's―before the whole island burns.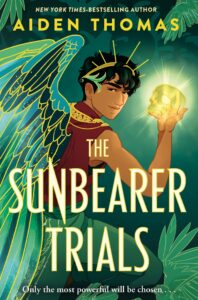 The Sunbearer Trials by Aiden Thomas (6th September)
As each new decade begins, the Sun's power must be replenished so that Sol can keep traveling along the sky and keep the evil Obsidian gods at bay. Ten semidioses between the ages of thirteen and eighteen are selected by Sol himself as the most worthy to compete in The Sunbearer Trials. The winner carries light and life to all the temples of Reino del Sol, but the loser has the greatest honor of all—they will be sacrificed to Sol, their body used to fuel the Sun Stones that will protect the people of Reino del Sol for the next ten years.
Teo, a 17-year-old Jade semidiós and the trans son of Quetzal, goddess of birds, has never worried about the Trials…or rather, he's only worried for others. His best friend Niya—daughter of Tierra, the god of earth—is one of the strongest heroes of their generation and is much too likely to be chosen this year. He also can't help but worry (reluctantly, and under protest) for Aurelio, a powerful Gold semidiós and Teo's friend-turned-rival who is a shoo-in for the Trials. Teo wouldn't mind taking Aurelio down a notch or two, but a one-in-ten chance of death is a bit too close for Teo's taste.
But then, for the first time in over a century, Sol chooses a semidiós who isn't a Gold. In fact, he chooses two: Xio, the 13-year-old child of Mala Suerte, god of bad luck, and…Teo. Now they must compete in five mysterious trials, against opponents who are both more powerful and better trained, for fame, glory, and their own survival.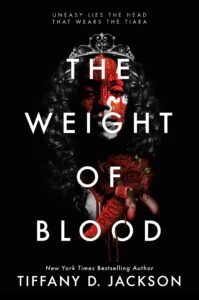 The Weight of Blood by Tiffany D. Jackson (6th September)
When Springville residents—at least the ones still alive—are questioned about what happened on prom night, they all have the same explanation . . . Maddy did it.
An outcast at her small-town Georgia high school, Madison Washington has always been a teasing target for bullies. And she's dealt with it because she has more pressing problems to manage. Until the morning a surprise rainstorm reveals her most closely kept secret: Maddy is biracial. She has been passing for white her entire life at the behest of her fanatical white father, Thomas Washington.
After a viral bullying video pulls back the curtain on Springville High's racist roots, student leaders come up with a plan to change their image: host the school's first integrated prom as a show of unity. The popular white class president convinces her Black superstar quarterback boyfriend to ask Maddy to be his date, leaving Maddy wondering if it's possible to have a normal life.
But some of her classmates aren't done with her just yet. And what they don't know is that Maddy still has another secret . . . one that will cost them all their lives.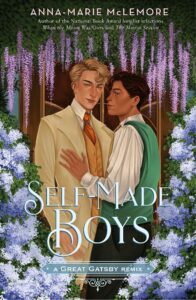 Self-Made Boys: A Great Gatsby Remix by Anna-Marie McLemore (6th September)
New York City, 1922. Nicolás Caraveo, a 17-year-old transgender boy from Minnesota, has no interest in the city's glamor. Going to New York is all about establishing himself as a young professional, which could set up his future—and his life as a man—and benefit his family.
Nick rents a small house in West Egg from his 18-year-old cousin, Daisy Fabrega, who lives in fashionable East Egg near her wealthy fiancé, Tom—and Nick is shocked to find that his cousin now goes by Daisy Fay, has erased all signs of her Latina heritage, and now passes seamlessly as white.
Nick's neighbor in West Egg is a mysterious young man named Jay Gatsby, whose castle-like mansion is the stage for parties so extravagant that they both dazzle and terrify Nick. At one of these parties, Nick learns that the spectacle is all for the benefit of impressing a girl from Jay's past—Daisy. And he learns something else: Jay is also transgender.
As Nick is pulled deeper into the glittery culture of decadence, he spends more time with Jay, aiming to help his new friend reconnect with his lost love. But Nick's feelings grow more complicated when he finds himself falling hard for Jay's openness, idealism, and unfounded faith in the American Dream.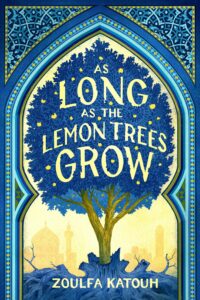 As Long as the Lemon Trees Grow by Zoulfa Katouh (13th September)
Salama Kassab was a pharmacy student when the cries for freedom broke out in Syria. She still had her parents and her big brother; she still had her home. She had a normal teenager's life.
Now Salama volunteers at a hospital in Homs, helping the wounded who flood through the doors daily. Secretly, though, she is desperate to find a way out of her beloved country before her sister-in-law, Layla, gives birth. So desperate, that she has manifested a physical embodiment of her fear in the form of her imagined companion, Khawf, who haunts her every move in an effort to keep her safe.
But even with Khawf pressing her to leave, Salama is torn between her loyalty to her country and her conviction to survive. Salama must contend with bullets and bombs, military assaults, and her shifting sense of morality before she might finally breathe free. And when she crosses paths with the boy she was supposed to meet one fateful day, she starts to doubt her resolve in leaving home at all.
Soon, Salama must learn to see the events around her for what they truly are—not a war, but a revolution—and decide how she, too, will cry for Syria's freedom.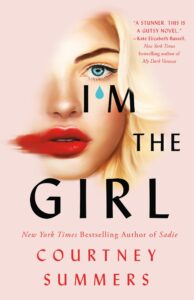 I'm the Girl by Courtney Summers (13th September)
When sixteen-year-old Georgia Avis discovers the dead body of thirteen-year-old Ashley James, she teams up with Ashley's older sister, Nora, to find and bring the killer to justice before he strikes again. But their investigation throws Georgia into a world of unimaginable privilege and wealth, without conscience or consequence, and as Ashley's killer closes in, Georgia will discover when money, power and beauty rule, it might not be a matter of who is guilty—but who is guiltiest.
A spiritual successor to the 2018 breakout hit, Sadie, I'm the Girl is a masterfully written, bold, and unflinching account of how one young woman feels in her body as she struggles to navigate a deadly and predatory power structure while asking readers one question: if this is the way the world is, do you accept it?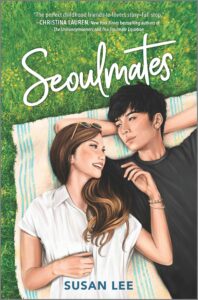 Seoulmates by Susan Lee (20th September)
But then Nate does what everyone else in Hannah's life seems to do—he leaves her, claiming they have nothing in common. He and all her friends are newly obsessed with K-pop and K-dramas, and Hannah is not. After years of trying to embrace the American part and shunning the Korean side of her Korean American identity to fit in, Hannah finds that's exactly what now has her on the outs.
But someone who does know K-dramas—so well that he's actually starring in one—is Jacob Kim, Hannah's former best friend, whom she hasn't seen in years. He's desperate for a break from the fame, so a family trip back to San Diego might be just what he needs…that is, if he and Hannah can figure out what went wrong when they last parted and navigate the new feelings developing between them.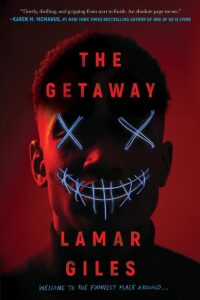 The Getaway by Lamar Giles (20th September)
Welcome to the funnest spot around . . .
Jay is living his best life at Karloff Country, one of the world's most famous resorts. He's got his family, his crew, and an incredible after-school job at the property's main theme park. Life isn't so great for the rest of the world, but when people come here to vacation, it's to get away from all that.
As things outside get worse, trouble starts seeping into Karloff. First, Jay's friend Connie and her family disappear in the middle of the night and no one will talk about it. Then the richest and most powerful families start arriving, only… they aren't leaving. Unknown to the employees, the resort has been selling shares in an end-of-the-world oasis. The best of the best at the end of days. And in order to deliver the top-notch customer service the wealthy clientele paid for, the employees will be at their total beck and call.
Whether they like it or not.
Yet Karloff Country didn't count on Jay and his crew–and just how far they'll go to find out the truth and save themselves. But what's more dangerous: the monster you know in your home or the unknown nightmare outside the walls?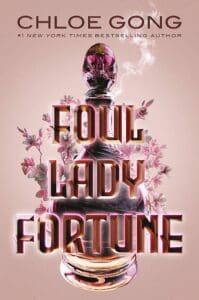 Foul Lady Fortune by Chloe Gong (27th September)
It's 1931 in Shanghai, and the stage is set for a new decade of intrigue.
Four years ago, Rosalind Lang was brought back from the brink of death, but the strange experiment that saved her also stopped her from sleeping and aging—and allows her to heal from any wound. In short, Rosalind cannot die. Now, desperate for redemption from her traitorous past, she uses her abilities as an assassin for her country.
Code name: Fortune.
But when the Japanese Imperial Army begins its invasion march, Rosalind's mission pivots. A series of murders is causing unrest in Shanghai, and the Japanese are under suspicion. Rosalind's new orders are to infiltrate foreign society and identify the culprits behind the terror plot before more of her people are killed.
To reduce suspicion, however, she must pose as the wife of another Nationalist spy, Orion Hong, and though Rosalind finds Orion's cavalier attitude and playboy demeanor infuriating, she is willing to work with him for the greater good. But Orion has an agenda of his own, and Rosalind has secrets that she wants to keep buried. As they both attempt to unravel the conspiracy, the two spies soon find that there are deeper and more horrifying layers to this mystery than they ever imagined.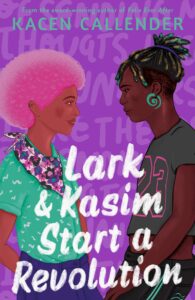 Lark & Kasim Start a Revolution by Kacen Callender (27th September)
Lark Winters wants to be a writer, and for now that means posting on their social media accounts––anything to build their platform. When former best friend Kasim accidentally posts a thread on Lark's Twitter declaring his love for a secret, unrequited crush, Lark's tweets are suddenly the talk of the school—and beyond. To protect Kasim, Lark decides to take the fall, pretending they accidentally posted the thread in reference to another classmate. It seems like a great idea: Lark gets closer to their crush, Kasim keeps his privacy, and Lark's social media stats explode. But living a lie takes a toll—as does the judgment of thousands of Internet strangers. Lark tries their best to be perfect at all costs, but nothing seems good enough for the anonymous hordes––or for Kasim, who is growing closer to Lark, just like it used to be between them . . .
In the end, Lark must embrace their right to their messy emotions and learn how to be in love.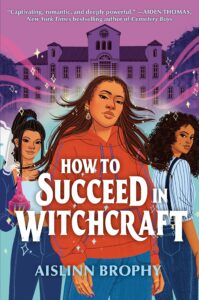 How to Succeed in Witchcraft by Aislinn Brophy (27th September)
Shay Johnson has all the makings of a successful witch. Now that she's a junior at T.K. Anderson Magical Magnet School, she's one step closer to winning the full-ride Brockton Scholarship–her ticket into the university of her dreams. Her main competition? Ana freaking Alvarez. The key to victory? Impressing Mr. B, drama teacher and head of the scholarship committee.
When Mr. B persuades Shay to star in this year's aggressively inclusive, racially diverse musical–at their not-quite-diverse school–she agrees, wearily, even though she'll have to put up with Ana playing the other lead. But with rehearsals underway, Shay realizes Ana is…not the despicable witch she'd thought. Perhaps she could even be a friend–or more. And Shay could use someone in her corner once she finds herself on the receiving end of Mr. B's unpleasant and unwanted attention. When Shay learns she's not the first witch to experience his inappropriate behavior, she must decide if she'll come forward. But how can she speak out when the scholarship–and her future–are on the line?