Today we are here to chat about Percy Jackson. And there's a lot we can chat about. While we are so very excited for the TV show to come out next month (!!!), today we decided to just focus on the books. In particular, we are here to chat about the new covers by Khadijah Khatib. You might recognize Khadijah's work for The Sun and the Star, as well as the UK's Daughter of the Deep.
The Chalice of the Gods
After many years of wait, Rick Riordan is back with another book that has Percy as the main character. While we loved The Sun and the Star, the book centering around Nico di Angelo that came out earlier this year, having Percy Jackson narrate the story really hits different. It is super nice to read about Percy growing up and trying to get into college, and you don't need to remember everything that happened in Rick Riordan's books in order to enjoy this. We get to interact with some gods and goddesses that don't often make an appearance in the PJO books and there are some amazing life lessons in here too. If our prediction is right, there should be two more books in this new spinoff series. The U.S. cover was done by Victo Ngai, who designed the newest Percy Jackson covers that came out last year. The one pictured here is the UK edition, which is illustrated by Malaysian artist Khadijah Khatib, which looks super sick.
New Percy Jackson & the Olympians covers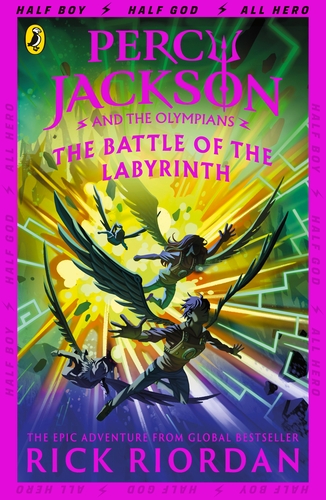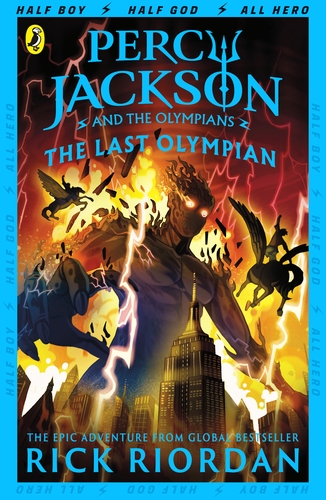 Now, for those who are wondering whether the UK would also get new covers for PJO anytime soon, the answer is yes. Khadijah Khatib also redid all the covers in the PJO series so they would have the same style as The Chalice of the Gods. We aren't entirely sure how we are feeling about the bright frames, as they are giving off R.L. Stine vibes but the artworks definitely look incredible. They fit the stories very well and remind us of the original US covers.
We are just curious whether Puffin UK would decide to revamp the other Rick Riordan books as well? That would be a big project but we are definitely down for new covers.
And before we leave, one more thing: we are giving away one set of the new Percy Jackson & the Olympians series. To win, simply follow the instructions in the tweet below:
Terms and Conditions
1. No purchase necessary. A purchase will not increase your chances of winning.
2. This giveaway is open to residents of the United Kingdom only.
3. This giveaway opens at 12:00 and closes on at 21:00
4. One (1) winner will be selected at random from all applicable entries. The prize consists of one (1) set of the Percy Jackson & the Olympians. Prize has no cash value and no alternative prize is available.
5. Winner will be contacted via Twitter direct message by @unitedbybks after the giveaway closes. Winners must provide United By Pop with their full name and mailing address to receive their prize. If winner fails to do so within 24 hours of being contacted, winner forfeits their prize and a new winner will be selected.
6. United By Pop is not responsible for prizes that are lost or damaged in the post. Prizes may take up to 90 days to arrive.
7. This giveaway is in no way sponsored by or affiliated with Instagram and/or Facebook.