To All the Boys: P.S. I Still Love You – 5 differences between the book and the movie
You perhaps missed a few of these, so we are giving you all the details. Beware there are major spoilers ahead!
We've all been waiting for the sequel to Netflix's To All The Boys I Loved Before since the second it was released in 2018.
To All the Boys: P.S. I Still Love You arrived just before Valentine's Day, finally answering our burning questions about what happens with main characters Lara Jean and Peter Kavinsky as they make their relationship a real thing. Everything is sweet as honey, until Lara's childhood sweetheart, John Ambrose, is back and turning things upside down.
Now Lara Jean is torn between the two guys. Many book fans might think they knew what would happen, but there are a few key differences between the book and the movie.
The first date
It's a fact that most of us love the first date Lara and Peter shared in the movie, but according to the book, it was supposed to be way simpler. It was a more intimate moment, and, instead of going to an Italian restaurant and a Japanese Lantern Festival, these lovebirds go to Peter's favorite restaurant: Biscuit Soul Food.
John and Belleview
Throughout the movie, Lara Jean and John Ambrose become closer while volunteering at Belleview. But in the book, they're pen-pals and meet again at the capsule party. Eventually, they do meet at Belleview, but it was because Stormy is John's grandmother!
Assassin is missing
In the book, the treehouse squad plays the game of Assassins, which allows the characters to run into each other outside of school and at Peter's lacrosse games. Lara goes against Gen, and that is actually how she finds Gen and Peter sharing a heart-to-heart moment, instead of Chris letting her know.
No kiss under the snow
Since there is no Assassin game in the movie, Peter has no chance of going with Gen to tag Lara Jean, which in turn leads her to run and kiss John while he drives away. Rather, we get an amazing Star Ball in which they kiss before Lara realizes Peter is the one on her mind.
We totally get it, Netflix, that kiss under the snow was magical. But somehow, we still wanted to get as much #TeamJohn in the movie as we do in the book.
The final showdown
In the book, both Peter and John decide they want to fight over Lara Jean's love. John gives her a snow globe, while Peter returns her pendant and tells her he will do anything for her. After finding out Genevieve's secret, Lara realizes she loves Peter and at the treehouse.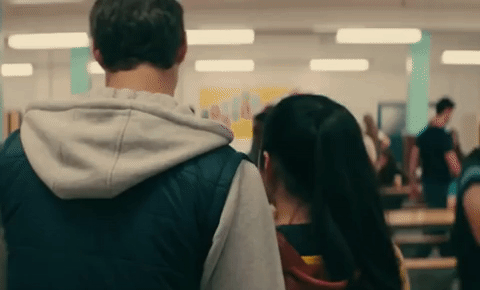 This new movie might be a little bit cheesier, but still, who doesn't love a bit of teen drama and a perfect rom-com relationship?
Which difference did you like the most? And which scene you would like to see? Let us know your opinions down below and on Twitter at @UnitedByPop.