Wallows sophomore album Tell Me That It's Over is out, and the trio have created indie-pop perfection. The ten-track LP is an electric mix of experimentation, psychedelic synths, alternative rock, and an ode to nostalgic tones of the 90s.
"Nothing Happens was about transitioning from youth to adulthood and being scared of that. Tell Me That It's Over is about, now you've found yourself in adulthood, and every relationship at that point starts to feel more serious and daunting," Dylan Minnette revealed to Zane Lowe.
Divulging that the three childhood best friends are now coming into adulthood with new perspectives and experiences. Their first album, Nothing Happens was a coming-of-age tale, confronting friendships, blossoming love lives, and a new chapter of familial dynamics. It was fresh, clean, and surprising. Tell Me That It's Over is the polished and experienced response. This new era for the boys is rife with confidence, understanding, a new perspective on life, and the ups and downs of personal relationships.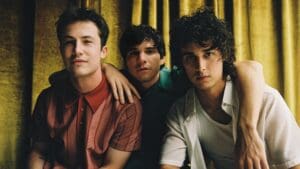 'Hard to Believe,' the opening track, blends a classic Wallows rock tone with a beautiful symphony of violins—an exciting opening song about the end of a relationship and all the self-blame. A sweet slow built melody, with a crescendo of a sick guitar solo with violin backings paired with solemn lyrics.
'I Don't Want to Talk,' the first single released in September of last year, is the second track. This song is pure fun, beginning with an earful of drums, harmonicas, and guitars.
'Especially You' follows the same magnetic new sound, a pure pop-synth hit—a fast and synergistic blend of all things the 90s and indie-pop. The hypnotic beat makes it hard to realize that the lyrical content is a bit heavy, topics of not knowing where one stands in the relationship and needing clarity and confirmation.
'At the End of the Day' is a beautifully composed song sung by Braeden Lemasters. With a catchy chorus repeating, "At the end of the day, I'm not going away, I'm staying," and storytelling about taking the next steps in a relationship. The gentle sincereness supports the delicacy of the situation in the Lemasters' voice and melodic backings.
'Marvelous' and 'Hurts Me' are standouts of the entire album, authentic nostalgic notes of 90s love. Blast from the past yet contemporary and rooted in the foundation of Wallows' beginnings–fun, catchy, emotional, and revered with. The experimentation is fresh and a fun twist on classic sounds we all know.
'That's What I Get' is arguably one of the saddest songs. Depicting the end of a relationship, the miscommunications and the palpable tension covered in words aren't said. Braeden's voice encapsulates the tragic and frustrating emotions. Once again, using string instruments and voice-altering mixes, the bridge is a funky mix of classical and new wave.
'Guitar Romantic Search Adventure' is a smooth send-off. With crisp piano notes and a soft guitar strum, it's the perfect song to blast on warm summer nights, reflecting on all the good, bad, and what's to come. 'I hope [that] you don't tell me that it's over now,' are the final lyrics sung by Dylan Minnette, a soft heartbroken plea echoed by the trailing off piano keys.
With inspiration from acts like Arcade Fire, Weezer, The Shins, MGMT, a flare of 80s/90s pop, Tell Me That It's Over is an ode to music and a navigational map for love and the emotional rollercoaster of life after adolescence. Wallows' ingenuity and vulnerability have solidified its spot as a progressive indie-pop staple.
Catch Wallows on tour starting this spring and download Tell Me That It's Over here.