2022 is going to be The Lunar Year's year
Introducing The Lunar Year - the new pop-punk duo that'll be on your playlist before long.
If you haven't yet heard of The Lunar Year then today is your lucky day as I promise by the end of this article, they'll have been added to your playlist. The Lunar Year are a fresh pop-punk duo that consists of two already established artists: Connor Ball, lead bassist of The Vamps, and Sasa Macek, lead drummer of Cheat Codes.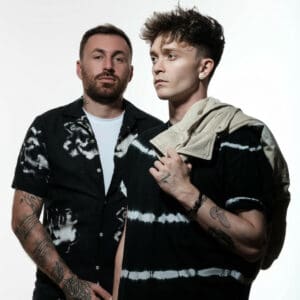 The duo formed online with the 1,000-mile distance between them as Connor lives in the UK and Sasa lives in Croatia. However, the distance has proved to not be a problem whatsoever as since forming, they've released two singles with the first one 'Back For More', followed by 'Medicine'.
They kickstarted their journey together when they filmed a cover of 'forget me too' by Machine Gun Kelly and then Connor made the trip over to Croatia last summer to properly meet Sasa. They then dropped their two energy-driven pop-punk singles. Connor said of 'Back For More': "It's about people in your life who aren't good for you, but you keep going back to them like a security blanket. It could be an ex or an old friend. It's just a regression in your life." Sasa added: "When you hear us, I hope even if you're sad, you just start dancing in the room. There would be nothing better." Listen to 'Back For More' down below.
Not only have they dropped singles for their already large following (thanks to their previous music projects), The Lunar Year also announced, in November, that they'd be embarking on a headline tour around the UK. The shows, which will be taking place in May this year, will see the duo take on Manchester, Birmingham and London. You can get tickets here.
Connor and Sasa also spoke with their fans on a Zoom call this week. They offered the opportunity to the first 100 fans that signed up for their newsletter. The lucky fans then got to speak with the pair about their exciting future.
Hey gang! Wanna get on a zoom with us for a few? The first 100 people to sign up for our street team will get an invite! You can sign up at our official website (https://t.co/ZbaStAceJW)! 🪐🌙 pic.twitter.com/GYyRKVj0QV

— The Lunar Year (@TheLunarYear) January 7, 2022
Have you added The Lunar Year to your playlist yet? If not then why not? Let us know your thoughts on this up and coming duo in the comments.