Photo: Alessandra Guarneri
As both of the acts have incredibly devoted fan bases, the venue was completely packed, with fans occupying every possible inch of space both upstairs and downstairs.
Jake Miller opened the show with an appropriately lengthy setlist that included some of his most popular singles, such as "First Flight Home," and some brand new tracks off of his latest EP, Summer 19.  The multi-instrumentalist brought each song to life by performing  with his piano or guitar. On top of his impressive talent as an instrumentalist, Jake's powerful vocals effortlessly captivated the crowd as they sang along or simply admired his passion for music.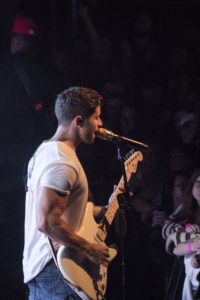 Jake's performance was considerably memorable because of his connection with his fans. It was inspiring to hear the singer talk about his roots as an artist and discuss the details of his journey as not only a musician but as a person. The way he vulnerably opened up to the crowd about missing home and how he has changed over time gave a unique and personal touch to his performance. And whether or not attendees were familiar with his story at the beginning of the night, they left knowing about some of the most important aspects of his life thus far.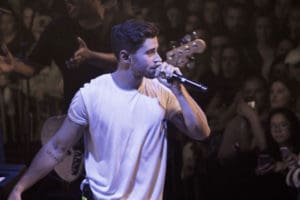 Jake Miller won the crowd over with his authenticity and intricately-produced songs. Although the "Dazed and Confused" singer was considered to be an opener for this tour, those in attendance could have easily been convinced he was a co-headliner. The dedication and energy that radiated from the crowd during each song he performed was easily the opposite of what people will hear from an audience before the headliner gets on stage.
There was not much worrying about saving voices and remaining calm for the main act, Hoodie Allen, because these fans seemed to know how to do it all and have the same amount of enthusiasm for the next round afterward. As soon as Jake took a breath, the crowd picked up his lyrics right where he left off and the screams continued way after he left the stage.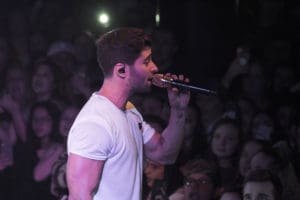 Just minutes after Miller's set concluded, the stage began to be set up for Hoodie Allen. An on-stage lighting test had fans in hysterics thinking he was about to come on. The passion and support the crowd exuded for both acts was beyond typical. Hoodie was able to rile them right back up as soon as he and his band got on stage, and their energy did not seem to fade even after the show concluded.
Similar to Jake, Hoodie's connection and bond with his fans was inseparable. He even flew out one of his supporters from Florida to see the show in Boston and played her favorite song on stage after giving the fan a massive shout-out. With countless people reaching out over social media, this is not something that concertgoers see or hear about regularly. Hoodie's respect and loyalty to his fans is unlike many other artists. It's rare to have both artists on a tour have almost identical values when it comes to their support systems, but Jake and Hoodie were all about it.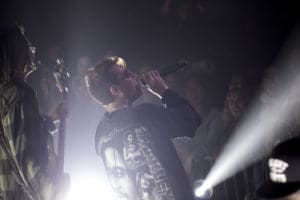 Hoodie inevitably fed off of the crowd's energy and infectious excitement that Jake started the night off with. By the end of the set and last show of this tour, Hoodie had been pranked by Jake on stage, thrown cake into the crowd and even hosted a mini surprise party on-stage after singing happy birthday to three lucky women who were celebrating in the audience.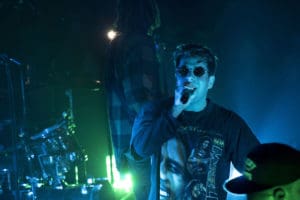 This tour revolved around one dynamic duo that the audience could not seem to get enough of and many do not seem opposed to these two tackling another few performances together again soon. With high spirits, positive messages and genuine connection to the music they make, Jake Miller and Hoodie Allen were effortlessly able to dominate Boston together for their last stop of this incredible tour.