Fresh off a U.K. arena tour supporting Rita Ora, Four of Diamonds performed their second headline show in London last Wednesday. Underground at The Borderline, the audience crowded in close for the intimate gig of 11 songs that featured a surprise appearance from Ebenezer.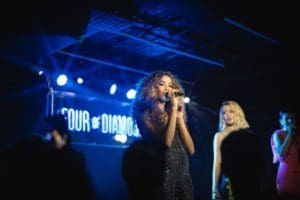 Singing a mix of their original songs and covers, Four of Diamonds rocked the house. Some highlights include "Name On It," which has amassed over a million streams on Spotify, "Walk Away," their newest single, and "Somebody Else," a beautiful cover of the well-beloved The 1975 song. Despite these standout moments, the group's talent was palpable from the opening of "Stupid Things," when they stepped on stage already nailing perfect harmonies. 
Throughout the performance, the group performed carefully choreographed dance movements and interacted with charming, authentic moments of banter. Towards the end of the show, Sophia even started chatting at a moment she wasn't meant to, misreading the setlist in the dim light of the club, but this mistake fostered a moment of connection between the audience and girls on stage, agreeing that "this never happened." (Sorry, Sophia!) But this sense of connection she created made for an even better production and demonstrated how everyone in the room, one stage or in the pit, were there to have a good time and share music they loved with those who wanted to support them.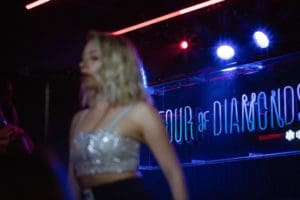 After such a successful tour and incredible performance, here's hoping Four of Diamonds are off to even bigger heights during the rest of the year (a debut album perhaps?) This group, a lesser-known Little Mix are made for great things. Did someone say, next Spice Girls?