YG Entertainment
With thousands of festival goers, day 6 of American Express presents BST Hyde Park 2023 was a day for the books. With an amazing lineup featuring artists such as Sabrina Carpenter, The Rose, Rebecca Black, Caity Baiser and headliner BLACKPINK we saw why the day was completely sold out.
Earlier in the day, South Korean indie-rock band The Rose gave a great performance on the Great Oak stage. With songs like 'She's in the Rain' and 'Beauty and the Beast', the vibes in the crowd were immaculate. Lead vocalist Kim Woosung had some fun interaction with the crowd as well. For those who haven't heard about The Rose, they are definitely one to check out!
After The Rose, it was time for internet sensation Rebecca Black to enter the Rainbow stage. The 'Friday' singer discovered herself throughout the years as an artist and showed what she has in store for us. With a setlist of her own new songs and her hit 'Friday' itself, the crowd was pumped by Rebecca and her dancers. "I love you London, it weirdly feels like home to me. I adore everything about this city and am grateful to be here tonight. "The last 12 years have been a journey and whether or not you've been here along the way, or don't know who the f*** I am and that's a slay, moments like this make it all worth it for the feeling.". — yes queen! We love that energy.
Later on in the day, before the main headliner BLACKPINK, Sabrina Carpenter was another star of the day on the Great Oak Stage who was absolutely shining with her hits like 'Feather' and 'Nonsense'. The pop star was a great opener before BLACKPINK would participate on stage. Sabrina admitted later on that she's a BLINK herself and couldn't wait for the show. "Thank you so much for having us BST. I'm a huge BLACKPINK fan, before them let's get you warmed up!".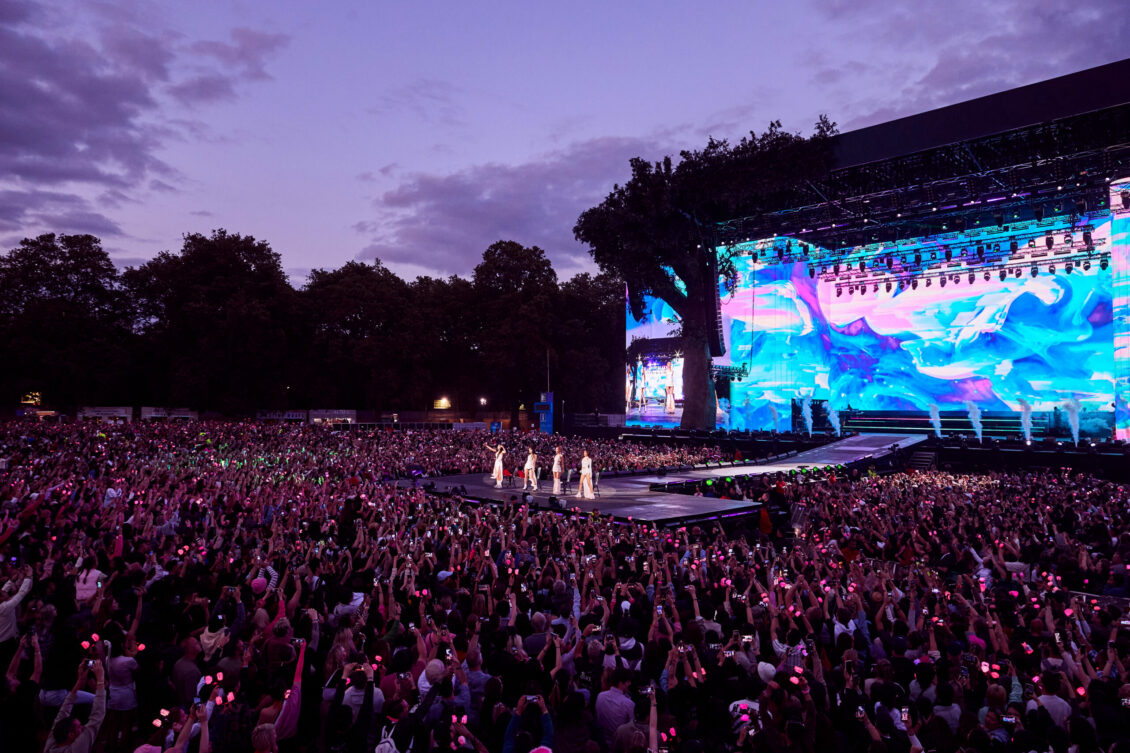 And then finally the moment where everyone was waiting for, the headliner of the day; BLACKPINK. With a sea of pink hearted lightsticks and thousands of BLINKS on the grass field at Hyde Park, their massive hit 'Pink Venom' was blasting through the speakers. Jennie, Rosé, Jisoo and Lisa made history by becoming the first Korean act to headline a festival in the UK.
With hits like 'Shut Down' and 'How You Like That' BLACKPINK showed why they're the headliner of American Express presents BST Hyde Park 2023. Just an hour and a half full of show, dancing, singing and outfit changes, these four girls gave us everything; including an iconic performance of 'Typa Girl', which was an absolute highlight of the night, with dancer and feathers on stage; like we are in Las Vegas. "We're absolutely honoured to perform here at Hyde Park," Rosé stated. "It's a dream come true!"
The 10th anniversary of American Express presents BST Hyde Park has been a total success so far. With headliners like P!NK, Guns 'N Roses, Take That and BLACKPINK, it is an amazing way to celebrate music and the summer. On July 7, 8 and 9 the last shows of the year are with Billy Joel, Bruce Springsteen and The E Street band, and Lana Del Ray. Tickets are unfortunately already sold out, but we can't wait already for next year's edition with new headliners and support acts!