Rather than just doing your plain and average review that can become quite repetitive, I decided to look back at The Vamps' recent tour as a whole. I went to see four of the dates on their UK leg of the tour and as always, they didn't disappoint.
I am going to take a look back at the ten best moments from my experience of the dates I attended on The Vamps Greatest Hits Tour. I attended Manchester night two, London (I also attended VIP here), Nottingham and the final night in Birmingham (I attended VIP here too).
---
1. Shades On
One moment I looked forward to every night was when they sang 'Shades On'. It was iconic! Everyone in the crowd flung sunglasses on the stage for The Vamps to put on as they sang. Then everyone pulled sunglasses out of their handbags, and pockets and put them on. Looking around the venue in rose-tinted glasses was extremely funny and then seeing everybody looking back at you in funky sunglasses made it even funnier.
2. The whole O2 Arena show
The last time I saw The Vamps at the O2 Arena was in 2019 on their 'Four Corners' tour when they made history by becoming the first band in history to perform there five years in a row. So going back, I was so excited and I also had tickets for the pit for the first time in that venue. It was everything I expected and more! The entire show was magical, down to the confetti falling at the end. I would do anything to relive it, you could even feel the happiness radiating from each of the boys. I can't wait to rewatch it on Vamps+ (if you don't know about Vamps+, make sure to read on).
3. Getting the fans to sign the piano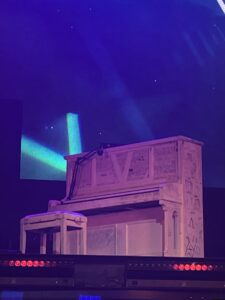 If you were lucky enough to get a soundcheck ticket to any of the dates then you'll know that during this, The Vamps picked one or two fans out to sign their piano. The piano is the one that they used for their promotional photoshoot for the tour and they'd written their favourite Vamps memories to commemorate the ten-year anniversary. As mentioned they then invited fans up to sign their name and/or a special Vamps memory on there too. This was such a special thing for The Vamps to do! It was like allowing their fans to be even more of a part of their ten-year anniversary.
4. Playing songs from Meet The Vamps
Every single fan of The Vamps knows what it's like when you're dying to hear that one particular song but it never gets put on the setlist… Last year, on the 'Cherry Blossom' tour, that song was 'Lovestruck'. Luckily, The Vamps listened and played it on their last date. However, fans were still hoping to hear it this year and again, The Vamps listened and added it to the setlist. They also sang 'Girls On TV' and both songs are from their very first album and hadn't been sung live for years. It was a real treat as an OG fan to hear them live again!
5. Dancing In The Moonlight VIP
Going back to the soundcheck, The Vamps sang their newest song 'Seat At The Table' but that wasn't it… They also covered 'Dancing In The Moonlight' which was unbelievable! I really do think they should record a studio version and release it.
6. Vamps+
Mentioned above Vamps+ is the new platform where you can stream all things The Vamps. They announced it just before the tour and advertised it during. It's a new site where you can see behind-the-scenes footage, backstage videos and full concerts (including the O2 Arena show). It is a paid site but 100% worth it for any fan of The Vamps.
7. Back in arenas with a long catwalk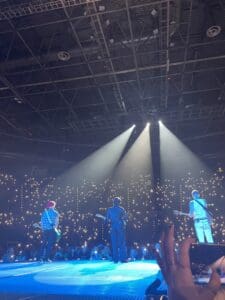 It was incredible to see The Vamps back in arenas after a few years! I do love an intimate academy or theatre but arenas are truly where they belong. The energy they bring deserves to be in an arena. Them also having a large catwalk that stretches to the back creates an even better atmosphere because it means they can take the show to the back of the arena too.
8. Seat At The Table
It wouldn't be a winter tour without a Christmas song and The Vamps certainly delivered with their new Christmas song 'Seat At The Table'. Hearing them perform it live was so special as it's such a meaningful song.
9. Connor stood on the piano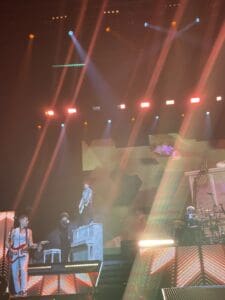 If you're a hardcore Vamps fan then you know about Connor's other name, Connor Fall, which he has been given just because he falls 24/7. I swear there hasn't been a tour yet where he's not injured himself. So when he stood up on top of the piano during 'Married In Vegas', I feel like I can speak on behalf of everyone when I say everybody's hearts stopped. Luckily, Connor managed to not fall! How? I don't know but he did and it was an incredible part of the show.
10. Tristan on the catwalk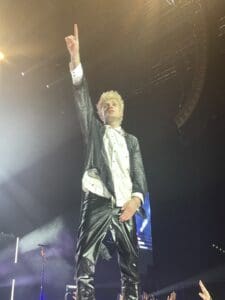 As I said earlier, catwalks are a huge benefit at concerts as they allow you to feel more involved no matter where you are sitting. One of the benefits of it at a Vamps show is seeing Tristan up close! Since he doesn't often move from his drum kit (a true professional), it was amazing when he walked down the catwalk at the end so everybody could heap him with the praise he deserves.
---
I already miss The Vamps and the touring lifestyle so much! I love seeing new parts of the country with my best friends while following one of my favourite bands, it is always worth every penny. So much so that I've booked to see them in Paris in the new year so stay tuned!
Did you go to The Vamps Greatest Hits tour? If so, what was your favourite moment? Let us know in the comments below.
*All concert images are my own*