Taylor Swift has donated a jaw-dropping $113,000 to the Tennessee Equality Project, an organisation fighting to stop a series of anti-LGBT laws being passed in the state.
Known as the 'slate of hate', the discriminatory bills will allow adoption agencies to turn away same-sex couples and enable the harassment of transgender people in bathrooms – measures which will no doubt have a detrimental effect on thousands of lives.
The donation came alongside a handwritten note, in which Taylor explained her reasons for supporting the non-profit. She particularly expressed her gratitude towards faith leaders for "standing up" and "giving all people a safe place to worship."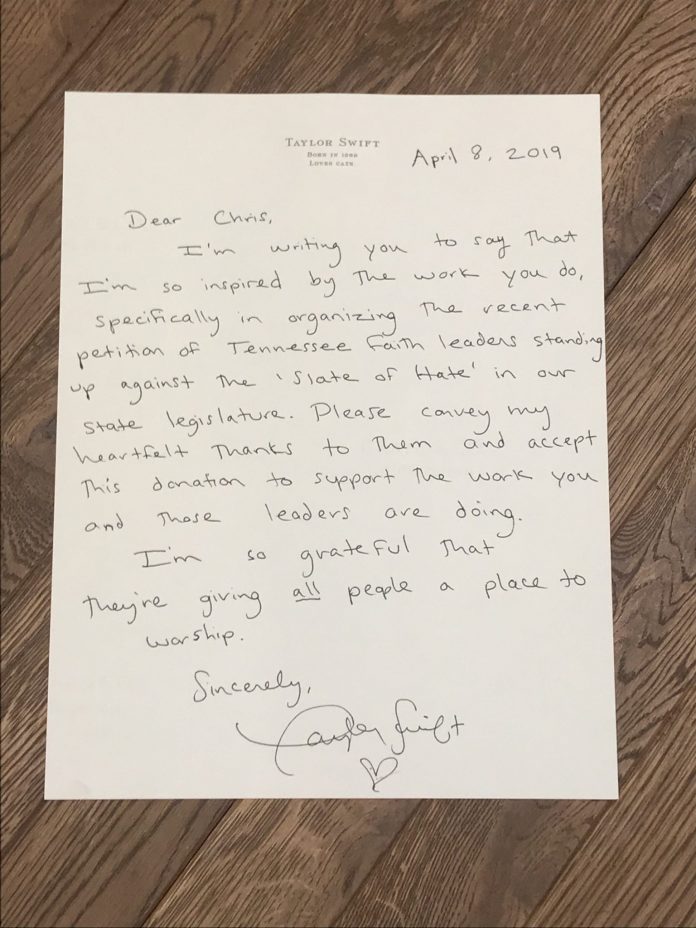 The figure is equivalent to almost an entire year of its operating budgets (with the significance of lucky number 13 not being lost on fans eagerly awaiting TS7) and will make an enormous difference. In addition, Taylor has a platform of millions of followers and that's why using her speaking out is so important.
This isn't the first time Swift has used her voice for good. She broke her political silence back in October by endorsing Democratic candidate Phil Breseden for Senate, citing LGBTQ issues as one of her reasons.
"I always have and always will cast my vote based on which candidate will protect and fight for the human rights I believe we all deserve in this country. I believe in the fight for LGBTQ rights, and that any form of discrimination based on sexual orientation or gender is WRONG," she wrote in an Instagram post.
And when she talks, it seems the world listens.
Vote.org credited Taylor for causing a massive spike in new voter registrations following her statement. "We are up to 65,000 registrations in a single 24-hour period," said Kamari Guthrie, director of communications.
For context, 190,178 new voters were registered nationwide in the whole of September, while 56,669 were registered in August. The post, which currently has over 2 million likes, is likely to have inspired a younger audience of first-time voters.
We all know Taylor Swift has been a long-time ally to the LGBT community, but it takes bravery to explicitly speak out in the face of fear. Powerful statements can really make a difference and her latest donation proves she isn't done with politics just yet.