Photography: Ed Cooke
James McVey, lead guitarist from The Vamps, has recently thrilled fans with the release of his debut pop-folk single 'Dancing on the Head of a Needle', you can read our interview with him about this song here. Following his above debut single, last week James released 'Blood & Bones'.
'Blood & Bones' is completely inspired by James's wife, Kirstie. The pair got married in 2021. The majorly acoustic song is a beautiful testament to how much James appreciates Kirstie. It is the perfect follow up for his debut single, enabling us to get a feel for the sort of solo artist he is becoming and which genre he is leaning towards.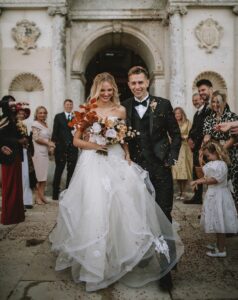 As well as releasing this song, James also announced that he is due to release an EP and play his first ever solo show. The EP, Manabi meaning 'learning through study' in Japanese, is scheduled for release on 10th November and will include six songs. The word 'manabi' is symbolic to James and is a short summary of his personal growth through releasing his solo music. He credits Damien Rice for his love of songwriting.
Whilst recovering from surgery to remove a polyp on his vocal chords, James stuck to his craft of songwriting and as a result, Manabi was born. James says of the EP:
I was just focusing on what I actually wanted to say with the songs and working out whether there was a real, tangible emotion I could convey – did it resonate with me? It took a long time to get there. I also remembered the innocence that I had when I first heard Damien Rice's first two albums, and how I was blown away by those songs. I wanted to go back and capture that wide-eyed feeling for this EP.
James will also be playing Hoxton Hall on 10th November, tickets are out this Friday. All tickets sold will benefit the mental health charity, Mind, to raise awareness around mental health issues. For more info, check here.
'Blood & Bones' is out now. Manabi is out 10th November, you can pre-save it here.