Lollapalooza Twitter
July couldn't have ended on a better note, J-hope headlining Lollapalooza was the highlight of the month. The rapper put on an amazing performance on the highest selling day in the festival's history. With a crowd filled with over 100,000 people from all around the world, J-hope impressed everyone with his stage presence as a solo artist for the first time in his career. "I hope you listen to my story", that's what he said after presenting himself as J-hope from BTS.
J-Hope's Historical Weekend in Chicago:

⭐️ first South Korean act to headline a festival in the US
⭐️ sold the most tickets at #Lollapalooza
⭐️ put on a show-stopping performance@bts_bighit pic.twitter.com/f36Su8OprI

— Universal Music Group (@UMG) August 1, 2022
Singing all songs from Jack In The Box on the first half of his set, just as promised J-hope showed a darker side of him, his well known spitting fire kind of rapper spirit, mixed with a rockstar persona yet to be seen by his fans, and of course, his killer dancing skills on the second half of the set.
Becky G was there to perform Chicken Noodle Soup for the first time since the song came out three years ago. She poured her heart on stage to tell J-hope how proud she was and how thankful she is for their friendship. The crew that danced with BTS during the Permission to Dance shows in the US, the dancers from The Lab were there to perform with J-hope as well.
His bandmates showed their support even from afar. SUGA posted on Instagram that he was watching the show from home along with 14 million people who were watching it on Weverse. Jimin came all the way from Korea to surprise and support J-hope. Friendship goals, right?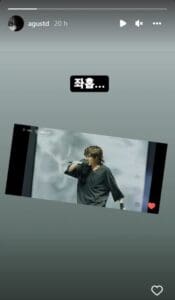 J-hope posted on Instagram a heartfelt message about this important milestone in his career, thanking everyone involved in the performance and of course ARMY who were there with him since the beginning.
BTS' new chapter is looking pretty good so far! We're excited for what else is on the way.