JAY B and "Switch It Up" set the bar high for any other Korean R&B singer. GOT7's leader and new addition to the Hip-Hop/R&B record label H1GHR MUSIC debuted on two Billboard charts for the week of May 29.
His recently released single "Switch It Up" – featuring the rapper sokodomo – entered the Billboard R&B Digital Song Sales Chart at No. 6, making JAY B the first Korean soloist to debut on the chart. The song also debuted on the Billboard R&B/Hip Hop Digital Song Sales Chart at No.18; he is the third Korean solo artist to debut on the chart.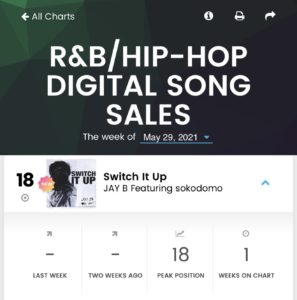 "Switch It Up" was released on May 14, just a few days after the announcement of JAY B joining Jay Park's record label. The single has quickly earned many achievements on both International and Korean charts – piquing K-R&B listeners' interest. The song debuted No.1 on Worldwide iTunes Song Chart and European iTunes Song Chart; topped the iTunes Song Chart in 45 countries, debuting on No.6 on the US iTunes Song Chart, sitting next to the likes of Katy Perry, Bruno Mars, and Olivia Rodrigo. On the domestic charts, "Switch It Up" debuted at No.3 on the Genie Real-Time Chart, then rising to No.1. The song has amassed over 2 million streams on Spotify, and the official live clip is close to reaching 4 million views.
JAY B is no novice to R&B and has already proven his ability to mold himself to the music genre on his SoundCloud and with the crew ØFFSHORE. With over 22 million streams on Soundcloud and "Switch It Up" achievements, it doesn't feel rushed to say that JAY B is on the right path to success.