A dive into Xdinary Heroes their EP Livelock, journey as a band and more
The Korean rock band is finally in Europe and had some time to chat about their crazy journey so far!
The Korean rock band Xdinary Heroes are FINALLY in Europe! – The 6 member band with Gun-il, Jungsu, Gaon, O.de, Jun Han and Jooyeon are on a crazy journey so far. With as highlight being on tour in Europe for their 'Break the Brake' world tour which includes stops in the UK as well for Korea on Stage and their own sold out concert at the O2 Academy in Islington. The members made some time to chat with us about their latest EP Livelock, their dreams and they even have a special message for their Villains!
Hi guys, thank you so much for your time with us! Recently you released a new EP called Livelock. Could you tell us a bit more about the EP?
Gun-il: Hello, thank you for having us. The name of our latest EP, Livelock, is a computer programming term that means 'infinitely repeating errors'. Livelock has a connected theme from the past EP Deadlock, which explores facing one's inner-self. Livelock is by far the album of which we are most proud, as it is filled with songs that will immerse listeners into "Livelock mode" (infinitely repeating the songs).
That's so creative! Who were your inspirations for making this EP?
Jun Han: While creating this album, I thought a lot about the Korean band 'JAURIM.' I studied their lyrics to improve and create more polished and well-crafted lyrics.
Did you also face any challenges by creating this EP? What were they?
Jungsu: I believe this album reflects more of Xdinary Heroes' energy and effort compared to previous ones. Personally, the most memorable aspect for me was the distribution for each part of members. When we create an album, we carefully consider who sings each part during the recording to enhance the quality of our music. For this album, we put in even more thought, making it a challenging yet rewarding experience.
How does your creative process as a band look like when you make a new song?
O.de: We are always trying hard to infuse our music with our distinct colors. We constantly think about how to capture the listeners' attention with our unique style.
Your music is special to all your Villains, but what makes your music unique to you?
Gaon: I think the reason why our music is special is because of our individual charms. Our music becomes special because we, as individuals, bring our own feelings to it, much like how the experience of playing the same song can vary from person to person.
Now you're currently on tour for your 'Break the Brake' World Tour. How does it feel to be so close to your fans?
Jooyeon: It's an honor to perform on stages where we can share and enjoy our songs with many people. Above all, we're grateful to Villains, so we'll do our best to ensure they have even more fun and play along with us.
How was it to perform for you at 'Korea On Stage'?
Gun-il: It was a dream-come-true moment for me. As a person who've always admired many British bands, performing on Wembley stage has always been my dream. My next dream is to have Xdinary Heroes' concert in Wembley Arena.
Gaon: It was literally a fiery performance. It's not only because of the audience's cheers and enthusiasm, but also because the actual stage effects were literally so hot! haha
Jooyeon: Being able to perform on the stage was a great honor and pure happiness. Moreover, seeing many people engaging with our songs, dancing and enjoying, was unforgettably wonderful. I strongly desire to perform on that stage again.
I'm glad to hear you guys had a great time in London! – Do you have a favourite memory together as a band?
Jungsu: I feel the happiest moments when we share our band's live performance with fans. The joy of playing our music live, with fans singing along and cheering, is an unforgettable memory. It gives me so much energy.
O.de: Beyond the bond among band members, everyday moments as human-to-human connections are very precious, and looking at our members on stage is truly beautiful.
Jun Han: Performing, and especially finishing a performance, is when we feel the best as a team. It's because we did well, had a great time, and made it all together.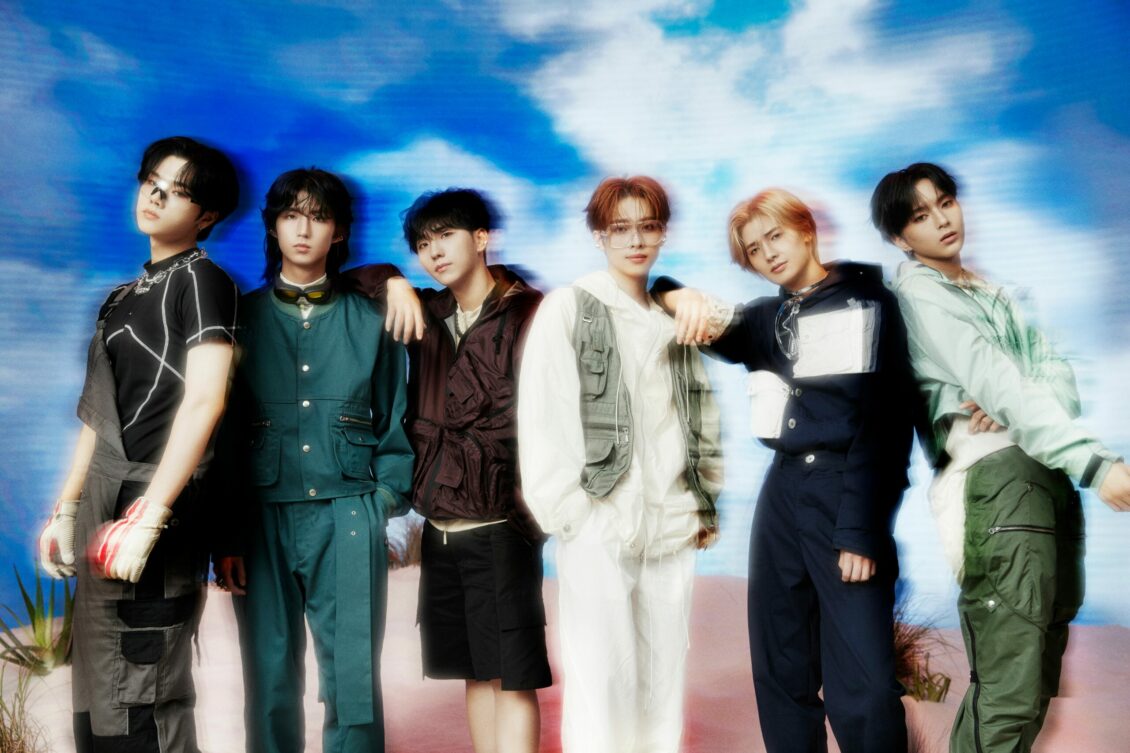 You guys spend a lot of time together… so, if you could switch lives with a member for a day, who would it be and why?
Gun-il: I'd like to live as Jooyeon. I'd like to know how it feels to be an amazing singer.
Jungsu: I'd like to live as Gaon. I have many thoughts and words I want to share with fans and those I appreciate in my head and heart, but when the moment comes, expressing them becomes a challenge for me. Gaon is skilled at expressing thoughts, and he confidently delivers touching words. I truly admire that.
O.de: I'd like to be Jooyeon. As he has a free soul, I'm always curious about how it feels to live like him.
You've done a lot of crazy things already – Do you still have any dreams? and what are they?
Gaon: Musically, my dream is to grow steadily and personally, I have my big dream of buying a beautiful house, decorating it, and living there.
Jun Han: It's a bit ambiguous to say it's a dream, but I want to grow. I want to express my intentions and play more accurately and vividly.
Jooyeon: My dream is to collaborate or perform on stage with my favorite musician, Luke Hemmings of 5 Seconds of Summer.
Finally, do you want to leave a special message for your Villains?
Gun-il: Hi guys! Thank you for your love and support for Xdinary Heroes. We were able to achieve so many things and grow a lot because of your continuous love. Without your support, we couldn't have come this far. To give back what you guys have done for us, we will continue to make more music and will be at a city near you to see you guys in person as soon as possible. Please stay safe and healthy all the time! Thank you!
Jungsu: Hello, beloved Villains! I'm thrilled about this interview opportunity. With the Livelock album, it seems we'll have more chances to meet global Villains, so let's meet soon! Thank you for your constant support and love!
Gaon: Hello Villains all over the world! Did you enjoy our album? Thanks to Villains, we're having a lot of fun! Thank you always, and I'll cheer for you with my heart that only good things happen! Love you, Villains!
O.de: Hello Villains! With two albums, tours, and various contents this year, I hope we captured the hearts of many Villains. I'm always thankful, and I hope you're always happy. Thank you and love you.
Jun Han: Villains! Sending energy from afar, you've been working hard!! Haha. We're receiving that energy well, so we'll show our gratitude during the tour! Thank you!!
Jooyeon: Villains!!! We've prepared a performance so exciting that you won't be able to sit still. Please look forward to it and enjoy it together! It's more fun to enjoy it with others than alone, so let's all be Villains together!
We want to thank Xdinary Heroes so much for their time with us! – Don't forget to keep an eye out for these guys, because they definitely stole our hearts.