Indian superstar Armaan Malik talks to us about his new single You
Armaan Malik, who is gaining global recognition right now, spoke to us about his brand new English ballad 'You'.
Armaan Malik is an Indian singer and songwriter who is huge in his home country and made his debut in Bollywood. He is now proving that he is soon going to be a household name around the globe. He holds over 11 million followers on Instagram and boasts over 6 million monthly listeners on Spotify.
Armaan has finally released his highly anticipated fourth English song called 'You'. The beautiful love ballad contains Armaan's soothing vocals as well as lush acoustic guitars to accompany the vocals. The lyrics are that of a genius and the song is incredibly catchy for a slow song. It offers a sense of familiarity for the listener and certainly wouldn't be out of place in the top 10 of the charts.
https://www.instagram.com/p/CYMASaqM9_E/?utm_source=ig_web_copy_link
I spoke to Armaan about his exciting new release and how he feels about all he has achieved since shooting to stardom.
Hi, hope you're well! Thanks for taking some time out for this interview! Firstly, congrats on your brand new single 'You'! The reaction to it has been incredible and I absolutely love it, how do you feel about the song?
My latest single 'You' is one of my favourite songs that I've released so far. It's got a certain purity and simplicity that I believe will speak to a lot of people. I've always wanted to do a love ballad in English and 'You' definitely is a no brainer in that genre. The song has been in the works for almost two years now which is why I am extremely excited that it's finally out there in the world for people to hear and make their own. The response so far has been phenomenal, the track is doing some great numbers across platforms but more importantly, I'm so happy to see people connecting with it in such a genuine way.
Through the lyrics, it's self-explanatory that it's about falling in love. Was this your inspiration for the song?
The song portrays that warm fuzzy feeling of finding your person, the one you're willing to take that leap of faith for. The one you love and the one who lives in your heart. I'm usually very reserved about my personal life, but I'd happily say that the inspiration for the song comes from my heart, and the feeling that I described – and resonate with.
How long have you been sitting on this song? It's been highly anticipated for a while now by your fans.
The song has been in the works for almost two years now. It was ready in 2020 and fans had been waiting for this one for quite some time. I still can't believe it's out there, but I guess when the time is right, everything works out.
The music video represents the lyrics so beautifully about falling in love. Were you just as excited to release the music video?
This video was just perfect. I didn't change a thing after I watched the first cut. Anastasia Delmark (the director) is a genius and I'm so glad she presented my song so beautifully. It was also a dream of mine to shoot a video in the beautiful city of Paris and I'm so glad we could film 'You' there. I think the video accentuates the charm of the song to another level.
You made your debut in Bollywood and have sung songs in several different languages, including English and Hindi. 'You' is your fourth solo English song. Do you see different reactions to each song you put out?
With each release, I learn something new. The fact that I have been able to attract listeners in countries where I never thought my music would reach is what truly fascinates me. Every song is received differently, but I must say the response for 'You' really has been beyond what I anticipated and imagined. The song has travelled places and I'm so glad to know that this process is introducing more individuals to my music, and the talent that my country has to offer.
Last year, you were crowned as one of India's 'most talked-about musicians on Twitter'. Did you realise how much people were talking about you and your music?
I was just being my usual self on Twitter. I don't know what I did specifically that could have triggered so many conversations about me, but I was definitely stoked to know that I was one of India's 'most talked-about musicians on Twitter'. It just goes to show that the connection I try hard to build, had reaped its fruits and that brings a huge smile to my face every time I think about it.
As well as this, you've also won an MTV EMA for your English single 'Control' in 2020, which is mad! How did you feel when you won such a huge award?
It still feels kinda unreal to have gotten an MTV EMA for my debut English single 'Control'. That award win really boosted my confidence and gave me the courage to dream even bigger than before.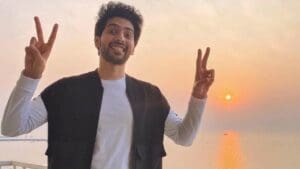 Finally, what can your fans expect from you over the forthcoming months?
Well, I just announced my new label Always Music Global which is in collaboration with Warner Music India, so fans can definitely expect a bunch of new music, videos and content. Additionally, a host of other global projects are in the pipeline, but I can't reveal much at the moment. Surprise surprise!
A video of Armaan performing You has even been added to the Grammy's YouTube channel! You can watch his performance here.
'You' is out on all streaming platforms now. Brb, going to go and put it on loop!