Devon Cole talks music, feminism, her future and more
We'd love to introduce you to Devon Cole, who's definitely an inspiration for loads of people
While she's just a young girl, Devon Cole is an inspiring alt-pop artist that's currently paving the way for herself in the music. With songs about body confidence, feminism and sexual empowerment, Devon is an inspiration for lots of young people. With over a half million followers on TikTok and millions of streams of her songs, Devon is definitely someone that we keep an eye out for. Luckily, she had some time to chat with us about her career and more!
Hi Devon! First of all, Congratulations on your newest release, 'Call U After Rehab'. How does that feel for you when a new song comes out? — Does that make you feel a bit nervous or mostly excited?
Thank you so much! Every release is different, this one was a special release for me because of how vulnerable it was. This was one more of the auto bibliographical songs that I've ever released, so I was a bit nervous to share that side of myself. Usually I release more fun-upbeat kind of songs, so this was different, but it felt like a huge relief when it was released and at the end it was really great and I'm glad I did it.
What does the process of making a song look like for you?
For me, I usually start with a beat, some sort of loop that I find on the internet. From there I usually pick a topic. I consider myself as a top-down writer; I start with a concept first, because I don't like going into a writing session with having no idea of what I'm gonna write about; So that's how I start! — I start with a beat and then I find a concept that works with it, but of course, it's totally different for everyone. As I write more and more my process also changes with me.
Your music is about female empowerment, body confidence, etc. What are your inspirations for that?
That's a sweet question! — I think my friends are a huge inspiration for me, a group of girlies that are so positive and are feminists. They teach me so much about confidence, because I'm not the most confident person in the world, but they teach me how to love myself. My mum is also a huge inspiration to me. But I also look up to artists like Madonna, who's all about body and sex positivity, that's the kind of music that I want to be making, in the hope that it resonates with other people as well.
Is Madonna also the reason why you started making music or was there another reason for it?
The reason why I started was when I graduated in 2020, and I actually had no plans on becoming a pop star gall at all. Even though it was my literal childhood dream! I had nobody around me who ever released music so I didn't see how I could do that for myself, there was nobody that could teach me. Then I met a friend that released music on Spotify and I asked; 'How do you do that? How do I go up producing a song?' She told me all of that and I owe her starting my musical career because of her, because I really had no idea. So after that I released my first song in 2020 and now here we are!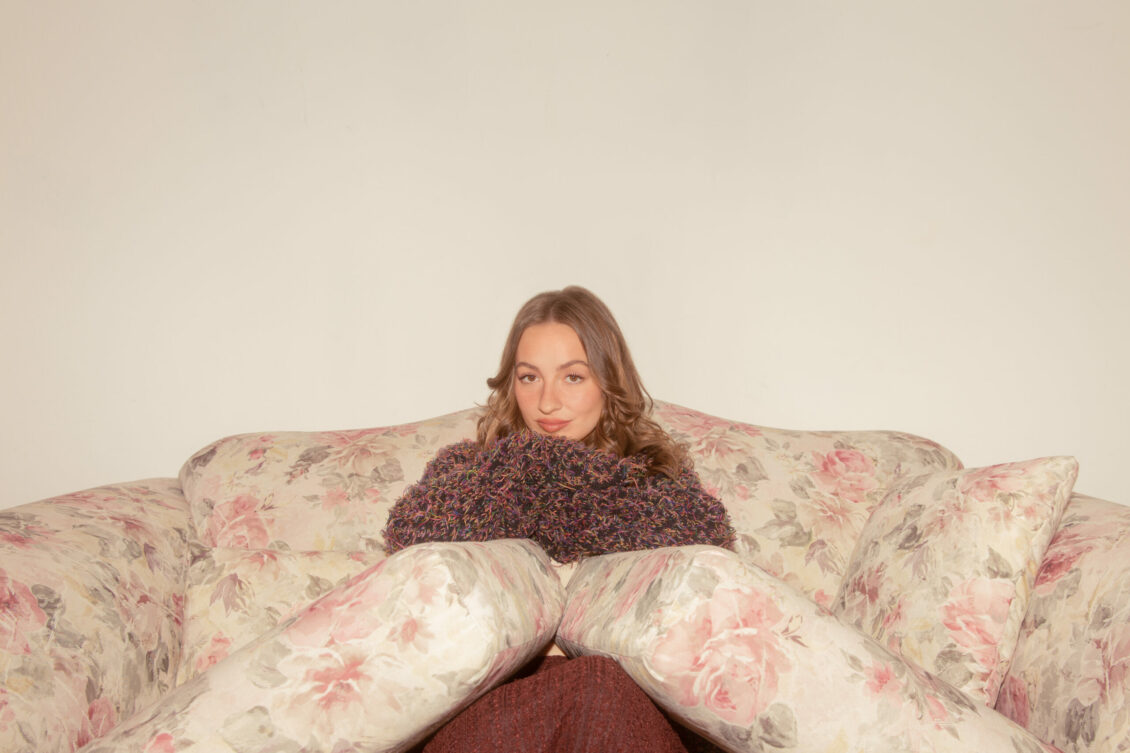 So exciting! — But that's interesting as well, did you had already have a passion for music when you were younger?
YES. Majorly. I was singing very early on, my parents have videos of me singing 'Winnie the Pooh' in the car when I was 3. I just loved it! I played CD's in front to back, I loved screaming all the lyrics of Avril Lavigne's songs. I loved music and theatre. I also loved being in the centre of attention. It gave me a real sense of confidence, but I think when I got older, I kinda lost my dreams of being a singer because no one around me was doing it. But yeah, it was always a part of my youth.
But now you're doing amazing, and also on TikTok! You got millions of likes on there. How did that happen?!
Oh my goodness! I started TikTok in October 2020, so I was already late to the game. Starting on there was really scary, because I was scared that people who knew me would find me on there, putting myself out there so unapologetically. But that's really how you have to do it, you really just have to try and being so unapologetic as possible. Once I started writing verses for other songs and pretending I had a verse on them, that's how I started to see that I was getting a bit of a following. So yeah, I was writing verses on songs pretending it was mine.
And from starting on TikTok you're now getting nominated for awards like Nickelodeon Kids Choice Awards and the Juno Awards. How does that feel?
It's totally insane! The fact that I was finishing my undergrad 3 years ago and now I was nominated for a Juno — which are like the GRAMMY's in Canada is crazy. I think it's a sign for any creative person that it's never late to scrap what you've done and make a new plan for yourself to follow your heart.
I definitely agree on that. Now you've achieved already so many things while you're still at the start of your career. Is there something that you would tell your younger self?
Aw, I'm gonna cry because of that question haha! I'd say that the biggest lesson for me is the timing of it all. I think I really wanted to pursue music when I was in my teenage years, but it wasn't just my time, I had a lot of maturing to do. So I'd say to my younger self: 'Be patient and the universe has a plan for you. There's no time on when you can be a pop star. ' Because sometimes I think 'I have to make it when I'm 30 years-old'. But that's not true at all, and I keep myself reminded myself of that. Oh, and I'd also would tell myself that I should go to university!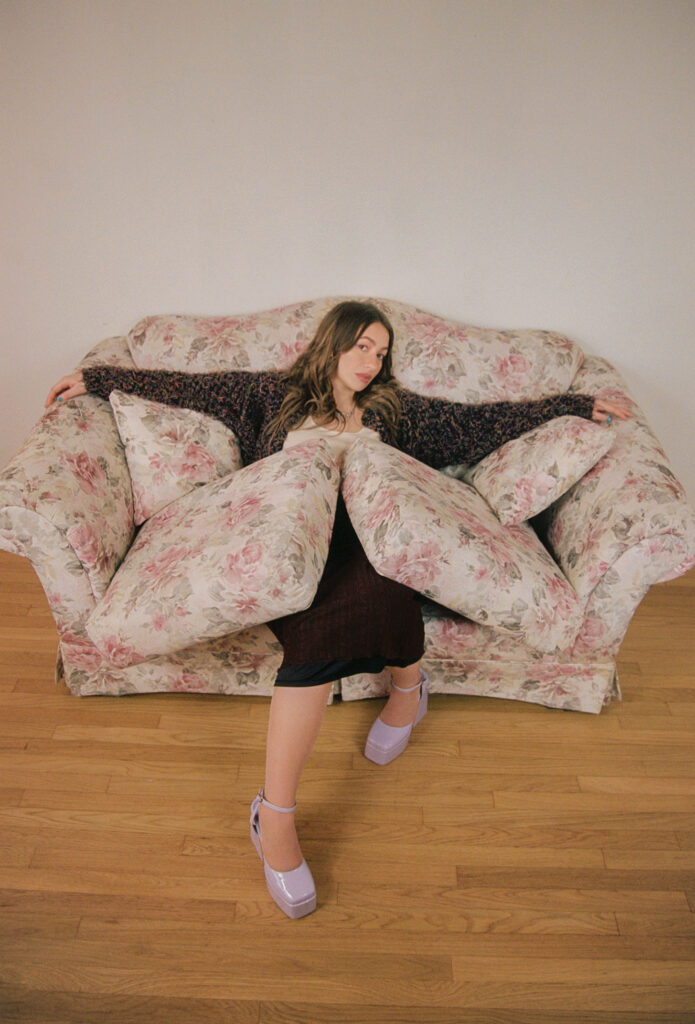 That's such a great advice! And to go back to your music, do you have a favourite song that you've written or produced? Or do you love everything that you got out right now?
I definitely have favourites, which are not the case for everyone. But out of the songs that I've released, and this is honestly a deep cut, 'Nobody's Baby'. It was one of the first kind of R&B songs that I released and it was the first time that I understood the sound of my music. I also have favourites that are not released yet but will come out this year. There's this song that's called 'Dickhead', and that's definitely the best song I've ever written in my life.
I love the title already! Do you also have a bucket list?
On my list for as a human being do I really wanna go skydiving and go to Japan. But as a pop star girly, I'd love to be nominated for a GRAMMY, that is a huge dream. I love to have a world tour, a tour in the UK would be amazing. And I also hope to ever get a platinum single. But generally, I want to stay in the moment and I keep reminding myself that the universe has a plan for me.
Last but not least; where do you see yourself in the future?
A debut album is definitely on the horizon, I'm excited for that moment. But I'm currently taking my time to developing my sound, so it's really a reflection of me. There will also be more music videos coming out with more dances in it. And further, more songs where I'm being honest, I just can't wait to grow with my audience and to grow as a young lady and artist.
We want to thank Devon so much for her time. Don't forget her name, because we're sure that we'll hear more from her in the near future!