The rise of Lesbian Jesus: how Hayley Kiyoko made pop queer
In honour of her new single, we're looking back at her career so far.
Hayley Kiyoko is the unapologetically queer pop star we need in 2019. After a hugely successful year (aptly coined #20gayteen by herself), the 28-year-old is releasing new music this week and we're so here for it.
Dubbed 'Lesbian Jesus' by Kiyokians, her unabashed queerness and openness about her sexuality is just one of the many reasons why fans adore her. "That's why my fans and I relate to each other. My music reassures them that they aren't alone – that their feelings are valid, that they are enough and they will find someone to love them back."
Kiyoko's advocacy for the LGBTQ community began long before today's current political climate. In other words, she was trailblazing way before it was cool to do so. But how did she get to where she is today? Let's look back on her career so far.
https://www.instagram.com/p/Bpb5Pf5D_pp/
Like many of today's pop stars, Kiyoko first made her mark on the world as a fresh-faced child actor. She guest-starred alongside Selena Gomez in 'Wizards of Waverly Place' and bagged her first major role when she was cast as the lead in the Disney Channel movie 'Lemonade Mouth'.
She started out in the music industry as one-fifth of the all-girl group 'The Stunners'. Following a few years of success (in which they were an opening act on Justin Bieber's tour), the band dispersed with Kiyoko wanting to be in control of her art and write her own music.
Kiyoko embarked on a solo career and was soon pushing the boundaries of pop music before she was even signed. In 2015, she independently released 'Girls Like Girls' – a loud and proud sapphic anthem which depicts a lesbian relationship without fetishising it or appealing to the male gaze.
'Girls like girls like boys do, nothing new…' while the lyrics demonstrate how queerness is nothing new, the trailblazing Kiyoko was doing for the LGBT community certainly was. The music video went viral, racking up over a million views in just a couple of weeks, and led to Kiyoko signing a record deal with Atlantic Records.
Her career has skyrocketed since then with last year arguably being her biggest yet. Her debut album, Expectations, peaked at #12 earning her her first Billboard 200 entry; she performed at Coachella for the first time; sang her hit song 'Curious' on Taylor Swift's stadium tour and won MTV's Push Artist of the Year, which she dedicated to queer women of colour everywhere. And this is only the beginning.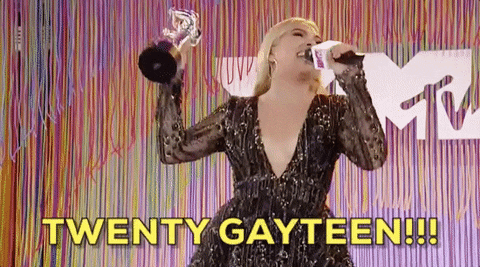 20gayteen may be over, but here's to hoping 2019 will be even better.
Watch Hayley Kiyoko's new single, 'I Wish' below.