Way back in 2017, I wrote an article about how I got tickets to not one but two of Harry Styles' theater shows. These were theaters that only held a few thousand fans, so the stakes were high and the odds against me. But I did it! And I shared my steps exactly so that fans could get tickets to his 2018 arena show, too.
Now that Harry's announced his 2020 Love On Tour dates, I want to help you do everything in your power to get the best chance at tickets again. There's nothing I hate more than seeing half the tickets end up in the hands of scalpers and listed on secondhand ticket sites within minutes of the on-sale, so let's do this right.
Ticketmaster Verified Fan
Harry opted to utilize Ticketmaster's Verified Fan platform again. I know a lot of fans don't like this as they feel it doesn't always work as well as advertised, but you have to take all the necessary steps to do it right.
Go to hstyles.co.uk/tour and find your tour date. Click "Tickets" on the right-hand side and a new window will open. Click "More Info" next to Verified Fan Presale. This is where you register with Ticketmaster.
Use an "old" Ticketmaster account. A brand new one might seem spammy to the system. Use one you've used to buy tickets in the past.
Be extremely careful entering your phone number! This is the phone number Ticketmaster will use when texting you your presale code. If you don't enter it right or you enter a landline number, you risk not getting your code.
In fact, Ticketmaster may send you a code during registration just to make sure your phone number is correct. If you don't get it, something's wrong.
You will receive an email like the one below that confirms you've successfully registered for Verified Fan.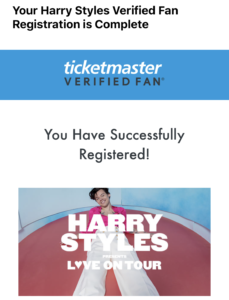 According to Ticketmaster, you can only register for the Verified Fan presale for one show. If you register for more than one, you risk coming across as spammy and may not make it through the verification process. (Remember, you can try for tickets to other shows during the public on-sale.)
Now that you've done this, your fate is in Ticketmaster's hands. On the evening of Sunday, November 17, you will receive an email again from Ticketmaster confirming if you've been verified and will receive a code the following morning. Not everyone can or will be selected for this presale, so have realistic expectations.
Ticketmaster says codes are non-transferable, so don't trust anyone trying to sell you a code. There is a 4-ticket limit per code.
The Verified Fan presale starts at 10:00 AM venue local time (so if the venue is in New York City, the presale starts at 10:00 AM New York City time) on Monday, November 18. If you got the email that says you've been verified, you will receive a code via text the morning of the presale. It will also have a link to the presale.
Buying Tickets During the Presale
To speed up the checkout process – since it's timed and all that – make sure you're logged into your Ticketmaster account (the one you registered with!) and that the account has a valid credit card stored. You'll need that 3-4 digit code on the back when you check out, so have it handy.
Type that URL they sent you into your web browser. I used a desktop computer for this; Ticketmaster is pushing their app, but I still personally prefer the computer for speed. My WiFi also likes to drop out at inconvenient times, so I use an Ethernet cord for times like this.
Open up Stickies on a Mac or Notepad on a PC, and type in your presale code. (It's definitely case sensitive, so make sure it's PERFECT. Maybe email that entire text message to yourself and open it on your computer to eliminate any human error.) Copy that code.
Here comes the stuff that's new for 2019/2020:
About 10 minutes before the presale starts, you will be able to "join the waiting room" on Ticketmaster. So you'll want to be at your computer with the website pulled up well in advance of 10:00 AM.
Once you're in the waiting room, when the clock hits 10:00 AM, your page will automatically refresh. Sometimes this takes a few agonizing seconds, but just wait. Refreshing is the enemy here.
You're now in what Ticketmaster calls their Smart Queue. You will most likely see that there are "2,000+" people ahead of you in line.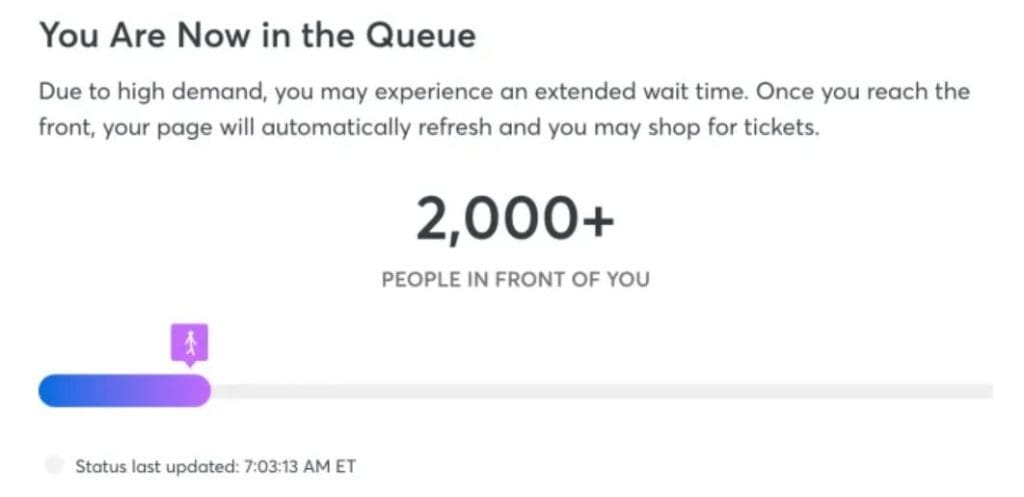 Optional: If you're tech-savvy and want to see how many people are

actually

in front of you in line, hit CTRL+U in Chrome to view the source code, search "usersInLineAheadOfYou," and you'll see the real number. This can be upsetting.
I have no idea how Ticketmaster determines your place in the queue. I don't think it matters how early you're in the waiting room, how fast your internet is, or if Mercury's in retrograde. Just be happy you've made it this far.
Wait. All you can do now is wait. When I bought tickets to Taylor Swift's Lover Fest, I spent nearly an hour and a half in this queue. That infuriating little walking man took 90 minutes to get across my screen. You must wait. Refreshing = back of the line. So just wait! The "2,000+" number will start dropping once your little man is about 60% across.
When it's your turn to shop, a beautiful chiming noise will sound and the page will automatically reload again. Paste in the presale code you should've already copied by now, and it's Go Time.
American Express Presale
Got an Amex card,  fancy pants? You don't have to deal with any of this Verified Fan nonsense. Same as above, you need to join the waiting room around 9:50 AM and wait your turn in the Smart Queue. When it's your turn to shop, you'll only need to check out with a valid American Express card.
Ticketmaster has said no code will be needed for this one. Most likely, once you get through the Smart Queue, a box will pop up with presale options (Verified Fan, Platinum, or American Express). You will need to select American Express, obviously. If you don't check out with an Amex card, you won't be able to buy! Simple as that.
Purchasing Recommendations
Only a limited number of tickets are available during presales, so I wouldn't be picky about seats if you're lucky enough to get anything. I also wouldn't panic if the presale sells out, because you'll have a second chance during the public on-sale.
Be careful about the ticket limit. It's only 4 tickets per person. Sometimes they're so strict about this that if, say, you buy 4 and your sister buys 4, and then they see your billing address is the same on both transactions, they may cancel one or both purchases.
Also, the smaller number of tickets you buy, the better your chances. I've gotten some of the best seats of my life when I only buy singles.
Good luck and TPWK!