What is the hottest music ticket in town for 2017?
2017 is set to be a great year for music, with so many massive mussical acts' tours starting or carrying on through the year. Here are a few of my picks for the hottest ticket of 2017:
Ariana Grande – Dangerous Woman Tour
Pop starlet Ariana Grande had been hinting about a tour before her (incredibly good) 3rd album was even released, therefore it's safe to say she's eager to get back on the road and build upon her highly successful 'Honeymoon' tour. With the release of her new album, Grande has matured her sound, and with that, her shows will mature too.
With 'Dangerous Woman' being one of the best albums of this year and Ariana progressively bettering her live performances (see: 2016 VMA performance), this tour is not to be missed.
See all 'Dangerous Woman' tour dates and get tickets.
Shawn Mendes – Illuminate Tour
Shawn Mendes is a touring force. In 2015, he completed a string of dates supporting Taylor Swift on her '1989' stadium tour, his 'ShawnFirstHeadlines' tour and his first shot at an area tour with the 'Shawn Mendes World Tour'. Now off the back of hit single 'Treat You Better' and the release of his sophomore album 'Illuminate', Shawn is set to embark on his biggest tour yet, making him absolutely one of the hottest tickets of 2017.
See all 'Illuminate' tour dates and get tickets.
Chance The Rapper – Spring Tour
One of the biggest names to come out of 2016, Chance The Rapper has already started 2017 with a bang after winning 3 Grammys this February… as an independent artist. That's right, Chance does this without the backing of a major label. Chance gave his last mixtape album out for free, and now he's ready to tour it this coming spring on a long U.S. city tour (he'll be headlining the Boston Calling music festival). Let's hope he brings it international after this run is done!
See all 'Spring Tour 2017' dates and get tickets.
The Chainsmokers – Memories Tour
One of the breakout stars from last year with hits such as 'Don't Let Me Down' and 'Closer' under their belt, the Chainsmokers are set to release their debut album 'Memories…Do Not Open'. They're following the release of the album with an extensive U.S tour with support form Kiiara, which I cannot wait to see! Songs such as 'Something Just Like This' and 'Paris' are set to blow the roofs off these arenas.
See all 'Memories' dates and get tickets.
Clean Bandit – North American Tour
Clean Bandit is one of the UK's biggest acts. With their huge song 'Rockabye' topping the charts the release of their latest single 'Symphony' featuring Zara Larsson, they're set to promote throughout spring on a North American Tour. Support acts include the aforementioned Larsson as well as Starley! This is a tour not to be missed; I've seen them before at both concerts and festivals… they're incredible.
See all North American tour dates and get tickets.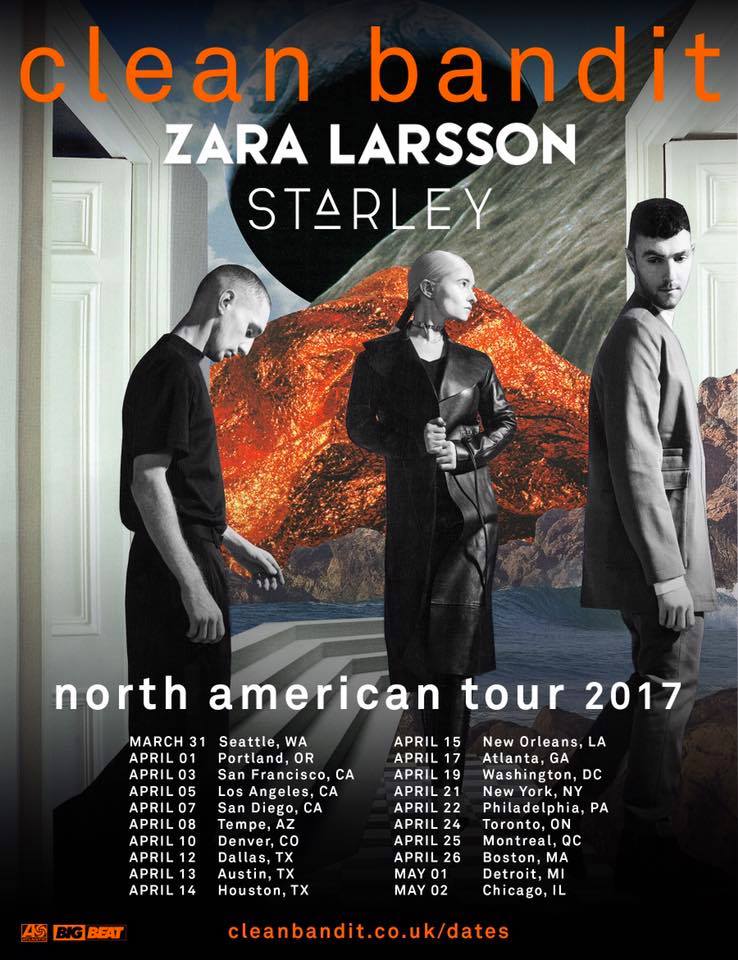 Justin Bieber – Purpose Tour
It feels like he's been touring all his life, but… JB is back on the road with his 2017 'Purpose' stadium tour. The tour will take him to the likes of Australia, South America, North America and Europe! What's different from his last 'Purpose' tour? This time it's stadiums. Bigger and better staging, lighting and songs. Support on the road include Martin Garrix (Australia), Halsey (Europe) and Anne Marie (Europe).
See all 'Purpose' tour dates and get tickets.
Little Mix – Glory Days Tour
Arguably the best live girl band in history, Little Mix are hitting the road at the end of this year to celebrate all the glory from the success of their album 'Glory Days'. After securing a #1 single, a #1 album and a BRIT award, there's plenty for them to celebrate when they hit the road in October. Little Mix have been touring North America as support for Ariana Grande's 'Dangerous Woman' tour, which they've received rave reviews for.
See all 'Glory Days' tour dates here and get tickets.
Think we missed any of the hottest tickets of 2017? Leave a comment and let us know!
Featured image source