This post was written by Susan Lee, author of The Name Drop and is sponsored by Harper360.
It's no secret that K-dramas are a huge source of inspiration for me and my writing. I tend to lean heavily on K-drama beats even more so than on novel writing craft. There is something so incredibly addictive to how K-dramas manage to weave tension into every episode and how the relationships between characters in these shows leave you hungry for more.
THE NAME DROP is about two teens who, thrown together through a case of mistaken identity, ultimately decide to trade places for the summer, because each has the life the other one thinks they want. It includes opposites attract, a Prince & the Pauper'esque storyline, and a wacky case of oops-we've-got-the-same-name shenanigans. If this is up your alley, here are some K-dramas you might also enjoy…
---
View this post on Instagram
"The Coffee Prince" – about the grandson of a coffee conglomerate who's never had a job and does not want responsibility and the tomboy family breadwinner he hires to work at his coffee shop and asks to fake date him to win back his first love.
"Boys Over Flowers" and "The Heirs" – both feature rich kids behaving badly and the middle-class girls who they fall head over heels for and make them rethink all their life's choices.
"Secret Garden" and "Mr. Queen" both have storylines that aren't just life swapping, but actual body swapping of the two lead characters!
"Sky Castle", one of my favorite dramas (be warned, it's intense and heavy), deals with the sometimes difficult generational dynamics in Korean families built around the high pressure to succeed. It actually inspired the early plotting of THE NAME DROP. Though the vibes are completely different, there is an underlying message that is similar.
And for the straight-up romance vibes, the yearning and hoping for two people to get together and rooting for their Happily Ever After, I highly recommend "Our Beloved Summer". It's an enemies-to-lovers-to-enemies-to-lovers story about 2 kids who meet in high school as total opposites, are forced to work and be filmed together as part of a documentary, secretly fall for each other, and then have a mysterious falling out. Ten years later, they reconnect and have to deal with all their feelings from the past and the present. One of my favorites because it's 10000% swoony.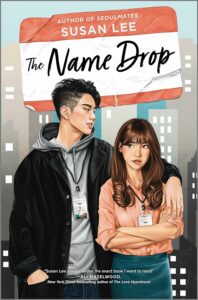 Get your copy of The Name Drop by Susan Lee here.