Sara Shepard & Lilia Buckingham on social influencers, PLL and their new YA novel, Influence
"social media is sometimes anonymous, sometimes a lie, and people can hide behind it"
If a page-turning YA thriller exploring the world of social influencers sounds like a book you need in your life asap, you're in luck because Pretty Little Liars author, Sara Shepard, and social media influencer, Lilia Buckingham, have teamed up to bring you just that with their new YA thriller, Influence.
We caught up with Sara and Lilia to talk all things Pretty Little Liars, social media, co-writing and how Influence came about.
---
Congratulations on the exciting release of your new YA novel, Influence! What inspired you to delve into the world of teen influencers?
SARA: Thank you! I've been writing books for a while—in fact, when I started writing novels, social media didn't really exist. But I was curious to see what it was like to grow up posting every minute of your life and, sometimes, being scrutinized online. It seemed like the perfect world to set a thriller—social media is sometimes anonymous, sometimes a lie, and people can hide behind it. Luckily, Lilia has firsthand knowledge- I was able to learn a lot from her!
LILIA: I've lived in this whole crazy world of influencers and teen stars for a lot of my adolescent life, and had always wondered why no one had written a book about it! It's so interesting and complex.
How did the idea of the two of you writing together come about?
SARA: I'd known Lilia for a while and had read some of her earlier stories. She was the one who pitched me the idea for Influence—some basic character sketches and the plot. I said, "Can I write this with you?" Luckily she was into that!
View this post on Instagram
Can you tell us a little about your Influence co-writing experience/process?
SARA: For me, it was great to have a co-writer like Lilia because I needed to lean on someone for specific details of this story—and she made everything so authentic, having lived a lot of it! We outlined the idea together, and then went back and forth with chapters. I think it flowed pretty well!
Influence would make the most incredible TV show! After the astronomical success of Sara's Pretty Little Liars TV adaptation, is an adaptation something you'd like to see in Influence's future?
SARA: I would love that! The thing that's special about this story is that it's set in a world that can go in so many different directions—even if we're not influencers, we're all experiencing some corner of social media. It affects all of us. I still can't quite wrap my head around how it impacts teenage life. I think the idea would be to show the splashy, aspirational sides of the world—but also the cautionary tales. Not everything is perfect, not everything is real.
LILIA: It was an incredible experience. I learned so much from Sara, and was also
simultaneously given the opportunity to find my own voice. I would love to see an ​Influence​ television adaptation in the future! I hope one day that dream becomes reality!
Influence follows four very different girls, each with their own secrets and ambitions but was there one character who's perspective you enjoyed writing from the most?
SARA: I always love writing about villains, and it was really fun to write about Scarlet. Another interesting aspect about her character is that her "scenes" were all written like scripts. She's supposed to be doing these impromptu vlogs, showing her fans how "real" she is, but she had a script to go by! (Of course, in each vlog, she goes off script…things go wrong.) I always find it really interesting to explore a complicated character—Scarlet seems ruthless and sometimes unsympathetic, but there are reasons she behaves the way she behaves.
LILIA: I personally loved writing from Jasmine's perspective. I felt incredibly connected to her struggles, and writing her was almost therapeutic.
How much of Influence is based on your own experience, Lilia? Are there any specific moments in the book that have actually happened to you?
So much of the book is based on personal experiences! All of the parties, momagers, trips to the Grove to get noticed…they're all things I've experienced and witnessed in the Influencer world. Specifically, I attended "Kindness" prom thrown by Instagram a couple years ago, and that's what "Gratitude" prom is based off of!
View this post on Instagram
Social media obviously plays a huge part in Influence, something that wasn't to prevalent in society as you wrote the Pretty Little Liars series. Sara, if social media had had a larger presence back then, how (if at all) do you think it would have altered the plot of the series?
SARA: "A" certainly capitalized on texting and other forms of anonymous messaging, so no doubt A would have stalked the girls through DMs as well. Another one of A's aims is to expose secrets, and social media would have been a very effective conduit. (I'm thinking of an early scene in the books at a swim meet—A distributes photocopies of Emily kissing Maya. In today's times, everyone would just get an alert on their phone…and there would be the photo, everywhere!) I think the novel would be the same, though maybe amped up a little more, the gossip traveling farther and faster.
Lilia, as a debut thriller novelist and Sara, as someone well acquainted with the genre, what piece of advice would you give to aspiring authors wanting to write the perfect, twisted YA thriller?
SARA: I always do a lot of outlining. Knowing where you're going with a thriller—and then knowing the twists—will help you in the earlier stages of the book. I also love cracking who the "bad guy" is because then I can seed little hints for a clever reader to find in the first chapters. Oh, and do a lot of reading of thrillers, too! There are so many masterful thriller authors out there these days, and so many narrative tricks to explore. The more you read, the better writer you'll be.
LILIA: I would say read as much as you can! Whenever I'm having writer's block, I read a book that I know will inspire me. Also, plot out your plot twists before you start writing!
View this post on Instagram
Sara, as someone who grew up both avidly reading and watching the Pretty Little Liars series, I'd like to firstly thank you for sparking such a huge part of my love for reading but I'd also love to ask, do you still continue to think about the PLL girls and if so what do you think they're up to and do you ever think you'd return to the book series in the future?
SARA: I'm so happy you're a fan! I do still think about them, and actually, I'm working on an aged-up version of PLL – with the same girls – though I can't talk about it too much yet. Suffice to say they've grown up, but they're still kind of the same. I guess we always hang on to certain elements of our teenage selves!
Are either of you currently working on writing anything new and if so, can you tell us anything about it?
SARA: I have an adult novel, Safe in My Arms, coming out in the U.S. in July. It's a domestic thriller about mothers and an attack at a nursery school. I'd also love to write another book with Lilia!
LILIA: I'm currently finishing high school, so I've really thrown myself back into academics and have been trying to grind out my last couple months of school! But I've been doing lots of writing and screenwriting, so hopefully when things are a little safer, we'll be able to start shooting!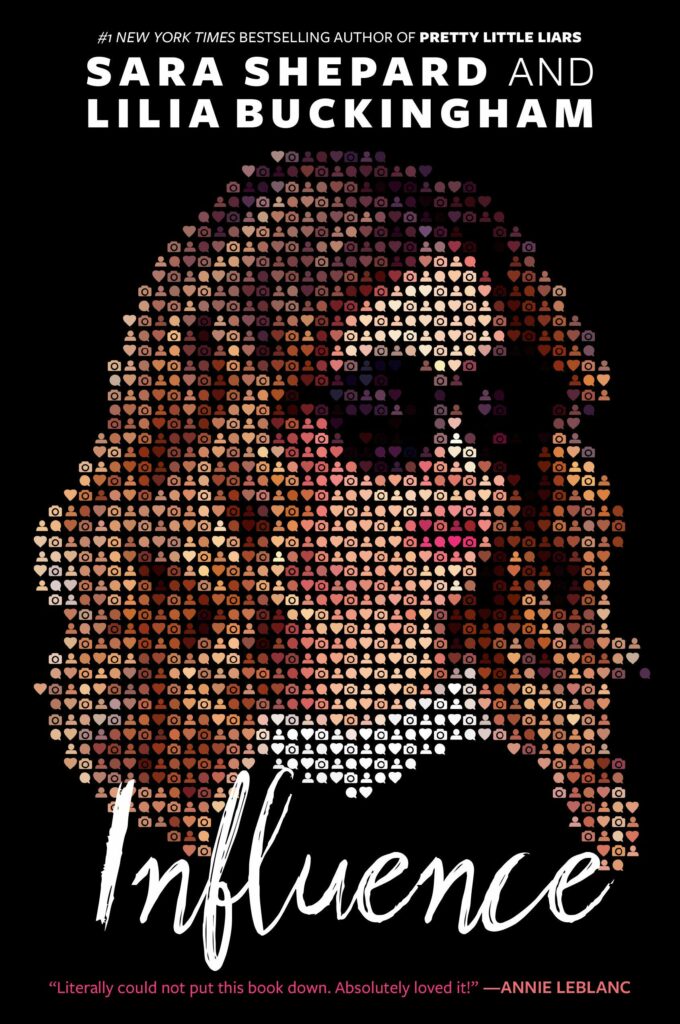 Get your copy of Influence by Sara Shepard & Lilia Buckingham here