Phil Stamper on his warm-hearted queer coming-of-age YA novel, Golden Boys
"I'd always be searching on shelves for queer stories with this vibe, but they just didn't exist when I was growing up, so I decided to write my own."
Filled with heart and sunshine, Phil Stamper's newest YA novel, Golden Boys, is an example of the coming-of-age narrative at its finest. Following four friends for the duration of one summer, Golden Boys is a book about love, self discovery and the realities of sitting on the cusp of adulthood, whilst also being a tender celebration of male friendship and found family.
We caught up with Phil to celebrate the release of Golden Boys and find out a little more about the inspirations and process behind this gorgeous book.
---
Hi Phil, it's great to get to chat to you again today to celebrate the release of your newest YA release, Golden Boys! How have you been in the year or so since we last spoke?
Thanks so much for having me back. I'm so excited to have another book to celebrate! The last year has been incredibly busy for me—in personal news, my husband and I just bought our first house, which has been a huge (but welcome) adjustment from city apartment living for the last decade or so. In authorly news, it's been wonderful to return to the world of live events. As someone who launched all of his early books into the pandemic, getting to connect with readers in person has been incredible.
For readers who may not yet be familiar with its premise, how would you best describe Golden Boys to them?
Golden Boys is a story about four queer teen best friends from rural Ohio who are all spending the summer before their final year of school in different cities across the world doing incredible things: think The Sisterhood of the Traveling Pants, but make it queer. Through the summer, they all feel themselves getting caught up in their separate worlds and drifting apart, and the question becomes: if they're having a hard time keeping their friendship intact over this one summer, what does that mean for them after high school?
View this post on Instagram
Can you tell us a little about the inspirations behind the book?
I was inspired by the classic YA stories that were popular back when I was a teen—The Sisterhood of the Traveling Pants, The Princess Diaries, and anything by Sarah Dessen. I'd always be searching on shelves for queer stories with this vibe, but they just didn't exist when I was growing up, so I decided to write my own.
Between the four boys, Gabriel, Reese, Sal and Heath, do you see yourself in one more than the others or one perspective you most enjoyed writing?
There's a little bit of me in each character: Gabriel's anxiety, Reese's passion, Heath's insecurity, and Sal's determination. Because of that, I enjoyed writing all of their stories! If I had to pick a favorite, I would probably say Sal's journey to DC was the one I identified with most. When I lived in DC, I got caught up in the wildly ambitious world of young professionals desperate to prove themselves, and I was able to bring that into his story to show the highest highs and lowest lows of a journey like that.
Golden Boys has a wonderfully warm, classic coming-of-age feel to it. Why do you think it is that both readers and writers find themselves so drawn to this narrative?
I appreciate you saying this! All of my stories are coming-of-age stories in every way, and being able to take themes that are so classic in YA—friendship and summer adventure—and put a queer spin on them has been super meaningful. I think I, along with my readers, are drawn to these narratives because we so rarely get to see these classic stories centering a queer cast. Also, the romances in this book were so relatable and fun to write! Balancing a friends-to-lovers storyline with a separate lovers-to-friends storyline just worked perfectly, and it causes a ton of tension throughout the story!
View this post on Instagram
All of your books brilliantly touch on a range of topics from mental health and sexuality to friendships and passions. Do you have a favourite topic to explore in your writing or any you couldn't imagine not including?
I think it's really important to put my own experiences with mental health—primarily anxiety and depression—into my books. They're rarely the main focus of the story, but I include them throughout storylines to help normalize these experiences and show people who might have the same experiences that they're not alone and that they have just as much opportunity to thrive as anyone else.
Finally, are you currently working on anything new and if so, is there anything you're able to share with us?
I can't reveal too much about this yet, but I'm finishing up edits on the sequel to Golden Boys right now, and I can't wait to get this story out in the world early next year. This story focuses on the boys' final year of high school, and is once again packed with ambition, romance, and a whole lot of drama. Keep an eye out for a title and cover reveal in the coming months!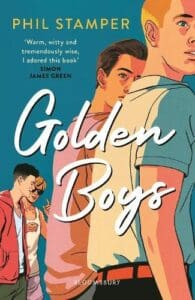 Get your copy of Golden Boys by Phil Stamper here.