Jennifer Niven on sex in YA and Breathless being her most personal book yet
"Breathless is, in many ways, even more personal for me than All the Bright Places."
Following budding author Claudine in the aftermath of the announcement of her parents separation, Breathless, the new YA novel from Jennifer Niven, New York Times best selling author of All The Bright Places, sensitively explores sex, love, divorce, heartbreak and everything in between.
We sat down with Jennifer to talk about the inspirations behind Breathless and why it's her most personal book to date.
---
For readers who may just be hearing about your fantastic new YA novel, Breathless, how would you describe it to them?
It's a very personal story about parental divorce, sex, love, friendship, first times, redefining yourself after the floor has been pulled out from under you, and learning to write your life.
What inspired you to write the story of Breathless?
At the end of my senior year of high school, days after I turned eighteen, my dad told me that he and my mom were splitting up. All my life, it had been the three of us—Mom, Dad, me. My parents were everything. And suddenly, my world turned upside down. It was as if the floor beneath me had disappeared. I wasn't allowed to say anything about the separation to anyone, which made it even more painful. Five days after high school graduation, my mom and I moved away from my Indiana hometown—leaving behind my childhood home, my dad, my dog, my friends, and the boy I liked—to the mountains of North Carolina.
Years later, I visited an island off the coast of Georgia to write this book and met my now husband. He is that barefoot boy of nature who inspired Jeremiah Crew. Every adventure in the book is an adventure my husband and I had while we were falling in love. Breathless is, in many ways, even more personal for me than All the Bright Places. It's the book I needed when I was sixteen, seventeen, eighteen.
View this post on Instagram
When did you first 'meet' Claudine and did her character change at all from then until the Claudine we meet in Breathless?
Technically, I guess I met Claude when I was her age. Because so much of Claude is me at eighteen. That said, the Claude you meet in Breathless is a lot feistier and snarkier than I was, and a lot more disobedient. She's also a lot stronger than she was when I first imagined her. She stands up for herself more. She takes charge of herself and her body, and she is less apologetic.
Throughout the book, the theme of sex and virginity was discussed in such a brilliant way. Why do you think it's so important for YA books to have nuanced and open conversations about these topics?
Thank you so much! I believe wholeheartedly that we have a responsibility when writing for a young audience to handle all tough issues with honesty and care. Too many times, adults shy away from these subjects that make them uncomfortable. They don't want to talk to teens about mental health, sex, virginity, self-harm. But that creates a stigma around these topics that makes young people feel they can't talk about the things they're going through. Writing YA books is a way to give a voice to the voiceless. It's a way to let them know that they aren't alone.
If you could go back in time and give yourself one piece of advice when you were Claudine's age, what advice would you give?
Open up to others. Don't keep it all inside you. Share your heartache and your fears and your pain, not just the happy stuff. Let people in and let them help you.
Do you have a favourite (non spoilery!) quote from the book you could share with us?
"I am deciding my life. I am writing it right now."
View this post on Instagram
What does a typical day in the life of an author look like to you?
I don't know that there is such a thing as a typical day! I do try to keep regular office hours—from approximately 9/10am until 7/8pm five days a week, with a couple of hours here and there on the weekend. But every day is different, unless I'm under deadline, in which case I usually spend hours each day immersed in the creative work. I like to get in exercise of some sort and see the sun and sky for a bit of a break, but generally I'm answering emails and posting and interacting on social media. I'm brainstorming and writing down ideas, fleshing out characters and storylines, meeting with my publishing team and agents, filming videos, doing Instagram lives with fellow authors and artists, reading. There's so much that goes into the life of an author!
Do you have any advice for aspiring authors wanting to explore 'tough' topics such as sex, divorce and mental health in YA?
Write honestly. Write from your heart. Write from a real and honest place. We have an enormous responsibility, particularly when writing for teens, to write these tough topics as conscientiously as possible. Do your due diligence. If you haven't experienced the issue you're writing about, talk to those who have. Speak with experts, get informed. And don't talk down to your audience because teens are the smartest readers there are and they deserve truthful, mature stories about the issues they're facing.
Are you currently working on anything new and if so, can you tell us anything about that?
I'm working on my next YA novel, as well as the screenplay for Holding Up the Universe, which has been optioned as a film. I've also just finished collaborating on another YA book with a fellow YA author… hopefully I'll be able to reveal more about that soon!
Want to read Breathless for yourself? Simply follow the instructions in the tweet below for your chance to win one of five copies. 
https://twitter.com/unitedbybks/status/1313150697030983682?s=20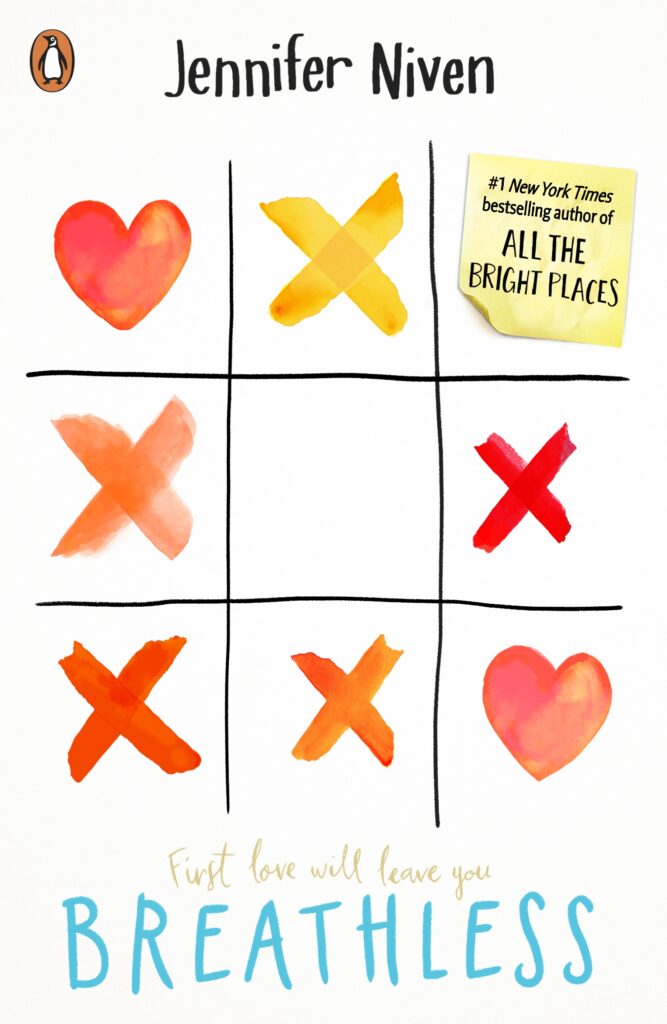 Get your copy of Breathless by Jennifer Niven in the UK & US.
Terms and Conditions
1. No purchase necessary. A purchase will not increase your chances of winning.
2. This giveaway is open to residents of the United Kingdom only.
3. This giveaway opens Monday, October 5 at 5pm BST and closes on Monday, October 19 at 9pm BST.
4. Five (5) winners will be selected at random from all applicable entries. The prize consists of one (1) copy of Jennifer Niven's 'Breathless' (2020)
5. Winners will be contacted via Twitter direct message by @unitedbypop after the giveaway closes. Winners must provide United By Pop with their full name and mailing address to receive their prize. If a winner fails to do so within 24 hours of being contacted, the winner forfeits their prize and a new winner will be selected.
6. United By Pop are not responsible for prizes that are lost or damaged in the post. Prizes may take up to 6 weeks to arrive.
7. This giveaway is in no way affiliated with Twitter, Facebook, or Instagram.