For fans of Heartstopper: 13 graphic novels to read before 2022 ends
Finished Alice Oseman's 'Heartstopper' series and don't know which graphic novel series to start next? We've got your back!
Today, we are recommending you a list of the hottest graphic novels that you should definitely pick up before this year ends. Not all of these titles were published in 2022, but trust us, we have a good reason why you should give it a (re)read if you haven't already.
 
Percy Jackson by Rick Riordan, Robert Venditti, Attila Futaki, Jose Villarrubia
Ever since the main cast for the Percy Jackson TV series was announced, the adaptation is all we can think about. You can't blame us though because the teaser trailer is honestly everything we have ever wanted. From the iconic line, to the bright orange Camp Half-Blood tee, to Percy actually looking like he's 12 years old… we honestly cannot wait until it finally airs in 2024. We are sure everyone will be rereading the books but did you know that the titles were actually adapted into graphic novels? While there are details that have been changed/removed, such as Chiron knowing the location of the Underworld and Medusa's plotline being nonexistent in the first graphic novel, they do serve as a quick recap. Or hey, they might convince you to reread the actual novels before 2024!

Kane Chronicles by Rick Riordan, Orpheus Collar
Other than penning the Greek myth-inspired Percy Jackson, Rick Riordan also wrote Kane Chronicles — an Egyptian myth-inspired trilogy following siblings Sadie and Carter Kane as they become hosts of Isis and Horus.  While Percy Jackson is turning into a Disney+ show, the Kane Chronicles are actually being adapted by Netflix to become movies. And fear not, Rick Riordan is involved in the script writing and so the adaptation should be true to the books. And similar to Percy Jackson, Kane Chronicles have been turned into graphic novels. So if you don't have time to reread the books, why not give the graphic novels a try?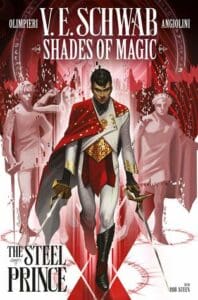 Shades of Magic: The Steel Prince by V.E. Schwab, Andrea Olimpieri, and Enrica Eren Angiolini
VE Schwab has written an extensive collection of YA and adult novels under her belt but did you know that she has worked on graphic novels as well? There are 3 volumes, combining 12 issues of comics, set in the universe of Shades of Magic. The three volumes, titled The Steel Prince, Night of Knives and The Rebel Army, are released in a complete box set earlier this year and so it is the perfect time to dive into this. Following prince Maxim Maresh, long before he became the king of Red London, the graphic novels act as a prequel to A Darker Shade of Magic and they are a must-read for any VE Schwab fan.

Demon in the Wood by Leigh Bardugo and Dani Pendergast
Similar to Shades of Magic, the Grishaverse just got a new addition in the form of a graphic novel. Demon in the Wood serves as a prequel to Shadow and Bone, giving readers a glimpse into Eryk's life before he led Ravka's Second Army, before he created the Fold, and long before he became the Darkling. For readers with an eagle eye, you might actually recognise the title. Indeed, this story was first published in 2014 as a short story. It is now being turned into a beautiful graphic novel, and has just been nominated for the Goodsreads Choice Award for Best Graphic Novel and Comic.

The Sad Ghost Club by Lize Meddings
Lize Meddings started the Sad Ghost Club with comics to promote knowledge and empathy around mental health. The project has now expanded to include very cute merchandise, a wonderful community, and graphic novels. There are currently two books out, each one being a warm and comfy read that is perfect for anyone who think they don't belong. For those who feel anxious or alone, for those who have just one of those days, and for those struggle with insecurities in a new friendship group, find your kindred spirits at The Sad Ghost Club. The third volume will be released in March next year so be sure to check the two volumes out before then!

Crumbs by Danie Stirling
Crumbs was originally published on Webtoon between 2019 and 2020, and it is now being adapted into a graphic novel. Set in a very special town with an even more unusual bakery that delivers hand-crafted treats to help your dreams come true, Crumbs is such a cutesy and fluffy read. For Ray, a quiet seer, the order is always the same: a hot tea with a delicious side of romance. When Ray meets Laurie, the kind barista who aspires to be a professional musician, she gets a real taste of love for the first time. But even with a spark of magic, romance isn't so simple. Both Ray and Laurie are chasing their own dreams and when Ray starts to see the future, she can't predict her fate with Laurie…

Nimona by Noelle Stevenson
Nimona was first released from 2012 to 2014 on Tumblr, and later published in print in 2015. But why are we recommending it now? That's because it was announced earlier this year that Netflix has acquired the film, long after Disney cancelled the project.  The animated feature film will be released in 2023 and will follow Nimona, who is an impulsive young shapeshifter with a knack for villainy, and Lord Ballister Blackheart, a villain with a vendetta. Their mission: prove to the kingdom that Sir Ambrosius Goldenloin and his buddies at the Institution of Law Enforcement and Heroics aren't the heroes everyone thinks they are.

Squire by Nadia Shammas and Sara Alfageeh
Nadia Shammas and Sara Alfageeh team up to deliver an important and timely tale surrounding the complex issues of colonalism and imperalism. Currently nominated for the Goodreads Choice Award for Best Graphic Novel and Comic, Squire follows Aiza as she enlists in the competitive Squire training programme. Knighthood's the highest military honor in the once-great Bayt-Sajji Empire, and as a member of the subjugated Ornu people, it is her only path to full citizenship. It's not how she imagined it, though. Aiza must navigate new friendships, rivalries, and rigorous training under the unyielding General Hende, all while hiding her Ornu background. In the book, there is also a section on how Nadia and Sara created Squire from the script to the colours and it is a wonderful glimpse into their creative process.

Hilda by Luke Pearson
Hilda is a beloved animated show with two seasons out and the third and final season in production. Before its success on Netflix, Hildafolk is actually a graphic novel series. While it is now a big franchise with 6 tie-in novels, the first 4 volumes of graphic novels have been recently republished in special edition bind-ups. Hilda: the Wilderness Stories, which collects the first two volumes (Hilda and the Troll, Hilda and the Midnight Giant) and Hilda: the Trolberg Stories, which collects the next two volumes (Hilda and the Bird Parade, Hilda and the Black Hound) serve as the perfect introduction to the adventures of this little girl who grows up with her mother in a cabin on the edge of the woods.

Dune by Frank Herbert, Brian Herbert, Kevin J. Anderson, Raul Allen, and Patricia Martin
Perhaps Timothee Chalamet is enough to convince you to sit and watch the 3-hour long Dune adaptation, but not everyone can find the time to read the original novel penned by Frank Herbert. Good thing is that it is now being adapted into graphic novels. The artwork has great details and the adaptation is very true to the books. As the organisation of the books is always confusing to new readers, here's the gist: Dune is book 1 of the first trilogy, and because it is so long, it is split into 3 volumes and they are titled Dune, Muad'Dib, and Prophet. The graphic novels will be adapting the first book, and will follow the 3 part structure. There are currently two volumes out, with the third one scheduled for publication next year.

Lore Olympus by Rachel Smythe
Lore Olympus is an adaptation of the classic Greek myth The Abduction of Persephone set in a mostly modern setting. The artwork is amazing, mythological tales are woven together neatly, and the series tackles some important themes. There are currently 3 gorgeous hardcover volumes out, gathering the first 75 episodes of the Webtoon series. While that already seems a lot, there are actually 219 episodes out (yes, you read that right) so if you're impatient, you can always read it on Webtoon first. Also, new chapters are being released every Saturday, so hopefully there will be many more chapters to come before the story ends.

Je Ne Sais Quoi by Lucie Arnoux
In this delightful graphic novel, Lucie Arnoux chronicles her adventures around the world. Growing up in Marseille as a misfit with a passion for drawing, she decides to settle in London to pursue her dream career as a comics writer. Je Ne Sais Quoi shows us London through the eyes of a mischievous and clear-sighted young French woman, the joys and pains of being an outsider and, ultimately, how to live life to its fullest. We chatted with Lucie on the turning her personal stories into comics and being a French woman in London.

Twelve Percent Dread by Emily McGovern
Twelve Percent Dread gives a realistic glimpse into your twenties, when friendships start to really change because of life circumstances. Katie and Nas are best friends and exes. While Katie bounces from job to job and obsesses about falling behind in life, Nas has bigger things in mind, such as waiting endlessly for their visa to come through. Their friend Emma, meanwhile, seems to have it all figured out – job, mortgage, engagement – yet the long hours working for tech giant and endless wedding admin have left her similarly anxious and unsatisfied. We chatted with Emily on the research process behind her graphic novel, from the visa struggle to the absurdity of tech companies.