Emma is a die-hard romantic. She loves meet-cute movies; her pet, Lady Catulet; and writing the gay rom-com of her dreams for the film festival competition she and her friends are entering. If only they'd listen to her ideas . . . 
Sophia is pragmatic. She's big into boycotts, namely (1) relationships, (2) boys and their BO (reason #2,347,683 she's a lesbian), and (3) Emma's nauseating ideas. Forget starry-eyed romance. Sophia knows what will win: an artistic film with a message. 
Cue the drama. The movie is doomed before they even start shooting . . . until a real-life plot twist unfolds behind the camera when Emma and Sophia begin seeing each other through a different lens. Suddenly their rivalry feels like an actual rom-com. 
---
Many sapphic books of 2021 have been blessed by stunning covers, and Desombre's I Think I Love You is one of them. And the premise to accompany the cover is just as good: two girls who don't get on so well are pitted against each other in a film festival competition, with a twist resulting in them slowly falling in love. It's a premise worthy of any of the good rom-com films name-dropped within the novel.
I Think I Love You is narrated by Emma and Sophia, two very different heroines. Emma is a die-hard romantic; Sophia hates romance, preferring to be pragmatic. Emma wants to find 'the one' and Sophia thinks she's ridiculous. From the onset, readers may find Emma much more likeable. Sophia is cold and bitter – but she also has a more interesting backstory, and Emma says so midway during the novel. Sophia's parents are divorced, and she's just been sent back from Paris because her mother has remarried.
The novel begins with Emma recruiting her friends to create a queer rom-com featuring a bisexual heroine for a film festival. Recently returned from France, Sophia (in true hate-to-love fashion) tells Emma her idea is awful. And so ensues a summer in New York with a group of friends split between two girls with two vastly different movie ideas. And these friends, who are rather fed up, decide to trick the two into thinking the other has a crush on them. Which then leads to both of them falling in love.
There's a bit of deception within this book with some characters falsifying how others feel, but by the end of the novel everyone comes to acknowledge that it isn't the best way to do things. The deception does propel the book's drama, but nevertheless I imagine not every reader will be happy with it. However, it should be noted that I Think I Love You is influenced by Much Ado About Nothing and this part of the novel is true to the source material.
The filmmaking background of this novel also adds greatly to the rom-com feel of the narrative, and this book is likely one that would adapt very well to screen. Emma's desire to create a rom-com film that accurately represents her as a bisexual is also notable, especially considering the poor and often stereotypical representation of bisexual characters on-screen.
One of the strengths of I Think I Love You is how clear it is regarding Emma and Sophia's sexuality. Sophia is a lesbian who is out. Emma is bisexual, but the fact that her family doesn't know is something that propels her character arc throughout the novel. And her experience with being closeted around people who don't know she's queer, and the unintentional assumptive remarks of heterosexuality that can often come up as a result of that, may resonate with those who are in a similar situation and have family members and friends who say things like 'you'll get a boyfriend eventually' without realising that actually . . . there could be a girlfriend, instead.
I Think I Love You is a very quick read, coming in at just around 300 pages. It is a light F/F rom-com, fluffy and quintessentially YA. It's also a debut that shows off Desombre's skills, and her next book certainly has potential – whether it's another F/F rom-com, or something else.
I Think I Love You was released by Underlined on March 2nd.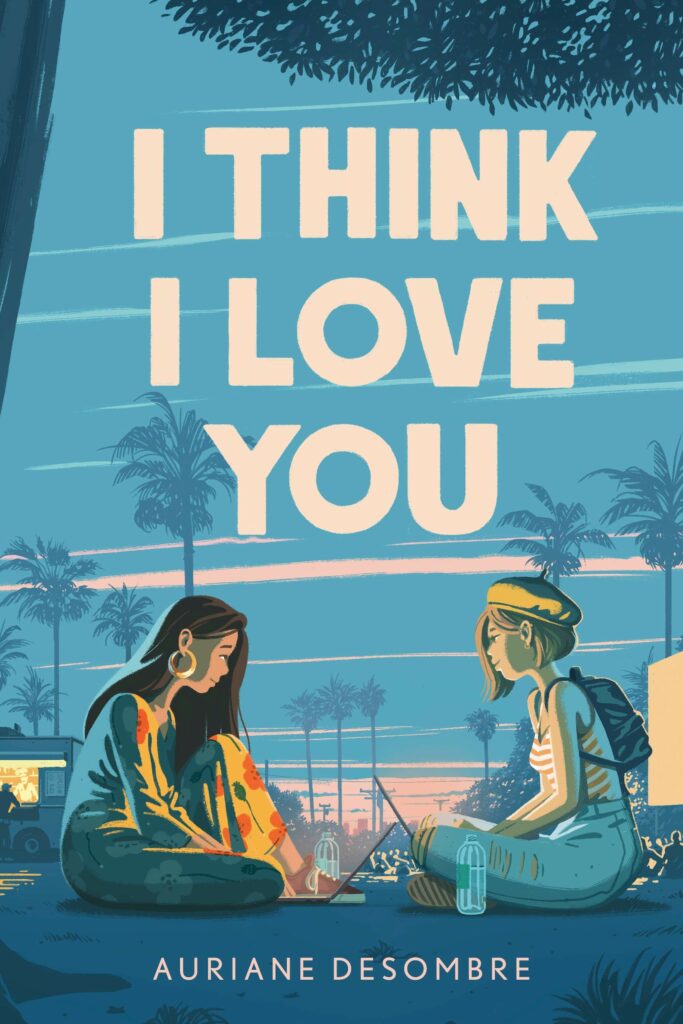 Get your copy of I Think I Love You by Auriane Desombre here.