This post was written by Ann Dávila Cardinal, author of Breakup From Hell and is sponsored by Harper360.
Satan. Lucifer. The Devil.
Can you picture him in your mind? Maybe you see him in the classic portrayal: red skin, hooved feet, pointed ears, horns, and leathery wings. Throw in an arrow-tipped tail for good measure.
Or is he tall, handsome, expensively attired, and with an upper-class British accent? It's undeniable that the devil has been reimagined over centuries, but never more than these past few years. And though these modern depictions paint him sometimes as all evil and others a misunderstood fallen angel, he is always a little naughty. And we wouldn't want him any other way.
I've long been fascinated with how Satan is portrayed in art, visual, cinematic, and literary. I was raised Catholic oh so many years ago, and though his appearance was not really described in the bible (though in Revelation 12:9 he is called an 'ancient serpent') the darker humanoid portrayal of God's fallen angel was what I was force-fed in my youth. In fact, in the front of the church of my school, St. Michael Academy, was a giant statue of St. Michael with his head on that horned, pointed tailed version of the devil. But these days, the gates of hell have been thrown open and its most famous inmate is now its ruler (Satan didn't rule hell in the bible, he was just one of the captives. It wasn't until Dante's epic poem "Inferno" that he became the boss), and he is striding out dressed in Armani and fired-up to charm the unsuspecting masses.
View this post on Instagram
While writing my young adult horror/comedy Breakup from Hell, I spent a lot of time researching this celestial being and then imagining what his offspring would be like. Since Satan is depicted as a grown (literally ancient) man, my book would focus on his son as a teenage love interest. And as for looks, like father like son, right? Making him attractive is part of demonstrating his allure. So, for this piece I thought it would be fun to share five "hot" examples of this charismatic biblical character and his hot offspring:
---
The meet-cute, anti-hero son of Satan:
In Not Your Average Hot Guy, (the first in the Match Made in Hell series) by the fabulous Gwenda Bond, all Callie wants is a quiet weekend with her friend running her family's escape room business, instead a satanic cult rolls into town, and she gets pulled into the resulting drama that threatens the apocalypse. To stop it, she teams up with Luke Morningstar, the son of the devil himself. Loveable, handsome, and wrapped in a leather jacket, this demon is a rom-com interpretation of hell's most famous bad boy teenage progeny, and I'm all in for it.
The makes-grown-women-salivate son of Satan:
Australian author Cally Edwards's novel Playing with Demons tells the story of Grace, a half angel/ half demon who fights to protect the innocent. But when she has to secure a prize for the Nephilim (offspring of gods/angels) she ends up working with one of her opponents, Lucifer's son, the sizzling Zadeon, and begins to question where the lines of good and bad really are drawn. I have not read this novel, but after reading reviews on Goodreads, you can bet it's on my TBR list now. They are filled with grown women talking about how they are in love with Zadeon. And a seven deadly sins tournament? I'm all in!
The adorable "would you like fries with that?" manga Devil:
The manga "light novel" series, The Devil is a Part-Timer by Satoshi Wagahara with art by Akio Hiragi, imagines the devil as losing the battle for control of his world, and being exiled to Tokyo in ours. He ends up in teenage human form, having to work at a fast-food restaurant called MgRonalds. This twenty-one-book series (!) inspired an anime adaption, the third season of which comes out this July. I love the human version of this Satan who is depicted as a cute, spiky greenish-black haired, boy with huge red eyes. I was particularly drawn to these books because of the humor of the series. Horror comedy is my jam, and this manages to tap into both!
View this post on Instagram
The "I'm a fancy British man" Devil:
And of course, we can't forget Neil Gaiman's iconic representation of Lucifer Morningstar that he created with artist Christopher Moeller for DC. Originally a supporting character in the Sandman universe, Lucifer soon got his own series of books. His personality and storyline were premised on Milton's Paradise Lost, and for his look, Gaiman specifically requested that the artist depict Lucifer like David Bowie. Long, lean, classy, and blonde, they shifted to the more stereotypical dark-haired devil for the show but retained his Britishness. I love both versions of this anti-hero fallen angel.
The handsome-stranger-visits-Vermont, Hallmark-Movie-From-Hell, Devil's Offspring:
Speaking of stereotypical. . . was Sam in my latest young adult novel Breakup from Hell influenced by the tall, smooth drink of top shelf whiskey that is actor Tom Ellis? HELLS YES! Like most viewers, I fell in love with the character as much as the next viewer, so I created a teenage American variation to woo Miguela, the protagonist of this horror rom-com. In order to turn the head of my badass Puerto Rican in Vermont, I had to imagine someone mysterious, worldly, and different from what she was used to (basically the plot of every Hallmark Christmas movie EVER). But I will say, I took liberties with his appearance late in the novel. Disturbing ones. That's all I'm saying. You'll just have to read the book.
Well, dear readers, I hope you enjoyed our little journey into literary hell with our handsome guides. I know I did. The battle between good and evil is always a page-turner, but I particularly like how in these works the modern reimagining of the devil makes us question that binary. Question if we are on the right side, or even if there is a right side. But as for looks? The devil (and his offspring) can appear however we imagine them to be, yes? But the idea of making him irresistibly seductive, charming, and, if you'll forgive the pun once again, hot, is evergreen and always a delicious read.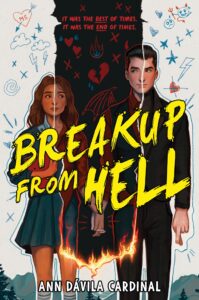 Get your copy of Breakup From Hell by Ann Dávila Cardinal here.