Back to the Beginning by Heloisa Prieto
"I feel as if I have started completing a round circle. Back to the beginning."
Snow is silent.
I was so used to the strong sounds of large tropical raindrops that I was caught by surprise when I first noticed the silent, snowflakes spreading around the family car. The year was 1971, I was 16 years old and had just arrived in Constantine, Michigan, for my freshman semester in high school.
During my stay at my beloved Morgan family, a new horizon seemed to unfold. Indoor life, the coziness of a lovely home during winter time, attending classes, making friends, all about the new routine called for an entirely new mindset. When I first started dreaming in English, I realized my inner landscapes now included other levels of perception.
I was already an avid reader of classical novels, but I had not yet been introduced to contemporary poetry. Nature as captured by the sensibilities of poets, such as Robert Frost and Emily Dickinson, resonated with my love for trees, birds, mountains, rivers, and, most of all, the woods.
In Brazil, I had spent most of my childhood outdoors, enjoying the rain forest, the rivers, horseback riding, looking after dogs, pigs, goats and cows. In Michigan, I loved the landscape, clear skies, and the huge strawberry, or corn fields. I felt as if I belonged to two countries and my secret plan was to keep on traveling from one to the other.
My awareness of different points of view increased, mostly due to the literary challenges I had to meet during our creative writing workshops. How could I bridge my Brazilian experiences to my US storytelling new found skills? Finally, I decided to write a poetic short story about a Brazilian magical bird and its migration. Not only would it be my first attempt at authorship, as well as my first story in English. I was so amazed that the tale was praised both by my teacher and classmates.
Several years have gone by and now, I have already published 92 books in Brazil. Having taken a less traveled road, the path of literature, somehow as in Frost's classical verse, I have deeply enjoyed my journey as a fiction and fantasy writer for young children, teens and young adult readers.
View this post on Instagram
In 2018, another life changing moment: I joined The Inkies, an international writing group, based in Ireland. English as a form of literary expression slowly came back to my pen as a way to convey my love for the Guarani indigenous nation's traditional wisdom, their ecological way of life and, most of all, their poetic wisdom. As I shared some chapters of my newest novel entitled The Musician, the Inkies showed their enthusiasm and support.
The narrative places a young, rich and famous, eighteen year old musician struggling with the loss of both his parents. His only companions are inexplicable musical creatures that he can see but others can't.
His music is his bridge to the world, and his favorite form of connection. Besides playing for crowded houses in sophisticated venues, Thomas enjoys busking from time to time.
A chance meeting with a group of strangers when he is playing on a public square leads to eventual revelation of his magical musical secret – and there are those who wish to steal it from him.
Soon the wealthy Dr. Alonso and his attractive daughter, Dora, trick Thomas into joining a cult from which he may never escape.
When Marlui, a young Guarani shaman, senses the danger surrounding Thomas, she vows to protect him from Dr. Alonso at all costs. Can she rescue him, or will Thomas succumb to the advances of Dora and lose not only his heart but the powers that bring him joy?
Ultimately the text was referred by US award-winning author, Greg Fields, to Koehler books. Its publication is giving me so many different layers of joyful feelings. I feel as if I have started completing a round circle. Back to the beginning. Hope you'll enjoy it!!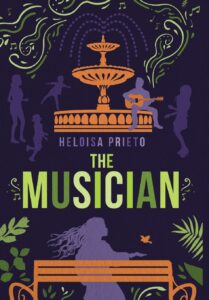 Get your copy of The Musician by Heloisa Prieto here.