Ashley Poston on fairy tale retellings, comic-con and her new YA novel, Bookish and the Beast
"what better magic than the magic of fandom?"
In 2017, author Ashley Poston wooed us all with her wonderful comic-con inspired Cinderella retelling, Geekerella. Then, in 2018, she did it a second time with her equally swoon worthy Princess and the Pauper retelling, The Princess and the Fangirl. Now, with her newest YA release and the third installment of her The Once Upon a Con series, Ashley has truly knocked it out of the park with her fabulous Beauty and the Beast retelling, Bookish and the Beast.
Bookish and the Beast is truly the book of nerdy readers dreams everywhere (and we can say that because we are very much nerdy readers). So if you're in the market for book filled with all the swoon worthy, bookish, fandom goodness, Bookish and the Beast is the book for you. With our love for this superb YA contemporary having no ends, we were more than a little excited to have the opportunity to talk to Ashley all about it, as well as get a few insights into her comic-con and writing experiences.
---
Which five words would you use to describe Bookish and the Beast?
Oh that's a hard one!! Probably 'Nerdy bookworm kisses broody actor,' ha!
What drew you to set a series of retellings around comic-con?
I love comic-cons. The first one I went to was small, occupying only a few rooms in a huge convention hall. I was maybe fifteen, and the con didn't have any big names attending, but I didn't care. I dressed up with my friends and we cosplayed together. It was one of the most magical experiences, and I knew that if I wanted to write a fairy-tale retelling, I had to imbue at least a little magic into the contemporary setting. And what better magic than the magic of fandom?
What has been your most memorable experience at a comic-con?
There are so many! But one that comes to mind is the time I ran into Xavier Woods randomly at San Diego Comic-Con. I have a friend who is really into WWE and the whole wrestling world, so I'd seen a few of his fights on a tiny TV in her apartment. I knew it was him the second I saw him, and I didn't want to make a big deal about it – he was just roaming the con floor buying merch – so I said hello, and asked whether it was okay if we took a photo together. He was so nice about it! Then we went on our merry way. I love experiences like that. There was also that time I pretended to be a journalist to get into a restricted area by the stage in Hall H at SDCC to watch a Doctor Who panel. (I was with an actual journalist, so I was just her plus-one and it wasn't nearly as scandalous as it sounds.) Good times!
View this post on Instagram
Are there any other classic fairy tales you'd love to retell?
There are so many! I would love to try my hand at Red Riding Hood, Rapunzel, or The Little Mermaid. Snow White as a reverse-harem at a con would be pretty fun to write, too….
You've written both sci-fi and contemporary, do you have a genre you enjoy writing more?
Not really! I adore writing both, and each comes with their pros and cons. I love writing contemporary because I like exploring what makes them fit – or not fit – into their lives. I love sci-fi because the sky is literally the limit. You can do anything – robots! Space battles! Aliens! Time-travel! There's limitless possibility.
Does your writing process differ between writing genres at all and if so, how?
It does! I tend to write my contemporary books in order, but when it comes to sci-fi and fantasy, I write the scenes that come to mind and piece them together later. Needless to say, it takes me a little bit longer to write SFF than it does contemporary!
Which of your main characters do you see yourself in the most?
I really, wholeheartedly see myself in Ethan Tanaka from The Princess and the Fangirl. He's constantly worrying about one thing or another, about how he's perceived by other people, and whether or not he's being a bother. He might come off as kind of a stick-in-the-mud, but he's one hundred percent just a trench coat full of anxious cats … much like I am.
View this post on Instagram
How do you decide which elements of the original fairy tales to bring into your own stories?
I usually disassemble the fairy-tale down to the bare bones of it – what makes the story work for audiences, what tropes people love, what has stuck with them throughout the many iterations – and then I build it back with those in mind, but in a structure that fits what I'm trying to say about the narrative. For Geekerella, I wanted Cinderella to be the one saving herself. In The Princess and the Fangirl, I wanted their identity-swapping to not just involve hijinxes, but also help them learn a bit about themselves in each other. And with Bookish and the Beast, I was hyper-aware of the power dynamic between Beauty and her captor, so I built the story a little differently, to give Beauty more control over her own plot.
Do you have any nerdy YA rom-com recommendations for readers wanting more after having loved Bookish and the Beast?
Absolutely! I loved Recommended for You by Laura Silverman, This is How We Fly by Anna Meriano, Queens of Geek by Jen Wilde, I'll Be the One by Lyla Lee, The Summer of Everything by Julian Winters are all favourites of mine!
Are you currently working on anything exciting and if so, is there anything you can tell us about it?
I can't currently say what I'm working on, but I do have a young adult fantasy out in October, also inspired by Beauty and the Beast, called Among the Beasts & Briars, and I'm very excited for everyone to read it!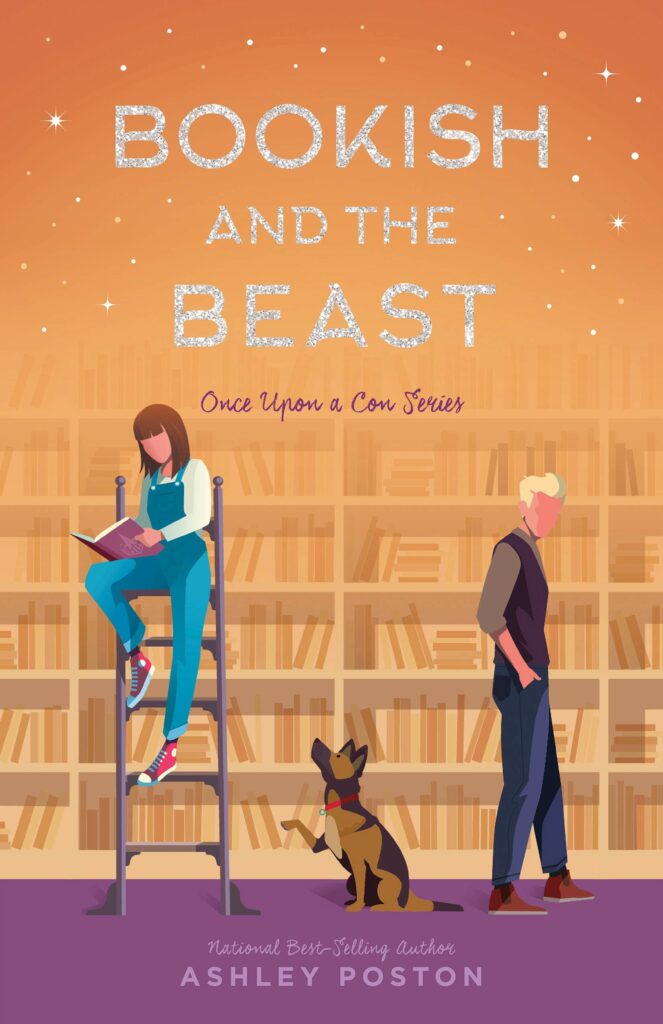 Get your copy of Bookish and the Beast by Ashley Poston in the UK & US.