New York Times bestselling author of Six Crimson Cranes, Elizabeth Lim, is back with a new vibrant, thrilling and captivating YA fantasy novel, Her Radiant Curse. Following two sisters – one as beautiful as the other is monstrous – who must fight to save each other from an evil that has the power to irrevocably sever their bond, Her Radiant Curse, is a heart wrenching and gripping read exploring sisterhood, magic and the dark side of beauty. To celebrate the release of one of this summers must read YA fantasy novels, we're so excited to be offering our readers the chance to win a copy of their own.
---
One sister must fall for the other to rise.
Channi was not born a monster. But when her own father offered her in sacrifice to the tiger witch, she was forever changed. Cursed with a serpent's face, Channi is the exact opposite of her beautiful sister Vanna—the only person in the village who looks at Channi and doesn't see a monster. The only person she trusts.
Now seventeen, Vanna is to be auctioned off in a vulgar betrothal contest that will enrich the coffers of the village leaders. Only Channi, who's had to rely on her strength and cunning all these years, can defend her sister against the cruelest of the suitors. But in doing so, she becomes the target of his wrath—launching a series of vicious gladiatorial fights, a quest over land and sea, romance between sworn enemies, and a choice that will strain Channi's heart to its breaking point.
---
Follow the instructions in the tweet below for your chance to win a copy of Her Radiant Curse:
There's only one week left until the release of @LizLim's stunning new YA fantasy, Her Radiant Curse, and to celebrate, we're giving away three copies! 👑

To enter:

🌸 FOLLOW @unitedbybks

🐍 RT this tweet

Open to UK residents. 🇬🇧 T&Cs: @hodderscape https://t.co/cZvPaNmcbl

— United By Books (@unitedbybks) August 23, 2023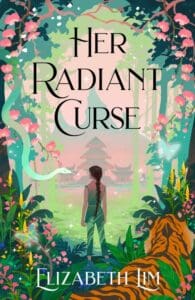 Get your copy of Her Radiant Curse by Elizabeth Lim here.
Terms and Conditions
1. No purchase necessary. A purchase will not increase your chances of winning.
2. This giveaway is open to residents of the United Kingdom only.
3. This giveaway opens Wednesday, 23rd August at 12:00 and closes on Wednesday, 6th September at 21:00
4. Three (3) winners will be selected at random from all applicable entries. The prize consists of one (1) copy of Her Radiant Curse by Elizabeth Lim. Prize has no cash value and no alternative prize is available.
5. Winners will be contacted via Twitter direct message by @unitedbypop after the giveaway closes. Winners must provide United By Pop and Hodder with their full name and mailing address to receive their prize. If winner fails to do so within 24 hours of being contacted, winner forfeits their prize and a new winner will be selected.
6. United By Pop is not responsible for prizes that are lost or damaged in the post. Prizes may take up to 90 days to arrive.
7. This giveaway is in no way sponsored by or affiliated with Instagram and/or Facebook.