Pitched as Caraval meets Buffy the Vampire Slayer, Cruel Illusions is the newest from Vampires, Hearts & Other Dead Things author, Margie Fuston. With everything from secret society's and deadly competitions to vampires and impossible illusions, Cruel Illusions has everything you could want and more from a dark YA fantasy read and to celebrate its release, we have five copies to giveaway to five lucky readers.
---
Ever since a vampire murdered her mother, Ava has been determined to get revenge. This all-encompassing drive has given her the fuel she needed to survive foster home after foster home.
But it's been ten years since anyone's seen a vampire, and Ava has lost hope that she'll ever find one…until she stumbles across a hidden magic show where she witnesses impossible illusions. The magicians may not be the bloodsuckers she's hunting, but Ava is convinced something supernatural is at play, so she sneaks backstage and catches them in acts they can't explain.
But they've been waiting for her.
The magicians reveal they're part of an ancient secret society with true magic, and Ava has the same power in her blood that they do. If she joins them, they promise to teach her the skills she needs to hunt vampires and avenge her mother. But there's a catch: if she wants to keep the power they offer, she needs to prove she's worthy of it. And to do so, she must put on the performance of her life in a sinister and dangerous competition where illusion and reality blur, and the stakes are deadly.
---
Follow the instructions in the tweet below to enter for your chance to win a copy of Cruel Illusions by Margie Fuston Cruel Illusions by Margie Fuston.
https://twitter.com/unitedbybks/status/1587424472876961792?s=20&t=qE5zICg6EIhKrKr93rGYxA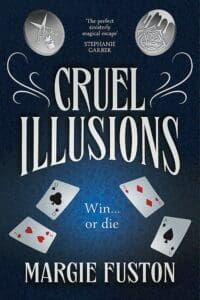 Get your copy of Cruel Illusions by Margie Fuston here.
Terms and Conditions
1. No purchase necessary. A purchase will not increase your chances of winning.
2. This giveaway is open to residents of the United Kingdom only.
3. This giveaway opens Tuesday, 1st November at 12:00 and closes on Tuesday, 15th November at 21:00
4. Five (5) winners will be selected at random from all applicable entries. The prize consists of one (1) copy of Cruel Illusions by Margie Fuston. Prize has no cash value and no alternative prize is available.
5. Winners will be contacted via Twitter direct message by @unitedbypop after the giveaway closes. Winners must provide United By Pop and Bloomsbury with their full name and mailing address to receive their prize. If winner fails to do so within 24 hours of being contacted, winner forfeits their prize and a new winner will be selected.
6. United By Pop is not responsible for prizes that are lost or damaged in the post. Prizes may take up to 90 days to arrive.