Trip Galey on how living London inspired his debut novel, A Market of Dreams and Destiny
"I'm unsure just where the border between real London and fictional London truly lies…"
This post was written by Trip Galey, author of A Market of Dreams and Destiny.
The Untermarkt—the Goblin Market—is the dark, beating heart of the fictional London wherein my debut novel A Market of Dreams and Destiny is set. And, like the Untermarkt, that version of the city is drawn from and inspired by many sources both real and fictional. Now, as an American living in the UK, I can't say where, precisely, the dividing line between the two is, because even having lived in London for nearly 7 years now, I'm unsure just where the border between real London and fictional London truly lies…
Portobello Road is very real, and definitely inspired portions of the Untermarkt. That said, my first experience with Portobello Road was its appearance (dance number included!) in the beloved Disney film Bedknobs and Broomsticks. But the twisting, labyrinthine jumble of little stalls, and the sense you get wandering around that at any moment you could turn a corner and leave the waking world behind and not even realise it? That's very true of the 'real' thing as well.
In A Market of Dreams and Destiny you can access the Untermarkt though any of London's markets. This is as true of Portobello Road as it is of Covent Garden Market, Smithfield Market, Billingsgate Market, Leadenhall Market, or any of the others. Famous for its flower market, Covent Garden probably smells the best though. Hello, Eliza Doolittle!
View this post on Instagram
Speaking of, London is also famous for its fictional characters: Sherlock Holmes, Ebenezer Scrooge, Wendy Darling—the list goes on and on! For many people in the world, these characters are synonymous with London. They were certainly in my mind as I sat in my small flat, looking out over the Victorian chimney pots and dreaming up characters (some with positively Dickensian names) to populate the world of A Market of Dreams and Destiny. And of course, some, like Sherlock Holmes, are so vivid that hundreds, if not thousands, of people believe that he was a real, living-and-breathing person who actually existed in Victorian London. In a city with so much of its history still an integral part of its structure, is it that surprising that the borders between fiction and reality tend to shift?
Even as children, London sing-songs its way into our consciousness. London Bridge, so famously falling down, is still a major thoroughfare in the city. It's not the one that was sang about, no, but traces of those older bridges remain. Some are even scattered about in places you might never expect. Victoria Park, for example, is three miles from today's London Bridge, yet some of the massive stone alcoves that once sheltered pedestrians as they paused in crossing the mid-1700s London Bridge are preserved there. You can still go sit beneath them today! And I have. And yes, they are included in my book (though in their original location).
So no, I can't tell you precisely where the border between fiction and reality lies. I'm an American fantasy writer in London. My sense of place and grounding in so-called 'reality' is dubious at the best of times.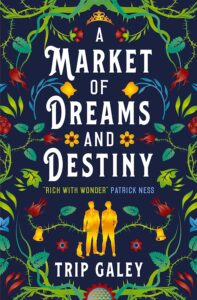 Get your copy of A Market of Dreams and Destiny by Trip Galey here.