This post was written by Susan Lee, author of The Name Drop.
Truthfully, when I'm writing, I never have a playlist of music because, well, I don't listen to any! 🙂 I usually have my headphones on to block out any other sound lest I get distracted. Nature sounds…those are about the only things I can write with. But I'll spare you the playlist of "Trickling Brook", "Spring Rain", and "Frogs Mating" ((?) ha!). Instead, I've put together some songs I think encapsulate the feel of THE NAME DROP…the excitement of a first time in New York, summer crushes that go both ways, new experiences & friendships, broken hearts…happily ever afters…
---
• Empire State of Mind – Alicia Keys (feat. Jay-Z)
• I Don't Know You – The Rose
• Cool With You – NewJeans
• Let's Not Fall in Love – Big bang
• Darl+ing – SEVENTEEN
View this post on Instagram
• Love Sight – TXT (OST: Doom At Your Service)
• Just One Day – BTS
• Eight – IU (feat. Suga)
• I Miss You – Mamamoo
• Answer: Love Myself – BTS
• Shout Out – ENHYPEN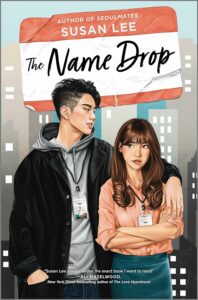 Get your copy of The Name Drop by Susan Lee here.