Shelby Mahurin on The Scarlet Veil, book one in her new YA vampire duology
"I realized I wasn't quite ready to let the world or the characters go."
Set in the world of her New York Times bestselling Serpent & Dove series, Shelby Mahurin's newest YA fantasy novel, The Scarlet Veil, is a deliciously dark vampire romance that has all the elements of a perfect autumn read. To celebrate its release, we had the pleasure of chatting to Shelby all about her new vampiric venture.
---
Hi Shelby! We're so happy to have the chance to chat to you today to celebrate the release of your newest YA fantasy novel, The Scarlet Veil. For readers who may just be hearing about it, how would you best describe it to them?
The Scarlet Veil is the first in a new duology set in the same universe as Serpent & Dove. It follows Célie Tremblay, the first woman initiated into the brotherhood of Chasseurs, as she investigates a string of murders in Cesarine—all the victims of magical origin, all their bodies drained of blood. Her investigation leads her straight to the heart of a vampire lair, where she captures the attention of its cruel yet beautiful king. He has plans of his own for Célie, who refuses to acknowledge the whispers from her past that still haunt her.
Can you share with us a little about what inspired you to write The Scarlet Veil?
As reluctant as I am to admit it, I never planned to write The Scarlet Veil. In the thick of deadline with Gods & Monsters, I even swore I'd never return to the world of Serpent & Dove again. I wanted to tell new stories with new characters; I'd even sold another duology about Greek sirens! With a little time and distance, however, I realized I wasn't quite ready to let the world or the characters go. When I called my critique partner crying on the way home from my local indie the day before Gods & Monsters published, she told me it didn't necessarily need to be over—and then she asked about Célie. We both agreed her story hadn't reached its conclusion, and I'd always wanted to write a vampire book. Their inclusion felt like a natural extension to this world. Within ten minutes, we'd plotted out a rough outline of The Scarlet Veil, and the rest is history.
View this post on Instagram
The Scarlet Veil is set in the same universe as your bestselling Serpent & Dove trilogy. What was is like returning to that world through the eyes of a different character?
Surprisingly enough, I found it easy to return to the world through Célie—probably because I spent several years developing her as a character? Even though she doesn't have a POV in the Serpent & Dove series, she becomes an important, and vocal, character throughout Blood & Honey and Gods & Monsters. Because of this, I felt like I knew her intimately when I started drafting The Scarlet Veil. The groundwork for her worldview, her inner monologue, her dialogue, her innocence, curiosity, and naivety, even her relationships—it was already there. I just needed to expand it. Truthfully, her POV came just as easily as Lou's did in S&D and quite a bit more so than Reid's.
The Scarlet Veil is your fourth YA fantasy novel. What is your favourite aspect of writing in this genre?
The self-discovery of YA characters has always appealed to me. They're learning and growing and truly discovering who they are as individuals, separate from the adults in their lives. They're creating their own belief systems. They're experiencing firsts, making mistakes, falling in love—and it's all so exciting to experience and explore through their eyes. To be completely honest, I've also been able to undo a lot of the conditioning I underwent during my teenage years by writing Lou and Célie, so YA fantasy has helped me—a thirty-one-year-old—better understand who I am too.
2023 has gifted our bookshelves with countless incredible new YA fantasy reads. Are there any that have particularly stood out to you that you think should feature on everyone's to read pile?
Oh, absolutely. Everyone should absolutely pick up Divine Rivals by Rebecca Ross, What the River Knows by Isabel Ibañez, and—of course—the last in Stephanie Garber's spin-off trilogy, A Curse for True Love.
Finally, are you currently working on anything new and if so, is there anything you can share with us?
I'm still drafting The Scarlet Veil's sequel now (no spoilers!), but afterward, I'll be returning my attention to the Greek siren duology I mentioned earlier. I actually sold those books back in 2020 and 2021, so I'm extremely eager to get back to them!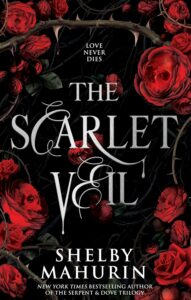 Get your copy of The Scarlet Veil by Shelby Mahurin here.