Saundra Mitchell's top 5 authors who are writing LGBTQIA+ YA books
"Once upon a time, there was no such thing as queer YA. And then, the world changed."
The post below was kindly written by Saundra Mitchell, author of Out Now: Queer We Go Again!
Once upon a time, there was no such thing as queer YA. And then, the world changed. Our shelves started to overflow with fantastic work from queer authors about queer characters.
Where once, we only had stale, well-meaning problem novels, usually by well-meaning but clueless straight authors, we suddenly had a garden blooming with our own voices. It took me approximately 67,000 years to pair my favorite LGBTQIA+ authors list down to five.
After all, I've edited two queer YA anthologies and I struggled to get those down to seventeen each! But, with much crying and agony, I did it. My Top 5 queer YA authors in the field right now.
(If you want to see more of my favorites, just check out ALL OUT and OUT NOW. The beauty of editing an anthology is that you get to ask your favorite authors to write a story just for you!)
---
Malinda Lo
Full disclosure, Malinda and I met in a group for first time authors wayyy back in 2008. I was so excited to finally have another queer person turn up, and what a fantastic queer person she turned out to be. She was fresh from her stint at AfterEllen.com, and her lesbian retelling of Cinderella exploded in brilliant color across the YA landscape.
I have always admired the way she cuts to the bone with bold, exacting prose. Her books expect you to keep up– and they reward you with layer upon layer of nuance, detail and emotion when you do. She has an amazing newsletter called Lo and Behold, and she has collected data to show who does and doesn't get representation in fiction. Her most recent book, A LINE IN THE DARK is a dark, twisty-turny thriller.
Her next, LAST NIGHT AT THE TELEGRAPH CLUB, arrives in January 2021, is a luscious historical novel about identity, discovery, and celebration in 1950s Chinatown.
Anna-Marie McLemore
I've said this a couple thousand times, but Anna-Marie McLemore is the author who makes me wonder why I even bother to write. Their prose is poetry; somehow, they capture quicksilver moments on each page.
The history of Latinx fiction runs through Anna-Marie's books, as they capture, and transform, classic fairy tales with magic realism. Every book they've written has captivated me entirely: I've even worked with Anna-Marie on a short story for our anthology ALL OUT, and their effervescent voice enchanted even on a first draft. On a first draft!
Some people have craft, some people have talent: Anna-Marie has both. Their latest novel, DARK AND DEEPEST RED, is a retelling of The Red Shoes, and it awaits you on shelves right now. Their next, MISS METEOR, is a collaboration between McLemore and Tehlor Kay Mejia, another fantastic, queer Latinx author, and it arrives September 22, 2020.
CB Lee
There are a lot of extraordinary queer YA authors, and I love CB Lee for the sheer joy and motion in her Sidekick Squad series– about young, often queer, superheroes in training. She centers characters that have been sidelined or erased entirely, in prose that reads like a graphic novel, and races through intricate, interconnected storylines like a Marvel movie. She's wildly talented, and she writes what I call 4 O'Clock books. You better start it by 4PM, or you'll be up at 4AM finishing it.
I thoroughly admire the light, springy prose that she uses, and nobody writes an action sequence like she does. She also captures the complicated social structure of high school with equal skill, in Lumber Me Mine, her story in OUT NOW, which is happily available now.
Julian Winters
When I read Julian Winters' books, I feel like I'm making a new best friend. His debut novel, RUNNING WITH LIONS, is the sports-and-coming of age novel I didn't even know I wanted. Julian handles his characters with gentle certainty, flaws and all. You don't just want to root for them, you want to help them.
His sophomore novel, HOW TO BE REMY CAMERON, is one of the most earnest, most loving exploration of family and self, I've ever read. Remy is Black, adopted and queer– and saddled with one of those well-meaning school projects that asks a student to write about who they really are. It turns out that Remy's answer sometimes surprises even himself.
You can grab RUNNING WITH LIONS and HOW TO BE REMY CAMERON right now. His new novel, THE SUMMER OF EVERYTHING, is about a comics geek with a big mission (saving the bookstore where he works) and a big crush (on his best friend, natch.) It appears on bookshelves in September 2020.
Kacen Callender
Y'all. Kacen Callender will break your heart and you will thank them for it. Their books are transportive: you don't read them, you experience them. Lush settings and complicated characters layer and intersect, leap and swirl, on the pages of Kacen's books. Their celebrated HURRICANE SEASON invites you into the world of a tween girl, considered bad luck because she was born during a hurricane. Kacen pulls you down deep to experience a sweet, first love that queer kids often haven't had a chance to see on the page.
Kacen is versatile, with titles for Middle Grade, Young Adult and Adult, but my personal favorite is FELIX EVER AFTER. It throws open a door that has remained locked in queer lit for so long: a protagonist who is allowed to be queer AND of color AND transgender. And though authors don't get to choose their covers, the art on FELIX EVER AFTER is so affirming and uplifting: scars from top surgery aren't shameful, they're beautiful, and so is Kacen's writing. Their next novel, KING OF THE RISING, is part of their adult fantasy series. I'm looking forward to that, but I'm eagerly anticipating their next book for teens.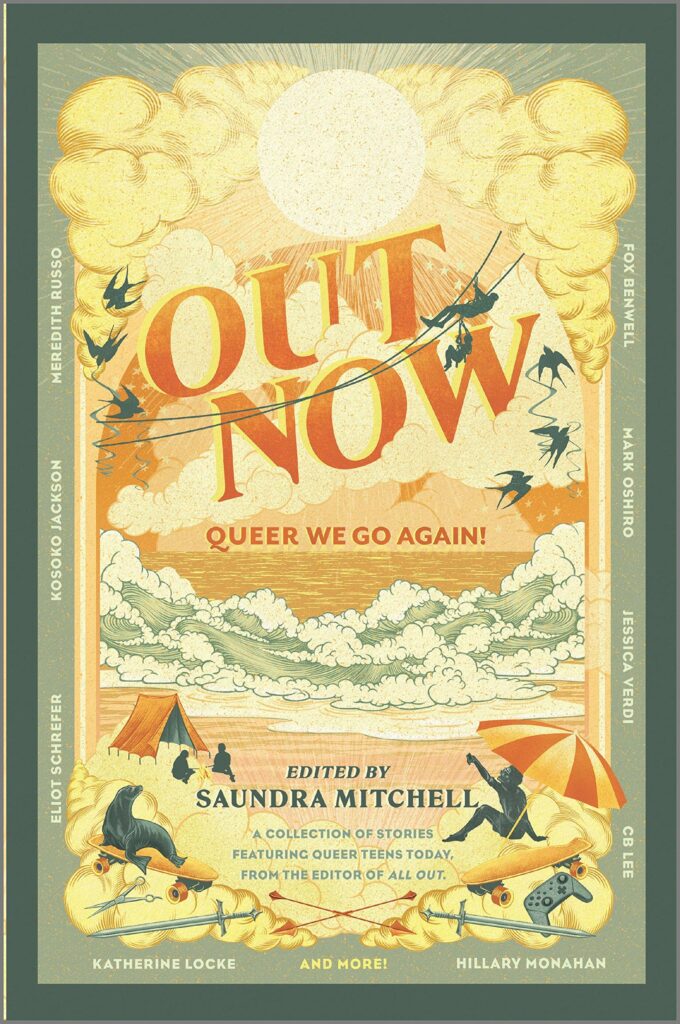 Get your copy of Out Now: Queer We Go Again! edited by Saundra Mitchell in the US & UK