Sajni Patel on her new YA rom-com, My Sister's Big Fat Indian Wedding
"These are issues that I've experienced in life and adding them into the story was a natural evolution."
If you're in the market for an energetic and vibrant YA read full of passion, music, family hijinks, romance and one truly incredible wedding, Sajni Patel's new YA rom-com, My Sister's Big Fat Indian Wedding, is the book for you and we were lucky enough to have the chance to talk to her all about it.
---
Hi Sajni, we're so excited to chat to you today to celebrate the release of your brilliantly fun new YA rom-com, My Sister's Big Fat Indian Wedding! For those just hearing about it, how would you entice them to pick up a copy in one sentence?
Thanks so much for having me! I would describe My Sister's Big Fat Indian Wedding as a story about a girl who must navigate around her sister's extravagant wedding week to pursue a prestigious music competition all while trying to avoid her mother's match-making schemes and dodging catching feels for her biggest competition.
Could you share with us a little about the inspiration behind Zuri's story?
The vibrant wedding background was inspired by my brother's extravagant Indian wedding teeming with tradition and color. Zuri was inspired by my own familiarity with wanting to pursue a creative field in a family that only sees certain professions as relevant. I gave her talents as a hip-hop and contemporary violinist from seeing such amazing artists as Miri Ben-Ari, Lindsey Stirling, and Black Violin. It's so fascinating to see an instrument typically associated with classical music thrum out tempos to today's biggest beats. I've never come close to mastering an instrument, but I love music. I see why it's a vital component to Zuri.
View this post on Instagram
Whilst being full of energetic and witty rom-com vibes, My Sister's Big Fat Indian Wedding also features conversations surrounding colourism and parental/cultural expectations. How did you go about exploring these more serious narratives within a rom-com?
These are issues that I've experienced in life and adding them into the story was a natural evolution. These are also struggles prevalent in South Asian communities and in a lot of cultures. I wanted to add these concepts, but also give the characters a positive way of addressing these things by respecting elders yet also finding their voice, even if Zuri is a teenager.
From platonic to familial to romantic, you explored so many different and equally endearing relationships throughout the book. Did you find there was one you found more challenging or one you always particularly looked forward to writing?
I initially thought that I wouldn't be able to juggle so many relationships in a story while making each one pertinent to the plot and different from the other. But because so many characters were based on real people, it was easier than I expected.
The relationships I looked forward to the most were the sisters and cousins because it's not something that I have in my life. When I met my sister-in-law's cousins and saw how close they were, how each upheld different parts of their faith and culture while being unapologetically independent and pursuing different paths, I realized how touching their relationships were and I wanted to capture that. It was an exciting adventure for me to create those bonds for Zuri.
View this post on Instagram
If you could have been a part of just one ceremony/activity from Zuri's sister's wedding, which would it be and why?
I would say the reception when Zuri and Naveen did that extra, last-minute addition. It felt so modern and energetic but still surrounded by culture and family. It was a very personal touch that only these characters could've added.
Music features heavily throughout the novel, is this a passion you share with Zuri and Naveen?
I love listening to music, and I dabbled in writing lyrics when I was younger. But alas, I don't have any musical talents. Unlike my brother, who's self-taught in five instruments.
Finally, do you have any new projects in the works readers can look forward to after reading My Sister's Big Fat Indian Wedding?
I do! I have another YA romcom releasing next year, as well as two upcoming adult romcoms and a YA dark fantasy series, which I'm excited to announce. Readers can stay up to-date about upcoming books by visiting my website and social media.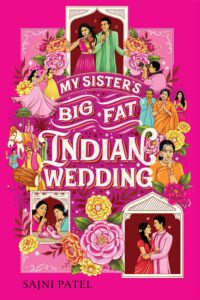 Get your copy of My Sister's Big Fat Indian Wedding by Sanji Patel here.