When my copy of Beyond The Wand: The Magic and Mayhem of Growing Up a Wizard arrived, I'm not ashamed to say I squealed and then squealed, even more, when it was a signed copy. Tom Felton is one of my favourite actors so I was extremely excited to finally be able to read his magical memoir.
Beyond The Wand, round the world 🌎 Thank you for everyone who has asked for Beyond The Wand to be released in their language and in their country ❤️ Absolutely surrealhttps://t.co/24008FDl7F pic.twitter.com/xKYG5zotyz

— Tom Felton (@TomFelton) October 6, 2022
I buried my head in the book and finished it in less than 24 hours – signs of a good book, right? Exactly, specifically a 10/10 book. Without any spoilers, here is a mini-review of Beyond The Wand.
Emma Watson wrote the foreword for the book and it was adorable. She discussed her friendship with Tom and how she had persuaded him to write the book in the first place. Tom is on a promotion tour for his book at the moment and he agreed that Emma had told him to be open about even the not-so-great parts of his life.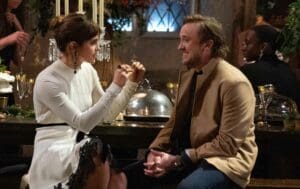 Reading on, Tom went into enormous detail about starting his career to his life on the set of Harry Potter, talking about each of his co-stars affectionately. There were a lot of behind-the-scenes secrets that Tom shared that had never been spoken about before. It was so refreshing to hear so many new facts about the Harry Potter films.
Tom also discussed his personal life in the book, admitting that he went to three rehab centres to recover from an alcohol and drug addiction. It was extremely brave of him to open up about such a personal and scary time of his life.
He then went on to please fans by saying how happy and healthy he is now which was a very positive note to end the book on.
Beyond The Wand is out now and is definitely worth a read, especially if you are a huge Harry Potter fan.