Rachael Lippincott on her time travelling sapphic romance, Pride and Prejudice and Pittsburgh
"Above all else I hope that readers will be super entertained by this one. It's got the laughs! And it's got the romance!"
Bridgerton meets Emma with a time travelling twist in Pride and Prejudice and Pittsburgh, the new sapphic romance from New York Times bestselling author, Rachael Lippincott. Starring two wonderfully endearing heroines, buckets of yearning, a touch of magic and a timeless romance, Pride and Prejudice and Pittsburgh is a tender, funny and brilliantly entertaining read and we're so excited to have had the opportunity to chat to Rachael all about it.
---
Hi Rachael! I'm so excited to get to talk to you to celebrate the release of your wonderful new YA romance, Pride and Prejudice and Pittsburgh! For readers just hearing about it, how would you best entice them to pick up a copy in one sentence?
Hmm. A sapphic-yearning-filled romcom about a girl getting sent back in time to Regency England to find love by a regular at her family's Pittsburgh convenience store.
Pride and Prejudice and Pittsburgh was such a fun, emotional and unique read. Can you tell us a little about what first inspired the story?
I think I really just wanted to do something fun and different. Admittedly, my wife had a really rough first-trimester of pregnancy, and Pride and Prejudice, the Keira Knightley version, is her comfort film, and I kind of got SUPER obsessed with it. I re-read the book. Destroyed my TikTok algorithm to be all things P&P and the Darcy hand flex. Wrote sapphic Mary Bennet fanfic. And I think from all of that this idea really blossomed.
Having devoured Pride and Prejudice and Pittsburgh in a single weekend, it's safe to say I was totally swept up in reading Lucy and Audrey's story. What was your experience writing it like?
I had such a great time writing it. I've always really loved history, and historical fiction, so to be able to dip my toe into it while still having the safety net of my little contemporary romance bubble was great. I really fell in love with Audrey and Lucy, and the three chaotic bachelors that vie for Audrey's hand in marriage, and Mr. Montgomery, and I hope that comes through on the page. Above all else I hope that readers will be super entertained by this one. It's got the laughs! And it's got the romance!
View this post on Instagram
With a large percentage of the book being set in 1812, England, did you find yourself doing a lot of research into the time period and if so, did you discover any interesting facts that surprised you?
I definitely did! I think a lot of things surprised me, and were really fascinating to learn about. Whalebone corsets. The obscene number of courses at a dinner party. How exactly smelling salts actually work. To dig into what everyday life was like, from etiquette to lunch time, and how it is so different from ours, was a real highlight of writing this book.
If you had Mr. Montgomery's power to travel back in time, where and when would you like to go, who would you take with you and what would you do?
That's a tough question! The only thing I could say for sure is that I'd definitely bring my wife along. As for location, maybe Ancient Egypt, during Cleopatra's reign, or Woodstock or, honestly, 1812 Regency England.
How do you think you'd fare if you were to find yourself in Audrey's position, having been transported to another time and place?
I think it would definitely depend on where exactly I was transported to! If we're talking like bubonic plague era, probably not great! Plague and no air conditioning and environmental threat aside, I think if I was just thrown into another time to fend for myself, it would be tricky to blend in to society without sticking out like a sore thumb. I'd hope I met someone like Lucy that could help me out!
I can say I definitely would not be super chill about it unless I knew I was coming back home.
Finally, are you currently working on any projects and if so, is there anything you can share with us about what we can expect to see from you next?
I am! I can't say much about it as of now, but it is a sapphic romcom, and it's been a real blast to write.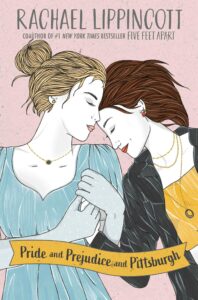 Get your copy of Pride and Prejudice and Pittsburgh by Rachael Lippincott here.