The new year has arrived and there's truly no better way to start the new year (or decade!) than with a brand new book. So if it's love, revenge, friendship, gaming, magic or murder you're looking for in your new year reads, these 2020 January YA releases have got you covered.
---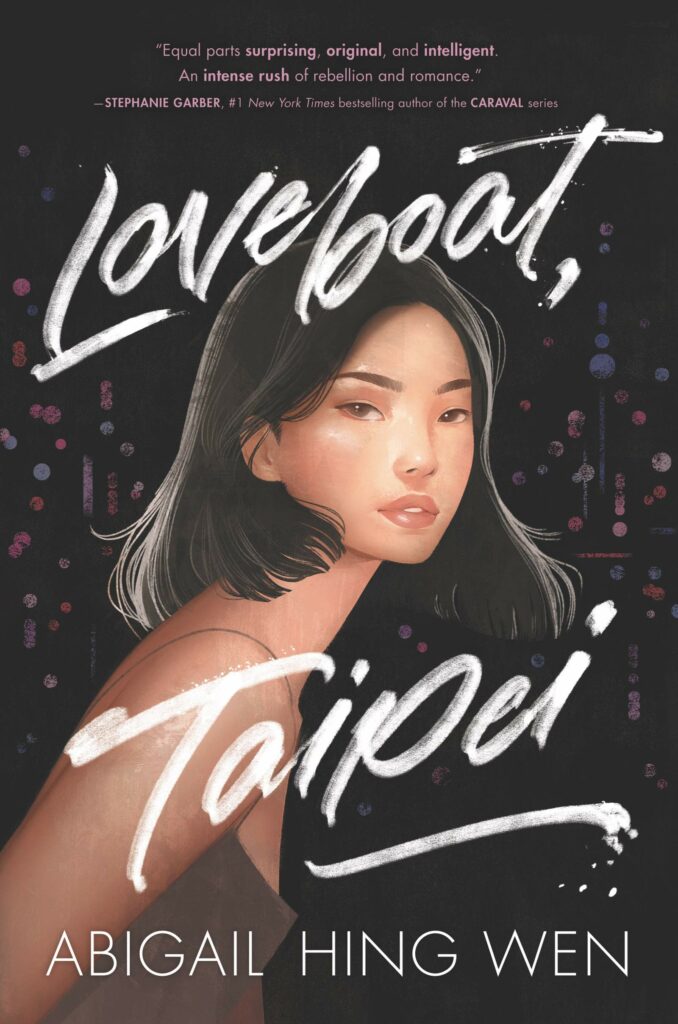 Loveboat, Taipei by Abigail Hing Wen (January 7th)
When eighteen-year-old Ever Wong's parents send her from Ohio to Taiwan to study Mandarin for the summer, she finds herself thrust among the very over-achieving kids her parents have always wanted her to be, including Rick Woo, the Yale-bound prodigy profiled in the Chinese newspapers since they were nine—and her parents' yardstick for her never-measuring-up life.
Unbeknownst to her parents, however, the program is actually an infamous teen meet-market nicknamed Loveboat, where the kids are more into clubbing than calligraphy and drinking snake-blood sake than touring sacred shrines.
Free for the first time, Ever sets out to break all her parents' uber-strict rules—but how far can she go before she breaks her own heart?
Order your copy in the UK and US today.
The Map from Here to There by Emery Lord (January 7th)
It's senior year, and Paige Hancock is finally living her best life. She has a fun summer job, great friends, and a super charming boyfriend who totally gets her. But senior year also means big decisions. Weighing "the rest of her life," Paige feels her anxiety begin to pervade every decision she makes. Everything is exactly how she always wanted it to be–how can she leave it all behind next year? In her head, she knows there is so much more to experience after high school. But in her heart, is it so terrible to want everything to stay the same forever?
Order your copy in the UK and US today.
Woven in Moonlight by Isabel Ibãnez (January 7th)
Ximena is the decoy Condesa, a stand-in for the last remaining Illustrian royal. Her people lost everything when the usurper, Atoc, used an ancient relic to summon ghosts and drive the Illustrians from La Ciudad. Now Ximena's motivated by her insatiable thirst for revenge, and her rare ability to spin thread from moonlight.
When Atoc demands the real Condesa's hand in marriage, it's Ximena's duty to go in her stead. She relishes the chance, as Illustrian spies have reported that Atoc's no longer carrying his deadly relic. If Ximena can find it, she can return the true aristócrata to their rightful place.
She hunts for the relic, using her weaving ability to hide messages in tapestries for the resistance. But when a masked vigilante, a warm-hearted princess, and a thoughtful healer challenge Ximena, her mission becomes more complicated. There could be a way to overthrow the usurper without starting another war, but only if Ximena turns her back on revenge—and her Condesa.
Order your copy in the UK and US today.
We Used to be Friends by Amy Spalding (January 7th)
Told in dual timelines—half of the chapters moving forward in time and half moving backwards—We Used to Be Friends explores the most traumatic breakup of all: that of childhood besties. At the start of their senior year in high school, James (a girl with a boy's name) and Kat are inseparable, but by graduation, they're no longer friends. James prepares to head off to college as she reflects on the dissolution of her friendship with Kat while, in alternating chapters, Kat thinks about being newly in love with her first girlfriend and having a future that feels wide open. Over the course of senior year, Kat wants nothing more than James to continue to be her steady rock, as James worries that everything she believes about love and her future is a lie when her high-school sweetheart parents announce they're getting a divorce.
Order your copy in the UK and US today.
Scavenge the Stars by Tara Sim (January 7th)
When Amaya rescues a mysterious stranger from drowning, she fears her rash actions have earned her a longer sentence on the debtor ship where she's been held captive for years. Instead, the man she saved offers her unimaginable riches and a new identity, setting Amaya on a perilous course through the coastal city-state of Moray, where old-world opulence and desperate gamblers collide.
Amaya wants one thing: revenge against the man who ruined her family and stole the life she once had. But the more entangled she becomes in this game of deception—and as her path intertwines with the son of the man she's plotting to bring down—the more she uncovers about the truth of her past. And the more she realizes she must trust no one…
Order your copy in the UK and US today.
Shadowshaper Legacy by Daniel José Older (January 7th)
Sierra and the shadowshapers have been split apart. Juan, Anthony, and Izzy are in jail, anxiously waiting to find out what will become of them. Back in Brooklyn, the other shadowshapers have been getting threatening messages from whisper wraiths, catching strangely shaped figures stalking them, and fending off random spirits. A war is brewing among the houses, and the very magic of the shadowshapers is at stake.
Sierra is determined to protect her own in the coming conflict. Even if that means keeping secrets from them. But a deal with Death by one of Sierra's ancestors has far-reaching consequences in the battles of the present, and as old fates tangle with new powers, Sierra will have to harness the Deck of Worlds and confront her family's past if she has any hope of saving the future and everyone she loves. Only doing so will mean following the magic to places the shadowshapers have never gone before… and may never return from.
Order your copy in the US today.
A Heart So Fierce and Broken by Brigid Kemmerer (January 7th)
The curse is finally broken, but Prince Rhen of Emberfall faces darker troubles still. Rumours circulate that he is not the true heir and that forbidden magic has been unleashed in Emberfall. Although Rhen has Harper by his side, his guardsman Grey is missing, leaving more questions than answers.
Rumoured to be the heir, Grey has been on the run since he destroyed Lilith. He has no desire to challenge Rhen–until Karis Luran once again threatens to take Emberfall by force. Her own daughter Lia Mara sees the flaws in her mother's violent plan, but can she convince Grey to stand against Rhen, even for the good of Emberfall?
Order your copy in the UK and US today.
The Night Country by Melissa Albert (January 7th)
In The Night Country, Alice Proserpine dives back into a menacing, mesmerizing world of dark fairy tales and hidden doors. Follow her and Ellery Finch as they learn The Hazel Wood was just the beginning, and that worlds die not with a whimper, but a bang.
With Finch's help, Alice escaped the Hinterland and her reclusive grandmother's dark legacy. Now she and the rest of the dregs of the fairy tale world have washed up in New York City, where Alice is trying to make a new, unmagical life. But something is stalking the Hinterland's survivors―and she suspects their deaths may have a darker purpose. Meanwhile, in the winking out world of the Hinterland, Finch seeks his own adventure, and―if he can find it―a way back home…
Order your copy in the UK and US today.
Black Girl Unlimited by Echo Brown (January 14th)
Echo Brown is a wizard from the East Side, where apartments are small and parents suffer addictions to the white rocks. Yet there is magic . . . everywhere. New portals begin to open when Echo transfers to the rich school on the West Side, and an insightful teacher becomes a pivotal mentor. Each day, Echo travels between two worlds, leaving her brothers, her friends, and a piece of herself behind on the East Side. There are dangers to leaving behind the place that made you. Echo soon realizes there is pain flowing through everyone around her, and a black veil of depression threatens to undo everything she's worked for.
Order your copy in the UK and US today.
Lucky Caller by Emma Mills (January 14th)
When Nina decides to take a radio broadcasting class her senior year, she expects it to be a walk in the park. Instead, it's a complete disaster.
The members of Nina's haphazardly formed radio team have approximately nothing in common. And to maximize the awkwardness her group includes Jamie, a childhood friend she'd hoped to basically avoid for the rest of her life.
The show is a mess, internet rumours threaten to bring the wrath of two fandoms down on their heads, and to top it all off Nina's family is on the brink of some major upheaval.
Everything feels like it's spiralling out of control―but maybe control is overrated?
Order your copy in the UK and US today.
Dark and Deepest Red by Anna Marie McLemore (January 14th)
Summer, 1518. A strange sickness sweeps through Strasbourg: women dance in the streets, some until they fall down dead. As rumours of witchcraft spread, suspicion turns toward Lavinia and her family, and Lavinia may have to do the unimaginable to save herself and everyone she loves.
Five centuries later, a pair of red shoes seal to Rosella Oliva's feet, making her dance uncontrollably. They draw her toward a boy who knows the dancing fever's history better than anyone: Emil, whose family was blamed for the fever five hundred years ago. But there's more to what happened in 1518 than even Emil knows, and discovering the truth may decide whether Rosella survives the red shoes.
Order your copy in the UK and US today.
Foul is Fair by Hannah Capin (January 16th)
Elle and her friends Mads, Jenny, and Summer rule their glittering LA circle. Untouchable, they have the kind of power other girls only dream of. Every party is theirs and the world is at their feet. Until the night of Elle's sweet sixteen, when they crash a St. Andrew's Prep party. The night the golden boys choose Elle as their next target.
They picked the wrong girl.
Sworn to vengeance, Elle transfers to St. Andrew's. She plots to destroy each boy, one by one. She'll take their power, their lives, and their control of the prep school's hierarchy. And she and her coven have the perfect way in: a boy named Mack, whose ambition could turn deadly.
Order your copy in the UK and US today. 
Tweet Cute by Emma Lord (January 21st)
Meet Pepper, swim team captain, chronic overachiever, and all-around perfectionist. Her family may be falling apart, but their massive fast-food chain is booming ― mainly thanks to Pepper, who is barely managing to juggle real life while secretly running Big League Burger's massive Twitter account.
Enter Jack, class clown and a constant thorn in Pepper's side. When he isn't trying to duck out of his obscenely popular twin's shadow, he's busy working in his family's deli. His relationship with the business that holds his future might be love/hate, but when Big League Burger steals his grandma's iconic grilled cheese recipe, he'll do whatever it takes to take them down, one tweet at a time.
All's fair in love and cheese ― that is, until Pepper and Jack's spat turns into a viral Twitter war. Little do they know, while they're publicly duking it out with snarky memes and retweet battles, they're also falling for each other in real life ― on an anonymous chat app Jack built. As their relationship deepens and their online shenanigans escalate ― people on the internet are shipping them?? ― their battle gets more and more personal until even these two rivals can't ignore they were destined for the most unexpected, awkward, all-the-feels romance that neither of them expected.
Order your copy in the UK and US today.
Not So Pure and Simple by Lamar Giles (January 21st)
Del has had a crush on Kiera Westing since kindergarten. And now, during their junior year, she's finally available. So when Kiera volunteers for an opportunity at their church, Del's right behind her. Though he quickly realizes he's inadvertently signed up for a Purity Pledge.
His dad thinks his wires are crossed, and his best friend, Qwan, doesn't believe any girl is worth the long game. But Del's not about to lose his dream girl, and that's where fellow pledger Jameer comes in. He can put in the good word. In exchange, Del just has to get answers to the Pledgers' questions…about sex ed.
With other boys circling Kiera like sharks, Del needs to make his move fast. But as he plots and plans, he neglects to ask the most important question: What does Kiera want? He can't think about that too much, though, because once he gets the girl, it'll all sort itself out. Right?
Order your copy in the UK and US today.
Layoverland by Gabby Noone (January 21st)
Beatrice Fox deserves to go straight to hell. At least, that's what she thinks. On her last day on Earth, she ruined the life of the person she loves most–her little sister, Emmy. So when Bea awakens from a fatal car accident to find herself on an airplane headed for a mysterious destination, she's confused, to say the least. Once on the ground, Bea receives some truly harrowing news: not only is she in purgatory, but she has been chosen to join the Memory Experience team. If she wants another shot at heaven, she'll have to use her master manipulation skills to help 5,000 souls suss out what's keeping them from moving on.
There's just one slight problem. Bea's first assigned soul is Caleb, the boy who caused her accident, and the last person Bea would ever want to send to the pearly gates. But as much as Bea would love to see Caleb suffer for dooming her to a seemingly endless future of listening to other people's problems, she can't help but notice that he's kind of cute, and sort of sweet, and that maybe, despite her best efforts, she's totally falling for him. And to make matters worse, he's definitely falling for her. Now, determined to make the most of her time in purgatory, Bea must decide what is truly worth dying for–romance or revenge.
Order your copy in the UK and US today.
Jane Anonymous by Laurie Faria Solarz (January 27th)
Then, "Jane" was just your typical 17-year-old in a typical New England suburb getting ready to start her senior year. She had a part-time job she enjoyed, an awesome best friend, overbearing but loving parents, and a crush on a boy who was taking her to see her favourite band. She never would've imagined that in her town where nothing ever happens, a series of small coincidences would lead to a devastating turn of events that would forever change her life.
Now, it's been three months since "Jane" escaped captivity and returned home. Three months of being that girl who was kidnapped, the girl who was held by a "monster." Three months of writing down everything she remembered from those seven months locked up in that stark white room. But, what if everything you thought you knew―everything you thought you experienced―turned out to be a lie?
Order your copy in the UK and US today.
Diamond City by Francesca Flores (January 28th)
Fierce and ambitious, Aina Solís as sharp as her blade and as mysterious as the blood magic she protects. After the murder of her parents, Aina takes a job as an assassin to survive and finds a new family in those like her: the unwanted and forgotten.
Her boss is brutal and cold, with a questionable sense of morality, but he provides a place for people with nowhere else to go. And makes sure they stay there.
DIAMOND CITY: built by magic, ruled by tyrants, and in desperate need of saving. It is a world full of dark forces and hidden agendas, old rivalries and lethal new enemies.
To claim a future for herself in a world that doesn't want her to survive, Aina will have to win a game of murder and conspiracy—and risk losing everything.
Order your copy in the UK and US today.
Don't Read the Comments by Eric Smith (January 28th)
Divya Sharma is a queen. Or she is when she's playing Reclaim the Sun, the year's hottest online game. Divya—better known as popular streaming gamer D1V—regularly leads her #AngstArmada on quests through the game's vast and gorgeous virtual universe. But for Divya, this is more than just a game. Out in the real world, she's trading her rising-star status for sponsorships to help her struggling single mom pay the rent.
Gaming is basically Aaron Jericho's entire life. Much to his mother's frustration, Aaron has zero interest in becoming a doctor like her, and spends his free time writing games for a local developer. At least he can escape into Reclaim the Sun—and with a trillion worlds to explore, disappearing should be easy. But to his surprise, he somehow ends up on the same remote planet as celebrity gamer D1V.
At home, Divya and Aaron grapple with their problems alone, but in the game, they have each other to face infinite new worlds…and the growing legion of trolls populating them. Soon the virtual harassment seeps into reality when a group called the Vox Populi begin launching real-world doxxing campaigns, threatening Aaron's dreams and Divya's actual life. The online trolls think they can drive her out of the game, but everything and everyone Divya cares about is on the line… And she isn't going down without a fight.
Order your copy in the UK and US today.
Blood Countess by Lana Popovíc (January 28th)
In 17th century Hungary, Anna Darvulia has just begun working as a scullery maid for the young and glamorous Countess Elizabeth Báthory. When Elizabeth takes a liking to Anna, she's vaulted to the dream role of chambermaid, a far cry from the filthy servants' quarters below. She receives wages generous enough to provide for her family, and the Countess begins to groom Anna as her friend and confidante. It's not long before Anna falls completely under the Countess's spell—and the Countess takes full advantage. Isolated from her former friends, family, and fiancé, Anna realizes she's not a friend but a prisoner of the increasingly cruel Elizabeth. Then come the murders, and Anna knows it's only a matter of time before the Blood Countess turns on her, too.
Order your copy in the UK and US today.
Release dates and covers may differ between countries.