Mary Watson on anger, Cape Town and her new witchy YA novel, Blood to Poison
"I began to think how anger might be useful, whether it could be a powerful tool, and how could we use it without burning ourselves in the process."
With its high stakes, unique witchy magic and Cape Town setting, Mary Watson's new YA fantasy, Blood to Poison, is a gripping exploration of misogyny, generational pain and the power of girls expressing their anger. This unique story will have you unable to pull away from its pages and we're so excited to have had the opportunity to talk to Mary all about it.
---
Hi Mary, we're so excited to get to chat to you today about your fabulous new YA novel, Blood to Poison. For readers just hearing about it, how would you best explain it to them?
There's a curse in Savannah's family, where one woman in every generation dies before she's fully lived. Savannah's not sure she believes in this curse, but lately she's been angry, and strange marks are appearing on her body. Savannah realises that she needs to act to save herself, and discovers a secret underworld of magic, hidden behind the markets in contemporary Cape Town. Where witches are at war. The sinister veilwitches are drawn to Savannah's curse, and they will stop at nothing to get what they want.
There were so many interesting layers to the plot and characters of Blood to Poison. Can you tell us a little about the inspiration behind it?
There were several things that inspired this story – I was very interested in anger, in the possibilities and limitations of anger. There is also a story of a curse in my own family that always captivated me and I wanted to reimagine this through fiction. But mostly, I wanted to write a fun story, where a young woman living in the city I've lived most of my life, embarks on a discovery of magic and love. I don't live in Cape Town at the moment, and in some ways this book is a love letter to my beloved home city.
There were multiple fabulous twists and turns throughout the book! Without any spoilers, were those twists something you planned ahead or did they come to you whilst writing?
I always write to a destination – I know the end of the book from early on. But in the very first plans the book stopped one step before where it currently ends. It was only once I started writing that I realised there was one more curtain to tear down, that this was how it needed to end.
View this post on Instagram
I loved the way you explored anger in women throughout the book. It's something not always seen in YA but you presented it in such an intriguing and empowering way through multiple female characters. Was there a reason you wanted to explore this emotion specifically?
When I first started planning this book, I had an idea of a story about a girl who was cursed to be horrible during the day and regretful at night. But it clicked that she's not mean, she's angry, and this felt deeply right. I think anger is really interesting – while I was planning the book I was feeling a kind of low-grade, impotent anger about disinformation, the climate crisis, how misogyny was manifesting as violence, how racism seemed to be getting worse. I began to think how anger might be useful, whether it could be a powerful tool, and how could we use it without burning ourselves in the process.
Generational pain plays a strong and moving part throughout the book. How did you go about balancing such a real topic alongside the more magical elements of the story?
This was really difficult! I feel very strongly that AOC should be free to write whatever we want, that we're not forever obliged to write stories about trauma or issues or identity. My main objective was to ensnare a reader in a story about the discovery of magic, a war between witches, with a side offering of romance. But I was drawing on a difficult part of my own family history by refashioning the story of the family curse which stemmed from the tragic death of my aunt at twenty-one. And at the heart of the book is the figure of the enslaved ancestor. I had packed trauma into the foundations, it was a deeply rooted part of the story. But I didn't want these difficult experiences to be simply fuel for a fun story so it took really careful balancing to weave everything together in a way that felt sincere and authentic. There was a lot of rewriting, and always coming back to the core question of what is this book saying?
Finally, are you currently working on anything new and if so, is there anything you can tell us about it?
I am. I can't say much at the moment except my favourite stories contain magic or death.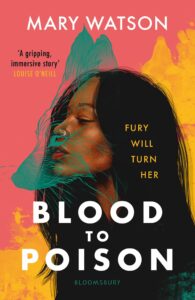 Get your copy of Blood to Poison by Mary Watson here.