This post was written by Katie Cotugno, author of Liar's Beach.
I've always had something of a love affair with fancy murder. My dad traveled for work a lot when I was a kid, and on the nights he was gone my mom would pour M+Ms into little white ramekins, pile my sister and me into her bed, and turn on Mystery! (exclamation point not negotiable), a PBS police-and-crime anthology notable for its creepy opening sequence animated by Edward Gorey. She especially loved the episodes starring Agatha Christie's dapper private detective Hercule Poirot, who solved grisly crimes among Europe's most fabulous with his keen eye for detail and jaunty mustache. I remember drifting cozily off to sleep as Poirot unmasked killers and crooks lurking in one elegant drawing room after another, my sister snoring quietly beside me.
It probably makes sense, then, that I gravitated back to Agatha Christie in the early days of the pandemic—listening to an audio recording of The Mysterious Affair at Styles on my headphones as the dog and I scurried along on our early-morning walks, digging around online until I found old installments of Mystery! to stream. I lost myself in the twisty, intricate plotting, the luxuriously-appointed manor houses, the glamorously cagey suspects. And I took a funny kind of comfort in the certainty that at least one person always knew exactly what the hell was going on.
View this post on Instagram
My new book Liar's Beach is a love letter to Agatha Christie—and what kind of millennial would I be if I didn't reflexively express my devotion with a playlist? Below are the dozen songs I listened to over and over while I unraveled some mysterious affairs of my own:
o Guaglione, Marino Marini (and really the whole of the soundtrack to The Talented Mr. Ripley, world without end)
o Blank Space, Imagine Dragons (a deeply creepy cover)
o Volare, Dean Martin (for old-fashioned summer romance)
o Calm Down, Rema + Selena Gomez (because it is, frankly, a bop)
o I Know Why (And So Do You), Glenn Miller (why does Glenn Miller give me the willies, I don't know but he REALLY does)
o So Nice (Summer Samba), Astrud Giulberto (sexy + atmospheric)
o Heat Waves, Glass Animals (pool music!)
o Never Tear Us Apart, Paloma Faith (a song written specifically for a murder spree, in my opinion)
o Dreams, Fleetwood Mac (iconic + formative)
o Cruel Summer, Taylor Swift (self-explanatory)
o American Girl, Tom Petty (also self-explanatory)
o Step, Vampire Weekend (Linden and Holiday's song)
Liar's Beach is a messy, complicated mystery a full click more ambitious than anything I'd ever attempted before. Working on it—and listening to these songs—was a dark, delicious joy at a time when those were hard to come by. And I hope it's a dark, delicious joy for you too.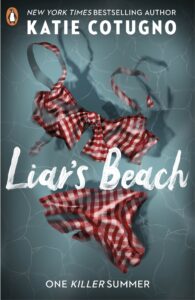 Get your copy of Liar's Beach by Katie Cotugno here.