Kathryn Purdie on the timeless beckoning of fairy tales and her new YA fantasy, The Forest Grimm
"Their magic and influence is, and will forever be, limitless."
This post was written by Kathryn Purdie, author of The Forest Grimm.
I have always been a lover of fairy tales. While other children checked out fiction in the library, I gravitated to the mythology section, where volumes of primal folklore called to me, dark and strange and romantic.
I'm not the only person who must have felt this way, or these fantastical tales couldn't have stood the test of time. There wouldn't be over 1000 versions of Cinderella across the world and close to 60 variants of Little Red Riding Hood, some of which date a millennium prior to the tale recorded by the Brothers Grimm in 1812.
When I set out to write The Forest Grimm, I wanted to explore the connections between the major Brothers Grimm fairy tales, some that were already apparent to me and some of my own invention. I also wanted the tales to be told together in one story, one narrative, rather than several short stories.
The Broadway musical, Into the Woods, accomplished this, although their focus was what happens beyond "happily ever after." The TV series, Once Upon a Time, also interwove "Disneyfied" fairy tales through alternating real world and fantastical settings, with themes of hope and optimism. But I yearned for a different kind of story, one that blurred the lines more between the fairy tales.
In The Forest Grimm, my main character is Clara Thurn, a seventeen-year-old girl who represents Little Red Riding Hood, and while another character embodies Cinderella, at least on a surface level, it is Clara who dances at a mystical ball and loses her shoe in a mad flight afterward.
View this post on Instagram
In the Brothers Grimm version of Cinderella, Cinderella often visits her mother's grave, from which a hazel tree has sprouted, and she asks for wishes. In my story, the trees in the Forest Grimm absorb people when they die, and Clara, unsure if her mother is still alive, wonders if her soul could be trapped among them. In one scene, a nightmare, Clara's mother's face emerges from a hazel tree and chastises her for not doing more to save her.
Some of the connections I've drawn between fairy tales will be obvious to the casual reader, while others will be Easter eggs for avid Brothers Grimm fans. I tried my best to make this a retelling with something that everyone can enjoy.
When I pitched The Forest Grimm to my literary agent, I also compared it to M. Night Shyamalan's The Village. Like Ivy, portrayed by Bryce Dallas Howard, Clara also comes from a sheltered life in her own village, and she is faced with terribly realities upon entering the woods. I love the intimate storytelling in The Village and how the terror of the unknown affects the characters primarily on a personal level.
Fantasy stories are often told on an epic scale that involves kingdoms, countries, and the stretches of the known world. But fairy tales are fantasies that focus inward. They're about families and little towns, and if a prince or princess becomes involved, they tend to come toward the end with true love's kiss. Likewise, if the story does take place in a castle, fairy tales still focus on individuals and small groups, rather than the masses and politics and wars.
I'm friends with author Stephanie Garber, and I told her she was my muse as I wrote The Forest Grimm—or rather her books were. I found myself rereading them because they had the perfect vibe. Stephanie's Caraval series and Once Upon a Broken Heart series aren't fairy tale retellings, but they're abundant with the same kind of magic, dark but sweet, deadly but romantic. I highly recommend them!
Another book that has long inspired me is The Forest of Hands and Teeth by Carrie Ryan, which is a sinister story with gorgeous prose about a girl journeying through a forest filled with zombies. It's the book that made me want to become an author.
I hope—and I know—that fairy tales will continue to live on. They will beckon to be told and retold, time and again. Their magic and influence is, and will forever be, limitless.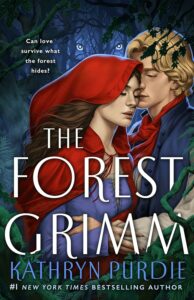 Get your copy of The Forest Grimm by Kathryn Purdie here.