Justin A. Reynolds on Forever Ends on Friday, the Opposite of Always movie and writing for Marvel
"My work is really just me trying to figure out answers to some of life's big questions"
After the incredible success of his debut novel, Opposite of Always, Justin A. Reynolds is back and both breaking and mending our hearts once more with his new YA novel, Forever Ends on Friday and we couldn't have been more excited to have the chance to chat to him all about it.
---
Hi Justin! It's such an honour to get to chat to you again. I'm so excited to get to ask you a few questions about your newest novel, Forever Ends on Friday but firstly, I'd love to know, what have the past few post debut years been like for you since we last talked to celebrate the release of your debut novel, Opposite of Always?
Well, first of all, thank you so much for having me again! It's been a bit of a whirlwind I suppose, haha. But I feel so very fortunate for all the love and support I've received. All of my old and new UK friends and readers have been especially awesome!
Your wonderful new novel, Forever Ends on Friday has just been released in the UK! Do you have an elevator pitch you can share for readers excited to pick up a copy?
When one teen is miraculously—but temporarily—brought back to life, two former best friends get a second chance at life, love, and redemption.
Both Opposite of Always and Forever Ends on Friday superbly balance contemporary with fantastical/sci-fi elements. What is it about bending genres in this way you find so enticing?
My work is really just me trying to figure out answers to some of life's big questions—what happens to us when we die? Can we ever live again? But also then combining those ideas with the things that matter most—our relationships with our families and friends and how those dynamics are constantly evolving and forcing us to make micro decisions that often result in macro changes. That's why contemporary with speculative elements appeals to me—it's ordinary life meets the fantastical.
View this post on Instagram
You've been wonderfully open about your own journey with grief and loss, both of which play a huge part in Forever Ends on Friday. I imagine this made writing Jamal and Q's story quite emotionally draining at times? Do you think having such a personal connection made the process of exploring these topics easier or harder to do?
This story was definitely challenging to write. It is in some ways even more personal than Opposite of Always and because of that I was so afraid of getting it wrong—of not doing the characters and their lives the justice they deserve. But also, conversely, because I cared so much I pushed myself to give everything I had and I can honestly say I'm proud of this story; and I think my best friend, who passed away and inspired these pages, would be, too.
Forever Ends on a Friday features countless incredibly touching scenes, brimming with a kaleidoscope of emotions but was there a scene in particular you enjoyed writing the most or one you put an especially large amount of your heart into?
I think there a few scenes that really mean a lot to me emotionally—one of them is the day after Quincy has passed and Jamal and Whit are talking in the kitchen. They've just experienced this monumental loss and they're both vulnerable and afraid and concerned about each other. I'm very close to my sister, so this special bond between siblings is, in my opinion, one of the greatest connections we can ever experience.
We've all had to hugely adjust the way we work over this past year so I was wondering, what does your writing day and setting look like currently and what does it look like in a dream non-covid world?
It's been all of the place, to be honest. I generally write every day, with varying degrees of luck, ha. I no longer judge myself based on word count because even when under deadline that's not a true measure of success. For me, success is sitting in front of the blank page and adding lines, even when you're not sure they're any good, haha.
I adore the way both of your books explore love but in different forms, with Opposite of Always focusing more on romance and Forever Ends on Friday more so the love between siblings and best friends. How did you find changing your focus from one to the other when writing?
Thank you for that astute observation—that's exactly what I set out to do. I knew Forever was going to be about sibling love and best friend love. For one thing, I don't think we have nearly enough stories about male friendship, and even less so when it comes to men and teens of color. So I wanted to write a story that discussed the types of love that tend to withstand the most difficult of times—the love you have for your brother or sister and how that dynamic can change over time. And the platonic love between two friends, with its ebb and flow, ups and downs. If we're fortunate enough to have a best friend, we know how invaluable and immeasurable that kind of love is.
View this post on Instagram
Just a few days after we last spoke, you announced the ridiculously exciting (and well deserved) news that Opposite of Always had been optioned for a movie! Is there any more news on that you can share with us at all?
There is progress being made that hopefully we can discuss publicly soon, but for now all I can say is, things are happening. Stay tuned! 😀
Your next book, Miles Morales: Shock Waves, a Marvel graphic novel is coming out this summer, which I couldn't be more excited about (Miles is hands down the best Spider-Man, no question…) Can you tell us a little about how the opportunity to work with Marvel came about?
A few people at Marvel enjoyed Opposite of Always and asked if I'd be interested in working on a Miles Morales graphic novel—which I was like UMM YES. So, I came up with a concept and story idea that they fortunately loved, and then we all went to work. I'm super excited to share that story with everyone. Plus, the art is amazing—shoutout to Pablo Leon, the artist. The entire project was a lot of fun and a dream come true.
Lastly, I have to ask, are you currently working on any upcoming projects and if so, can you give us any hints about what we can look forward to seeing/reading from you in the future?
I have a few things in the works. So Miles Morales: Shock Waves comes out June 1 this summer. I'm also working on a middle grade series titled Shot Clock, which is a collaboration with former NBA All-Star and current Miami Heat Assistant Coach Caron Butler. And I have another middle grade novel called It's the End of the World and I'm in My Bathing Suit, which is a super fun, post-apocalyptic adventure story filled with laughs and mystery.
Thank you so much for having me again! This has been great!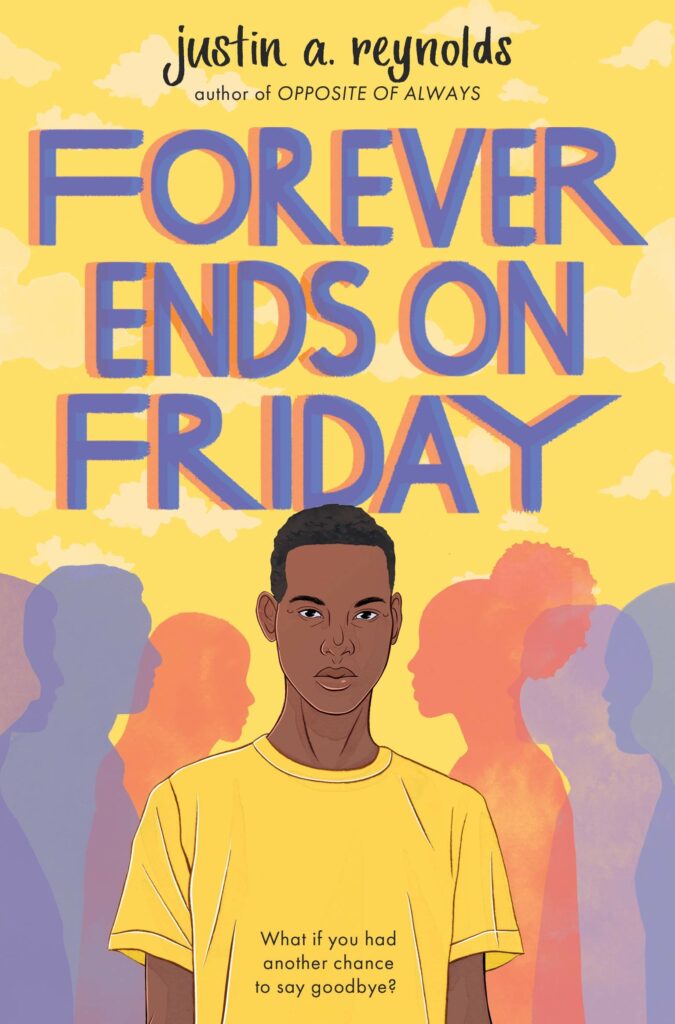 Get your copy of Forever Ends on Friday by Justin A. Reynolds here